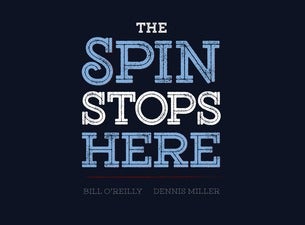 ★ ★ ★ ★ ☆
VIPinTacoma
I attended the Tacoma show and enjoyed it very much. I would go again next time they are in Washington. I purchased the VIP tickets and I was bummed with the treatment behind the stage. We all lined up (over 200 per the venue security guard) and waited to get a photo taken. That's all, a photo. We were greeted warmly by Mr. Miller. He was great during and after the show. Jesse kept looking at the line and it was obvious he was ready to go. Mr. O'Reilly said nothing. I thanked him for everything he does for veterans and indicated that I'm a premium member, he could have cared less. He bumped my hand and said nothing. You are quickly walked up to where they are standing, a helper takes your camera and the picture is quickly taken. Mr. O'Reilly, Mr. Miller and Mr. Waters are all looking in different directions. Only 1 at the camera, you guessed it, Mr. Miller. My 13 year old daughter asked me to get a picture with Mr. Waters since he is her favorite. I asked Mr. Waters for a photo with him and he said "No, you need to move on". Their limo's were parked right next to us and the drivers standing at the limo door. They should change the "VIP" to some other name since it doesn't reflect how they feel about the after show group. I would pay to see the show again, I would never pay $500 dollars per ticket to be treated rudely by Mr. O'Reilly and Mr. Waters.
ARLINGTON THEATER - SANTA BARBARA, CA - 02/29/2012
★ ★ ★ ☆ ☆
DisappointedwithBill
Here is my experience: Mr. O'Reilly, My husband, Nathan Lee Head, has been a premium member for years and watches your show regularly. When he had the opportunity to purchase tickets via the VIP Member Presale to your show with Dennis Miller in Biloxi, he jumped at the chance and purchased 2 second row VIP tickets for the show and backstage after the show for a price of $1,053.30. I attended the show with him and found both you and Dennis Miller very entertaining. We both thoroughly enjoyed the whole show. After such a great show, we were looking forward to going backstage after the show, meeting you and Mr. Miller and having our picture taken with you. After waiting in a long line for quite some time, our turn came to meet you. We were greeted very warmly by Mr. Miller with a handshake, warm smile and introduction. Then we came to you....I extended my hand to shake yours and received a fist instead. Somewhat taken aback, I then tried to bump your fist and you withdrew your hand completely, mumbled under your breath, "They are not telling these people..." and walked off without a word to me. I was left standing there awkwardly and wondering what was going on. After a few moments, you returned without a word to my husband or myself and were ready to pose for pictures with us and move on. My husband tried to tell you what an honor it was for him to meet you but you ignored him too...so rude. Mr. O'Reilly, I was very shocked and disappointed by your rude behavior. After your comments during the show as to the proper way for a gentleman to greet a woman, referring to your meeting Mrs. Clinton at a restaurant, I expected you to be a gentleman and, here in the South, your behavior was neither gentlemanly nor acceptable. I am a "deplorable" and I guess now I am one of "these people". As "these people", we did not pay $1,000 to be treated so rudely by you personally. I assure you I am not being umbrageous in feeling that you were extremely rude to my husband and I. Here in the South, where I was raised, no matter who you are or what is going on, there is no excuse for rude behavior. In the words of Helen Reddy, "That ain't no way to treat a lady"! The least you could have done is excuse yourself a moment, take care of your business, then apologize for the interruption when you returned; all things a true gentleman would have done. I suggest you brush up on your manners before doing another show in the South. I left the show with a very low opinion of you personally. If you are indeed a gentleman, a reply and an apology for your rudeness to both of us is in order. Very Disappointed in your behavior in Biloxi, Tina Panama City, FL
ARLINGTON THEATER - SANTA BARBARA, CA - 02/29/2012
★ ☆ ☆ ☆ ☆
Como123
Went to the O'Reilly,Miller show in Kansas City and purchased the VIP package. First,the show was Not spontaneous,rather it felt very rehearsed . The show was rather short and very few interaction between the two. The best of the evening was that Dennis Miller was very funny . As to the VIP photo session ,it was very similar to the scene in A Christmas Story when Ralphie went to see Santa.They wanted to leave as quickly as they could Would not recommend the 500.00 seats!
ARLINGTON THEATER - SANTA BARBARA, CA - 02/29/2012
★ ★ ★ ★ ★
ESGC2006
We saw the Bolder Fresher Tour in Costa Mesa, CA and then again in Santa Barbara, CA. While a lot of the same jokes and stories were used again, we didn't mind because they were hilarious! I agree with a previous reviewer that there was an annoying sound problem during the Santa Barbara show. Dennis really took it like a pro, bantering with the audience and the sound guys. Bill left the stage, maybe in a huff, but it was understandable. He's a journalist, not a comedian. He maybe felt uncomfortable with the banter. But having seen them twice, I can assure you that he was relaxed and got right back into the swing of things post-audio issues. Overall, I highly recommend this entertaining show! Dennis was a riot and Bill was a lot funnier than I expected! The guy can really tell a story. :)
ARLINGTON THEATER - SANTA BARBARA, CA - 02/29/2012
★ ★ ★ ★ ★
zvago
Well, I dragged my husband to the show on May 12,2012.---Beyond beyond! We BOTH loved it! It is a two hour show, but it feels like one.! Dennis, up first, solo.....Then Bill, the same. Intermission and they come back together! Fast moving and entertaining show! I thought Dennis would be the humorist, and BIll, straight. Au contraire. They were BOTH funny and topical. Truthfully, the show was so uplifting, and I am hopeful about our future after seeing them. Don't miss it!
ARLINGTON THEATER - SANTA BARBARA, CA - 02/29/2012
★ ★ ★ ★ ★
Clubneck
I did not know what to expect when we got tickets to go see O'Reilly. I was skeptical at first but it turned out to be an amazing show. Even with out Miller, O'Reilly did a great job. He had the crowd laughing all through out the night & turned out to be quite entertaining.
ARLINGTON THEATER - SANTA BARBARA, CA - 02/29/2012
★ ★ ☆ ☆ ☆
DURAMEX
MY WIFE & I SAW THE O'REILLY & MILLER SHOW IN SANTA BARBARA,CA. UNFORTUNATELY AT THE START OF THE SECOND HALF SHOW AN AUDIO PROBLEM OCCURRED LASTING APPROXIMATELY 10 MINUTES. MUCH TO HIS CREDIT & SHOWMANSHIP MILLER ENTERTAINED W/O SOUND AS BEST HE COULD. O'REILLY STORMED OFF IN A HUFF,AS DISPLAYED BY HIS "BODY-ENGLISH". AFTER THE PROBLEM WAS CORRECTED, HE RETURNED AND ONE COULD SENSE HE WAS PERTURBED AS THE REMAINDER OF THE SHOW PROGRESSED.HE BEGAN TO DESCRIBE HIS APPEARANCE ON "THE VIEW" AND THEN WITH NO WARNING O'REILLY STOOD UP FROM HIS STOOL & SAID "GOODNIGHT EVERYBODY" & DEPARTED. I ALONG WITH OTHER PATRONS WERE SOMEWHAT STUNNED BY THE ABRUPT DEPARTURE. NEEDLESS TO SAY, MILLER WAS "THE PATRIOT" & O'RIELLY WAS "THE PINHEAD" & AT $125 PER PERSON IT WAS A POOR SHOWING...
ARLINGTON THEATER - SANTA BARBARA, CA - 02/29/2012
★ ★ ★ ★ ☆
NJKat
If you listen to Glenn Beck on a daily basis (on radio or on TV) then you will definitely recognize the material he speaks about during this live presentation. He even brought his chalkboard along to the show I attended last summer (2010). O'Reilly made a few jokes at Beck's expense and was kind of on the dry side (almost like he didn't know what to say). Beck was much more entertaining and dominated the stage in an obvious way. Not sure how O'Reilly felt about that. I was expecting a 2 hr show, but they started the show about 20 min late and they ended the show in about 1 hr. For sure, it was a very expensive hour!!
ARLINGTON THEATER - SANTA BARBARA, CA - 02/29/2012
[Temporary disabled] Bill O'Reilly needs your feedback