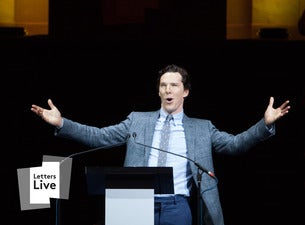 Letters Live Concert & Tour Photos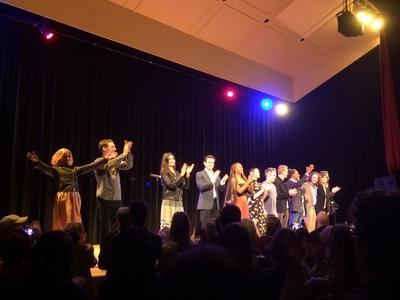 ★ ★ ★ ★ ★
JimmyBNYC
Fantastic show, wonderful readings of historical, important, and some funny letters by an amazing assortment of actors and actresses. Great unexpected opportunity to see and honor Rose McGowan as she read her letter written to Hollywood. Would definitely see it again.
Town Hall - New York, NY - Sat, May 19, 2018
★ ★ ★ ★ ☆
KAVF
Loved the Friday show, disappointed I missed Saturday's! Very entertaining!
Town Hall - New York, NY - Sat, May 19, 2018
★ ★ ★ ★ ★
PhoebeNYC
Letters Live was one of the coolest events I have ever attended. It was funny, moving and deeply profound in finding the incredible humanity that shines through in the form of the written word. Powerful enough to transcend time, these letters, regardless of whether their author was famous or just a regular person, brought those people back to life for a moment through their words. This is not even mentioning the incredible people tasked with reading these letters, whose managed to really capture the spirit of each piece of correspondence. I felt so lucky to get to be in that room, in the presence of the amazing presenters and with the works and people they brought to life as they read aloud. Town Hall was also an incredible venue and managed to make the event have the necessary intimacy it demands while also fitting many people in. To have it in a building with such a rich history too, really added to the whole night. I can't recommend this event enough - it was honestly amazing.
Town Hall - New York, NY - Sat, May 19, 2018
★ ★ ★ ★ ★
Anonymous
Excellent show! Letters Live is truly a great experience. Without a doubt hoping for future shows.
Town Hall - New York, NY - Sat, May 19, 2018
★ ★ ★ ★ ★
HistoryGypsy
Unforgettable show at a great venue. Because the letters and performers were different each night, I attended both. The first night was great, but the second night had many more surprise performers, including James Earl Jones, Laurence Fishburne, Molly Ringwald and Ian McShane. The caliber and range of performers reflected the broad appeal of Letters Live as did the selection of letters. Ranging from current day to the Civil War, each delivered an insightful look at the past or present. If I have the chance, I will attend Letters Live again, no question.
Town Hall - New York, NY - Sat, May 19, 2018
★ ★ ★ ★ ★
Anonymous
We really didn't know what to expect but the evening did not disappoint. The letters ranged from sad to poignant to hilarious. Each performer brought their own unique take on their particular letter which allowed the letters to live again.
Town Hall - New York, NY - Sat, May 19, 2018
★ ★ ★ ☆ ☆
BMoreBabe1
I had thought Benedict Cumberbatch was heavily involved in Letters Live. However, even though Benedict Cumberbatch s photo was on the Ticketmaster Letters Live ticket page and he promoted his Letters Live appearance on Steven Colbert , Benedict s participation in Letters Live on Saturday, May 19 was limited to three letters (one of them quite short) and I believe his total time on stage was less than 15 minutes, perhaps less than 12. On stage, his interpretations of those three letters were superb! He acted them. They were diamonds. No problem there. It was the brevity of his appearance that was the issue. I don t understand why his role wasn t more prominent. It was certainly anticipated. He s the reason I paid $223 for a standard ticket and traveled three and a half hours on a Bolt bus each way. Filling the room with many, too many other actors even if some of them were very, very good, didn t compensate for Cumberbatch not having much more performance time. Ironically, many of the many other actors had more performance time that he did! Couldn t believe it. Why not use him more? I feel I got majorly shortchanged by not enough Cumberbatch for my efforts. He wasn't prominently featured as implied. He did not come out first or last, did not introduce any of the other readers or participate in a reading with another cast member- for example, Louise Brealey, who had remained behind the scenes sight unseen introducing each reader. He did not come out for the final bow with the cast and earlier had been rushed into the theatre at 7:50 p.m. under heavy security past fans with a quick, queenly wave. No joy coming or going. Oh, well. Next time, look for show entitled, Benedict Cumberbatch, glass of wine, and me . Readings by Mr. Wonderful. Me , unfortunately, being 1,200 women in the audience and three frightened security guards. Aloha, Hon.
Town Hall - New York, NY - Sat, May 19, 2018
★ ★ ★ ★ ★
AmazingGrace235
In all its simplicity with each letter and performer being introduced by an off-stage announcer, it felt like a complete theatrical experience that was deeply meaningful and fun. The flow of letters from one to the next felt thought through, creating a beautiful flow back and forth from heartwarming, to thought-provoking, to comic, to those that touched the soul. There were old and new letters all of which contributed to laying bare our common humanity making it a really transformative evening for me. In the hands of all the powerfully talented and famously recognizable performers, the letters came alive with each reading turning into a mini-performance that was sincerely impactful and a joy to witness. I laughed and cried, both of which was a good thing.The two musical performances with no less star power, one at the end of the first act and the other at the beginning of the second, were unexpected but wonderful surprises that heightened the atmosphere of the event. If you ever have the chance to attend one of these evenings, take the opportunity to do so. You will not regret it.
Town Hall - New York, NY - Sat, May 19, 2018
★ ★ ★ ★ ★
SIMAPC
Great concept. The actors were talking to each of us individually not to each other. Powerful letters, funny letters, sad letters. Great cast with wonderful oratory skills. Would see it again. Kudos to Benedict Cumberbatch for bringing it to Broadway
Town Hall - New York, NY - Sat, May 19, 2018
★ ★ ★ ★ ★
Sophia493
If I knew how great this show was....I would have bought tickets for Friday
Town Hall - New York, NY - Sat, May 19, 2018
★ ★ ★ ★ ★
TheaRR
Brilliant all around, selection of letters and the actors who read them. Great and uplifting evening.
Town Hall - New York, NY - Fri, May 18, 2018
★ ★ ★ ★ ★
LGH9
Wonderfully curated selection of letters with a stellar group of surprise performers who read them with grace, humor and poignancy when warranted. So glad I attended!
Town Hall - New York, NY - Fri, May 18, 2018
★ ★ ★ ★ ★
Anonymous
Tremendous show with an amazing cast of letter readers . Must see!
Town Hall - New York, NY - Fri, May 18, 2018
★ ★ ★ ★ ★
Tequilah
The lineup was amazing and the show was even more than I hoped it would be. Very much worth the price as well as the trip!!!
Town Hall - New York, NY - Fri, May 18, 2018
★ ★ ★ ★ ☆
elsasol
Superb performance readings of remarkable letters\u2014perhaps a few too many\u2014 but worthy of a wider audience -- perhaps on PBS. Funny, tragic, moving, inspiring -- aspects of the human condition recorded eloquently by those who lived it.
Town Hall - New York, NY - Fri, May 18, 2018
★ ★ ★ ★ ★
ScottieHooper
This was an amazing show. A fine cast of actors and notable individuals reading letters to help a good cause, some letters hilarious, some thought-provoking, some bringing tears to one's eyes. And when they say surprise guests, they really mean surprise guests. The line-up for the Saturday event was full of surprises, like David Harbour, Hugh Dancy, and Tom Hollander running from his curtain call at another show. They were not among the ones announced when the event was on sale, which makes it an even better experience than the Sunday show when most of the cast was announced because you don't know who will turn up! The biggest surprise for me though, was that they had included England show regulars. Besides the wonderful Benedict Cumberbatch, it was a pleasant surprise to see Louise Brealey and Clarke Peters present. It was an extra treat to see Louise and Benedict read from "My Dear Bessie" once again. Will attend again if they bring this show back to NYC, and I sure hope that they will each year, hopefully with England cast back again as well. The only peeve I might have had from the venue is that the numbering on the seating was very confusing.
Town Hall - New York, NY - Fri, May 18, 2018
★ ★ ★ ★ ★
NYCTheatregoer820
This is an incredibly entertaining night out! From heart-wrenching missives between war-torn lovers, to hilarious college rejection letters, this night runs the gamut of emotions and each entertains, wholeheartedly.
Town Hall - New York, NY - Fri, May 18, 2018
★ ★ ★ ★ ★
NYCholiday
As a recovering English major and Benedict Cumberbatch fan, this was a no-brainer for me. My only wish now is that I'd been able to go both nights! What an excellent and affirmative evening this was. Real letters written to real people - funny, poignant, political, thoughtful... it was a beautiful evening's entertainment. What's special about this event, too, is that you never know who will show up to do the readings. The crew on Friday included Hugh Dancy, Edie Falco, Cynthia Erivo, Louise Brealey (who did a lovely and slightly racy reading with Benedict Cumberbatch of love letters between a POW in WWII and his girlfriend at home.) and others! If you have the chance to see this, please go. You won't be disappointed!
Town Hall - New York, NY - Fri, May 18, 2018
★ ★ ★ ★ ★
sopdox
I'm so glad I decided to go. I bought tickets just on Cumberbatch's name alone but what a great show. I only wish there was a Playbill because I didn't know half of the presenters and would like to remember their names. Had I been able, I would have attended the second night as well to hear different letters with different presenters. Truly reminds us what a lost art letter writing has become.
Town Hall - New York, NY - Fri, May 18, 2018
★ ★ ☆ ☆ ☆
Charliepuss
Most of the participants seemed unfamiliar with the letters that they were reading-they gave the impression that they were reading them for the first time. Several people tripped over words. Most of the letters were unmemorable.
Town Hall - New York, NY - Fri, May 18, 2018
★ ★ ★ ★ ★
Hobieluv
This was the most enchanting show I have ever had the pleasure of attending! The fact that you get to see so many stars (many making surprise appearances) in a small theater is fantastic. The letters read are such a variety, and the stars bring them to life while having a great time themselves!! Highly recommend.
Town Hall - New York, NY - Fri, May 18, 2018
★ ★ ★ ★ ★
lpinbrez
Letters Live really captures the imagination! Letters come to life!
Town Hall - New York, NY - Fri, May 18, 2018
★ ★ ★ ★ ★
kss0202
A celebration of the enduring power of literary correspondence is how this event is described. And what a celebration it was. The theater was filled with anticipation, electricity in the air, expecting fabulousness. And it did not disappoint.
Town Hall - New York, NY - Fri, May 18, 2018
★ ★ ★ ★ ★
TravelJunkie
Letters Live is a terrific event! Witty, wise, funny and moving. Benedict Cumberbatch's readings were as brilliant as expected, especially his comic reading about a mishap at a Canadian hotel, and the others were excellent as well. Hugh Dancy's delivery of a Civil War soldier's posthumous letter to his wife was particularly touching as delivered by this supremely talented stage actor.
Town Hall - New York, NY - Fri, May 18, 2018
[Temporary disabled] Letters Live needs your feedback