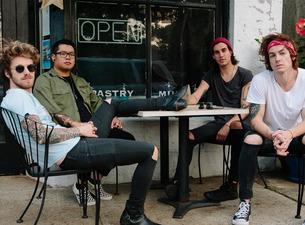 YOUNG RISING SONS IN CONCERT: Up-and-coming New Jersey outfit Young Rising Sons is quickly on the ascent thanks their radio-ready mix of indie and alternative rock. At their powerhouse live shows the talented quartet fills the air with electric energy while their fans rock out to the catchy anthems like "High" and "F**ked Up". Frontman Andy Tongren's melodic sensibility recalls the undeniably catchy hooks of The Strokes, while the band's no-nonsense rock and roll chops are firmly anchored in the classic style of bands like Queen and Van Halen. In late 2014 Young Rising Sons released The High EP, and they've been elevating moods at their live shows ever since.
Young Rising Sons Concert & Tour Photos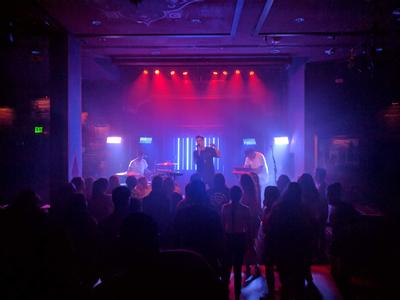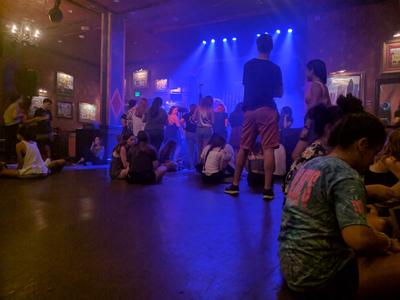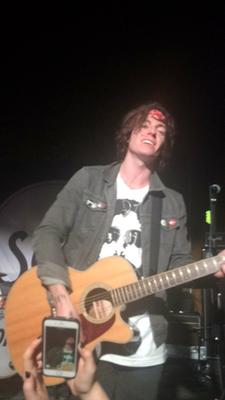 ★ ★ ★ ★ ★
Kenzingtonmck
Great show with amazing up & coming artists. Venu could've used some seating, as everyone sat on the ground in between sets.
The Sinclair - Cambridge, MA - Wed, Aug 5, 2015
★ ★ ★ ★ ★
Anonymous
Young Rising Sons was awesome. They are great performers and musicians. Their stage presence is so intimate with the fans and I can't wait until they come back to play another show in Philly.
The Sinclair - Cambridge, MA - Wed, Aug 5, 2015
★ ★ ★ ★ ★
Crissy97
I first saw these guys back in 2014 when they opened for The 1975 at Bayou City and ever since then I ve been hooked. I saw them when they opened for Halsey in 2015 and then again at Fitzgerald s a few years back. They are hands down some of the nicest most sincere people I ve ever met. They ALWAYS make a thing about meeting their fans after a show and they take their time doing it, they don t just rush through. They always put on an amazing show, have crowd interaction the entire time and play with so much enthusiasm whether it be a crowd of 1000 or a crowd of 50. I can t wait till their new music comes out, and I look forward to seeing these guys again in the future :)
The Sinclair - Cambridge, MA - Wed, Aug 5, 2015
★ ★ ★ ★ ★
Chase2604
First off, I love Young Rising Sons. They re music is incredible. If you have the chance to see them do it. When I went it may have been a small crowd but every person there was moving and was totally into it. There was even a part where you could bring out a lighter for a song (a little dream of mine). And since the crowd was smaller than the mainstream bands, they came down after the show and you could talk to them, get pictures, or even get autographs free of charge. It was a night I ll never forget, 10/10 would come back if they come to Houston again.
The Sinclair - Cambridge, MA - Wed, Aug 5, 2015
★ ★ ★ ★ ★
cnewm
Nice people. Worth it to go see these bands. Took time after the shows to meet with fans. I wish they were coming back to Pittsburgh again soon. I hope they actually come back to Pittsburgh! Become a fan because they make good music and it has an impact.
The Sinclair - Cambridge, MA - Wed, Aug 5, 2015
★ ★ ★ ★ ★
Jettrunner
The entire concert rocked! We came to see the Young Rising Sons and once again they definitely delivered an unforgettable show! Cruisr just gets better and better every time we see them perform, and we feel in love with Hunter Hunted!
The Sinclair - Cambridge, MA - Wed, Aug 5, 2015
★ ★ ★ ★ ★
lowqualityjess
This was the second time I had seen Young Rising Sons but the first time I had seen their opening acts. The energy from Hunter Hunted was unreal. Their music was amazing and the crowd had such a positive reaction. When YRS came on I was taken to another world. They embody different personas and go all out for their performances. Andy, Julian, Dylan and Steve play off of each other and really are so passionate while playing.
The Sinclair - Cambridge, MA - Wed, Aug 5, 2015
★ ★ ★ ★ ★
Dev9
Incredible sets by incredible bands. Don't know why Cruisr isn't listed on the bill, they were unforgettable as well. Overall one of the most fun shows I've been to
The Sinclair - Cambridge, MA - Wed, Aug 5, 2015
[Temporary disabled] Young Rising Sons needs your feedback