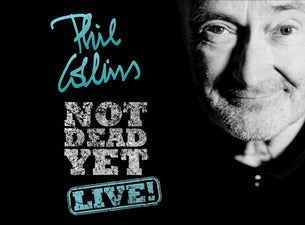 Phil Collins Concert Schedule Former Genesis member Phil Collins has achieved a level of solo success few others can claim. Collins' tour dates, such as his 2017 Not Dead Yet Tour, have seen him travel the United Kingdom. Other tours, like his 1997 The Trip Into The Light Of The World Tour, his 1985 No Jacket Required Tour, and 1983 Hello, I Must Be Going Tour, have taken him throughout Europe, North America, Asia and Oceania. As a solo act, Phil Collins is praised for his brilliant Pop songwriting, laced with elements from the other genres in which he's fluent like jazz, rock and fusion.
Phil Collins Concert & Tour Photos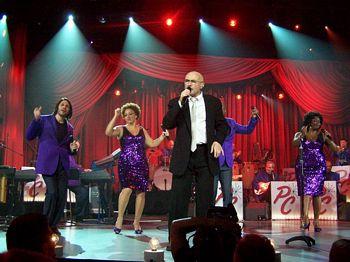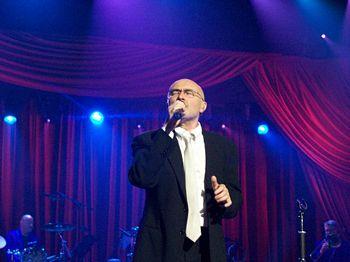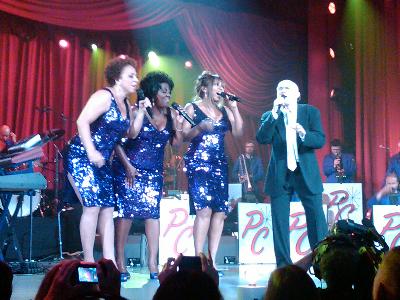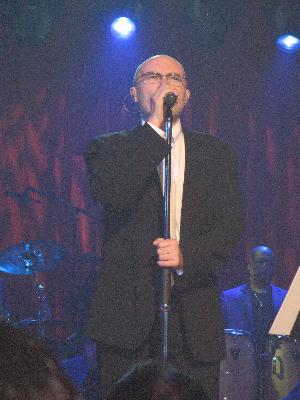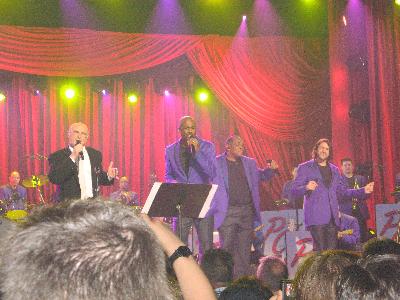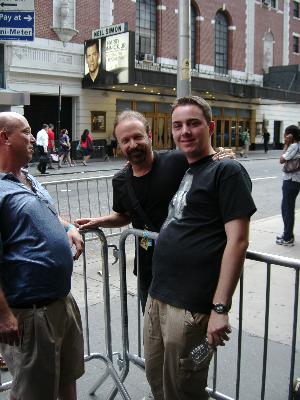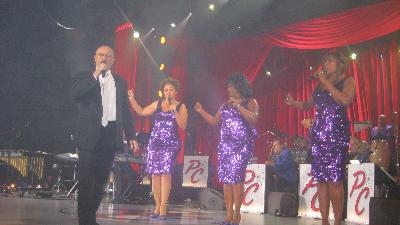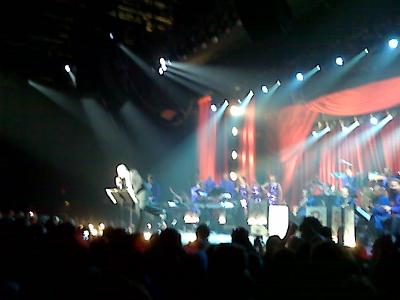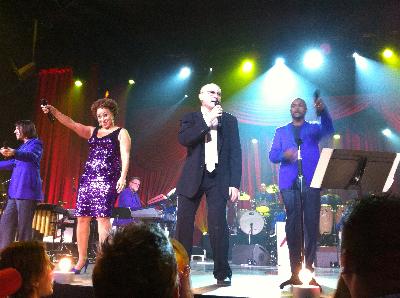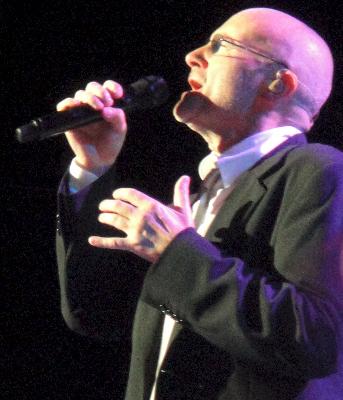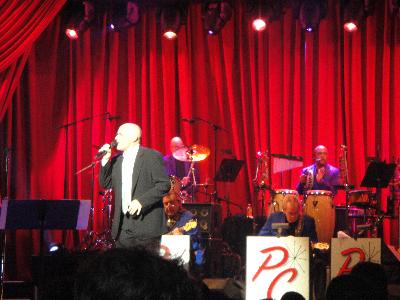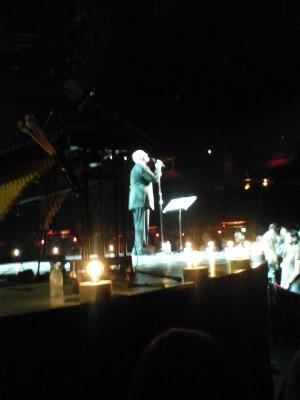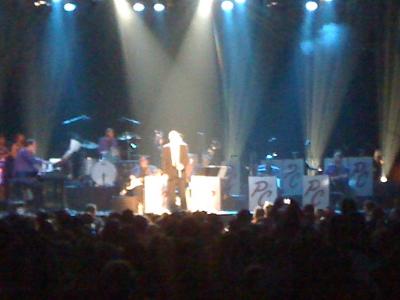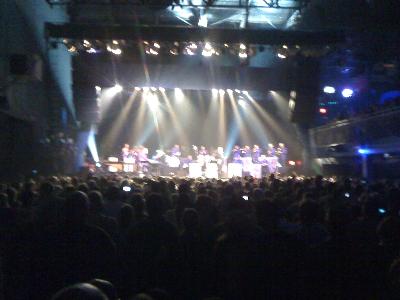 ★ ★ ★ ★ ★
behindthelines
I JUST LOVED IT! I knew Phil was going to do the 'Going Back' show, and he had made it clear before these shows that he would not be playing his hits. As I love Motown (and Phil), this was just the perfect combination! Especially the Friday night show was full of vibes and energy! Great band as well, playing perfectly together. And great to see the legendary FUNK BROTHERS! and to meet so many Phil and Genesis fans :-)) Was surprised to see that the Roseland Ballroom is such a small venue!! (and a bit old-fashoned darkish place I thought as well). But that also meant everybody was really close to Phil and the band! Great! Wednesday night 23/06, went to back of the Ballroom & overheard some of the soundcheck. Anticipation! When doors opened, walking inside went pretty quick. As it was such a small venue, I think everybody got a good spot, only a couple of meters (or less!) away from Phil and the band. There was also a balcony, with a couple of dozains up there (special pass). At the end of the show, Phil said they were not going to leave the stage and then do the usual comeback for the encores, as the band has too many members and it would take them too long to do that. I also think this has to do with one of the funk brothers being in a wheelchair. So they just played some more songs and then all left stage. Band consisted of 6 backing vocals (mainly the same from Phil's previous tours), three of the Funk brothers (legendary!!), Daryl sitting next to them, horn section, Brad Cole on keyboards, and Chester on drums and another percussionist. Great show, although I heard some calling for Phil to play his hits (Sussudio, Paradise, etc.). Apparently, at least some people had no clue that he would be playing Motown covers. Some people clearly don't know what they buy tickets for... Although, I also feel Phil could have said something in the beginning of the show about that (it was only after several songs that he explained in few words that these were all the songs that inspired him while growing up). At the Thursday & Friday show, he made that announcement earlier in the show. At the end of the Wednesday show, musicians had left, a guy threw his cup with beer (water?) on stage, in dismay. I think it nearly hit Munchie who came up stage to start dismantle the geer.... BLEH!!! Thursday night (24th), same scenario, went for the tickets, went to listen at the back of the hall. Overheard some of the soundcheck. A film crew had also showed up, and they were test-filming in advance of the show. Could see some of the footage on their TV's in the van at the back of the venue! While queuing, saw Brad Cole coming up to the back of the Ballroom, he just passed everybody in the line. Nobody seemed to notice!! Said a quick: 'hello Brad, nice show yesterday!!' Replied 'oh thank you', and then entered the venue. :-) During the Thursday show, only first five minutes or so were filmed with a camera at the back. Probably just testing. Had a good spot again, about 3-4 row, dead center. More vibes in this show. The Friday night (25/06) the show was much more alive, vibrant, dynamic than the Wednesday & Thursday shows!! I was center again, 3-4th row. Audience was very participating. I think this was also because the show was being filmed and people wanting to make a good impression? Cameras hovering over the audience and all. The band, vocals were also much more into it, I feel. Songs follwoing ecah other much more quickly. GREAT VIBES! I do hope Phil does some more shows in autumn in Europe (close to Belgium please!)!! And I am very much looking forward to the new releases :-)
The Electric Factory - Philadelphia, PA - Sun, Jun 20, 2010
★ ★ ★ ★ ★
MattGfromEdison
PHENOMENAL show... it was amazing to see Phil in such a small venue, considering the last time we saw him was at Giants' Stadium in 2007 (with Genesis) in front of 60,000 people. Given Phil's recent health problems but also knowing his professionalism, we expected an adequate show and were delivered an outstanding showcase of his upcoming Motown album, complete with original Funk Brothers backup players, a full horn section, Phil/Genesis bandmate favorites Chester Thompson, Daryl Stuermer, and Brad Cole (another treat to see these rock legends up close!!), and a full complement of backup singers who toured with Phil in 2004 (Amy Keys and others... would have been nice to also see Arnold McCuller). Knowing, going in, that Phil was focusing exclusively on Motown hits, we were not disappointed with his treatment of these standards. His vocal style and stage presence seem to suit these songs well. He seemed to be having fun up there and the crowd was into it, for the most part, being very appreciative and generally enjoying themselves (except when the odd drunk guy would try to push his way to the front). The front row was literally at Phil's feet which rendered my wife and I starstruck for the first song or two. Phil was more chatty than usual in his solo gigs, courteously introducing pockets of bandmembers throughout the show and discussing his love for the songs. The show was extremely well rehearsed, flowing song-to-song at many points. Phil, bespectacled, had a "cheat book" on a stand in front of him and occasionally glanced over to check some of his "highlighted" lines, but this did not detract from the concert. We liked that he didn't try to "hide" his glances at the lyrics like some current artists. The show was recorded for DVD and cameras were everywhere. All in all, an on-par performance for Phil, although he understandably did not play the drums. We were very happy and we can't wait for the album.
The Electric Factory - Philadelphia, PA - Sun, Jun 20, 2010
★ ★ ★ ★ ☆
Always0630
The show was amazing. It was great to see Phil in such a different type of show from the pop concerts and Genesis tours. The orchestra was great and the music was chosen very well. I would like to see Phil do more of this small venue type of concert. However, the venue was a little less than great. We waited over 1 1/2 hrs outside to get in, then we waited inside the hall for over 1 1/2 hours for the show to start. It was very hot and tightly packed. There was no way to move out of your small area. By the time the show started, we had been standing for over 3 hours! Plus the show makes 5. I had a great view and it was well worth the wait, but after traveling 5 hours to get there, I expected better conditions.
The Electric Factory - Philadelphia, PA - Sun, Jun 20, 2010
★ ★ ★ ★ ★
mpostman
What a wonderful show. Phil and the band did right by those fabulous Motown songs. The band sounded awesome and considering this was the first time they had done this show live before an audience it was spot on. It was standing room only, no seats except up stairs in the bar/balcony area. I was six people from the stage. Absolutely fantastic!
The Electric Factory - Philadelphia, PA - Sun, Jun 20, 2010
★ ★ ☆ ☆ ☆
smk5
I love Phil Collins but the show disappointed. The intimate setting was great place to see a talent like Phil Collins. His voice and the way he pours himself into the music were awesome but the show lacked Phil's usual charisma. While I understand his new album is featuring all Mo-town songs, it would have been nice if he mixed in a few of his songs. The fact that there was no encore at all was also a disappointment.
The Electric Factory - Philadelphia, PA - Sun, Jun 20, 2010
★ ★ ★ ★ ★
afterglow07
it was a good show. the band was great. Phil came out in a black suit with white tie. did all the old 60s classics. and 1 new song. heard alot of people complaining they wanted Phil music BUT thats not what the show was. Was dissapointedv there wasnt an encore. but all in all it was a very good show. and the Electric Factory was a nice size place.
The Electric Factory - Philadelphia, PA - Sun, Jun 20, 2010
★ ★ ★ ★ ★
Anonymous
Phil Collins was fantastic. Too see him up close and personal on stage was great. I can't wait for the CD to come out in September.
The Electric Factory - Philadelphia, PA - Sun, Jun 20, 2010
★ ★ ★ ★ ☆
Chancellor9
Phil and his big band including the surviving members of the Funk Brothers tried out the new album at the Electric Factory. Despite the fact that the venue is old and tired as was the crowd, Phil was in good voice. The band was terrific. The back up singers rivaled anything that you would see in a good old fashioned Motown review. Phil's song choices did leave something to be desired however his musicianship made up for it.
The Electric Factory - Philadelphia, PA - Sun, Jun 20, 2010
★ ★ ★ ★ ★
getintogetout
I have seen Phil since 1986 w/ Genesis Invisible Touch , But Seriously, and on up to his Jazz tour and Genesis a couple years ago. Quite simply amazing living performer- always once in a lifetime greatness and just lifts you up! I can't wait till these new shows, and am travelling a long way to see Phil.
The Electric Factory - Philadelphia, PA - Sun, Jun 20, 2010
★ ★ ★ ★ ★
vintageshavingshoppe
The first time I saw Phil was at Forest Hill Tennis Center in NYC with Genesis. Since then, i have seen every tour of Genesis and Phil Collins. Every now and then God gives a special gift to the world. Phil was one of those gifts. Phil, I have been a fan for nearly 40 years. Your music has always been there for me and has been the soundtrack of my life. May you live and perform to 120
The Electric Factory - Philadelphia, PA - Sun, Jun 20, 2010
★ ★ ★ ★ ★
CerebralWorld
I've seen Phil perform now four times, twice with Genesis and twice solo. He is my favorite musician of all time. His masterful performances are always great to see and I'm just as excited to see him again as I was years ago.
Roseland Ballroom - New York, NY - Fri, Jun 25, 2010
★ ★ ☆ ☆ ☆
Amityguy
I went knowing that he was going to play alot of 60's stuff and Motown, both of which I love, but to go to a Phill Collins concert and have him not play 1 single Phill Collins song was a little strange. I spent the concert waiting for the concert to start. I liked the music, but I didn't go to see a cover band. I wanted to see Phil Collins play at least a little Phill Collins.
Roseland Ballroom - New York, NY - Fri, Jun 25, 2010
★ ☆ ☆ ☆ ☆
Roo4
We love Phil Collins! However, we love his original music. While we were fully aware this concert was advertised as Motown & Soul we figured Phil would throw us a bone and play a few oldie but goodies that we all know and love him for. We hate to poo poo any artist. However, we were extremely disappointed on several levels. We had guest come from Boston and upstate New York only to find out the Roseland Ballroom was over packed, hot as hell and the sound system was THE WORST! We could barely make out what Phil was singing! While we personally did not walk out, we did see numerous unsatisfied Phil Collins fans actually leave in the middle of the concert. We feel ripped off and unsatisfied! We would like to ask for our money back and have learned our lesson not to buy any tickets for a concert that has not been advertised on the radio. What a let down. But we still love you Phil!
Roseland Ballroom - New York, NY - Fri, Jun 25, 2010
★ ★ ★ ★ ★
MaartenatHolland
Very nice performing of de PC bigband with great music.
Roseland Ballroom - New York, NY - Fri, Jun 25, 2010
★ ★ ★ ★ ★
Rubricman
I saw a lot of negative reviews of Phil's show, Going Back. If people looked at any of the Phil-related websites, they would have known that the entire show was going to be Motown. Also, Phil cannot physically play the drums live at this point, so for all that expected it, again, it's been posted on fan sites. I remember being at the big band concert at Carnegie Hall years back, and people expected him to play his hits. I didn't because I was educated on what he was performing. Yes, it was annoying that the concert didn't start until 8:30. Standing wasn't the first thing I would have wanted to do for hours on end waiting to be let inside and waiting for the concert to start. But I'm a big fan, and to be able to be 10 feet away from my musical idol, it was worth it. Thanks to my loving wife who went along on both nights. She's a fan, but not as big as me.
Roseland Ballroom - New York, NY - Fri, Jun 25, 2010
★ ★ ★ ★ ★
dot0120
His voice was better than ever. He seemed at ease and comfortable in front of a whole orchestra.
Roseland Ballroom - New York, NY - Fri, Jun 25, 2010
★ ★ ★ ★ ★
Schulerpro
This could very well be Phil's last US performance. The show was the third of three nights at the Roseland Ballroom in New York City. Phil only played Motown and soul hits from the 60's, the infulential music from his teenage years. His band was made up of members of his long-time backing band including Genesis subs, Chester Thompson and Daryl Stuermer and Motown session band (The Funk Brothers) featuring Bob Babbit on bass and Eddie Willis & Ray Monette on guitars. Every song was a classic that you knew all the words to. Lots of fun!
Roseland Ballroom - New York, NY - Fri, Jun 25, 2010
★ ★ ★ ★ ★
ngiselle
Great show. Very fun, relaxed atmosphere. Great family event for an older crowd. Music was fun and fast-paced. Just don't expect classic Phil and you're good to go.
Roseland Ballroom - New York, NY - Fri, Jun 25, 2010
★ ★ ★ ★ ☆
RoFoBowmanMK
Music was awesome. From description, we knew there would be very little of original Phil music. Performance was great. Band and all singers rocked, and Phil still sounds amazing. That being said, tough experience. I flew in from St. Louis for the concert. After walking around NYC all day, had to wait in line an hour, wait another hour and a half for show to start, no seating and 6 months pregnant. It definitely made it more uncomfortable to enjoy.
Roseland Ballroom - New York, NY - Fri, Jun 25, 2010
★ ★ ★ ★ ★
bags305
Was great to see the Man out there again. Had a great party-like atmosphere going with a very mixed crowd (ages 21-65). Like everyone in the room, would have loved to have seen him play at least one original (he did do You Can't Hurry Love, but that was a cover). Sussudio would have been the perfect fit for the end of the night.....then again, everyone seemed so thirsty for a Phil original that if he really did play that, there would've been riots. Still a very great show and I was lucky enough to get my ticket stub signed by Phil himself, after the show. Nice venue for this performance!
Roseland Ballroom - New York, NY - Fri, Jun 25, 2010
★ ☆ ☆ ☆ ☆
VLO66
I was excited for weeks knowing, that i was going to see Phil Collins, It began with Phil Collins arriving on stage a half an hour late, you'd think they'd have some form of entertainment , while we waited.He finally gets on stage, sounds great .Im waiting to hear songs Phil Collins actually sang.He's singing all Motown songs. There was nothing on the tickets that said it Motown night. For what reason do people go to see a specific artist to sing, but to hear them sing there actual songs that they are known for. I stood for 6 songs and finally left.I was soooooo disappointed. As i left there were others that felt the same way
Roseland Ballroom - New York, NY - Fri, Jun 25, 2010
★ ★ ★ ★ ★
DaisyGirl49
Heat Wave! Phil had the house rockin! What an amazing show!
Roseland Ballroom - New York, NY - Fri, Jun 25, 2010
★ ★ ☆ ☆ ☆
OneFineMami
We did not come to see a motown/soul show; we wanted to see Phil Collins do all his amazing songs. Very very, disappointed.
Roseland Ballroom - New York, NY - Fri, Jun 25, 2010
★ ★ ☆ ☆ ☆
Maxpayne171987
Was way to hot in the ballroom and the seats were uncomfortable. This was not Phils style to be playing in a small area. I am a Phil Collins fan but was very disapointed in this concert..
Roseland Ballroom - New York, NY - Fri, Jun 25, 2010
★ ☆ ☆ ☆ ☆
theman2391
I bought tickets to see Phil Collins because I'm a huge fan. I was very disappointed he didn't sing any of his songs and left within 30 mins because of the disappointment!
Roseland Ballroom - New York, NY - Fri, Jun 25, 2010
★ ★ ★ ★ ★
sweety2010
I loved the show Phil Collins and his 18 piece orchestra performed. I am a person like Phil Collins that grew up with the Motown Sound. There were a few people around me that were younger and they expected the Phil Collins (In The Air Tonight) to perform their favorite hits. The up Close and Personal show was advertised for the 60's Motown sound. The new album coming out soon is what the show was all about. I have seen Phil Collins a few times on his Carousel Tour and with Genesis.
Roseland Ballroom - New York, NY - Fri, Jun 25, 2010
★ ★ ☆ ☆ ☆
Anonymous
Phil did not do any of his recognizable songs... I know he's coming out with a motown album but he has to sing some of the songs people bought tickets to see him do
Roseland Ballroom - New York, NY - Fri, Jun 25, 2010
★ ☆ ☆ ☆ ☆
RobinE
I went to see Phil Collins at Roseland Ballroom and was terribly disappointed. First the Ballroom was extremely hot and very uncomfortable. The concert tickets were called for 7:00 p.m and Phil Collins went on at 8:30 so everyone stood in a smoldering room shoulder to shoulder with each other. On most part, people were extremely friendly. The concert started at 8:30 p.m.,, as stated before. Phil and his band were good but some of his songs were not very memorable. He played Motown which I happen to like but some of the songs were just not the motown the crowd wanted to hear. I really would have loved to hear some of his old stuff as well mixed in. They were filming the concert for a TV show and the lights and the cameras were going around the room and barely skimming peoples heads as the concert went on. I was terribly disappointed at the whole concert and will NEVER attend another conceret at the Ballroom again
Roseland Ballroom - New York, NY - Fri, Jun 25, 2010
★ ★ ★ ★ ★
genesis76
Man that guy can sing & what a band that is wht Phil is the best
Roseland Ballroom - New York, NY - Fri, Jun 25, 2010
★ ★ ★ ★ ☆
holapia
On the overall it was excellent , his voice is perfect! I was waiting for some of his classics, but still it was worth the price
Roseland Ballroom - New York, NY - Fri, Jun 25, 2010
★ ★ ★ ★ ☆
Anonymous
First you show up at the theater only to stand for an hour outside on a line that loops all the way around the block. The door open at 7 pm. You get into the standing room only event ( which you know about ahead of time) to be packed in to wait over and hour an a half for a show that lasts the same amount of time. Phil Collins and his accomplaniment were excellent and entertaining but standing and waiting for so long once you got in took a little bit away from the enjoyment of the show. For a standing event the acts should be ready to go at the scheduled time not an hour late.
Roseland Ballroom - New York, NY - Fri, Jun 25, 2010
★ ★ ☆ ☆ ☆
MIke3card
Very disappointing...... karaoke like performance....
Roseland Ballroom - New York, NY - Fri, Jun 25, 2010
★ ★ ★ ★ ☆
butchie1
first time to see phil collins do motown brillant , the line was long before the show we had to stand for a long time but it was worth the wait , i flew in from ireland to see the show with my fiancee she also is a follower of phil collins i hope he has a farewell show soon cant wait phil your brillant .
Roseland Ballroom - New York, NY - Fri, Jun 25, 2010
★ ★ ★ ★ ★
Briguy1
I am a huge Phil Collins fan, so I may be biased, but I wasn't sure I would enjoy a show of just Motown songs, and no Phil Collins hits. I was pleasantly surprised at how much I enjoyed it. I even ended up seeing the show 2 nights in a row.
Roseland Ballroom - New York, NY - Fri, Jun 25, 2010
★ ★ ★ ☆ ☆
chez1313
Didn't recognize all the songs.....the one's I did know were very enjoyable......Overall I'd take the old Phil..........sort of reminds me of the Rod Stewart thing.......
Roseland Ballroom - New York, NY - Fri, Jun 25, 2010
★ ★ ☆ ☆ ☆
MushMartin
yes, he was singing Motown. But, did he have to skip over His own music?!!! i mean that is what we all came for! $100 bucks a ticket to listen to Phil with his amazing voice do covers of diana ross and smokey?!?!?! i know for a fact i was not the only idiot that bought tickets thinking that he would sing his own music. people boooo ed him. left the floor. it was so disappointing because we expected his tunes. His voice is the same, perrrrrfect and beautiful , he stayed with my mom because we figured his encore would be 'Two Hearts" ---motown but his motown song from the Buster album. oh why Phil, couldnt you just give us 15-j25 min of your own talent?
Roseland Ballroom - New York, NY - Fri, Jun 25, 2010
★ ★ ★ ★ ☆
PGMOZO
The show was good with the highlight for me being "Papa was a Roling Stone'. Good to see that people still love the old Motown hits.
Roseland Ballroom - New York, NY - Fri, Jun 25, 2010
★ ☆ ☆ ☆ ☆
Anonymous
PC lifted straight from the 60's girl groups in the most uninspired concert I've ever attended. The venue, which was SRO was hot, sweaty, and miserably uncomfortable. I could hear much better renditions of each of these songs on a CD.
Roseland Ballroom - New York, NY - Fri, Jun 25, 2010
★ ☆ ☆ ☆ ☆
macsuser
The stage sound was horrible, I walk out after watching 30 minutes of the show.
Roseland Ballroom - New York, NY - Fri, Jun 25, 2010
[Temporary disabled] Phil Collins needs your feedback