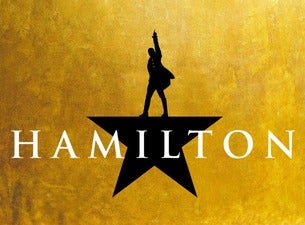 "HISTORIC. HAMILTON is brewing up a revolution. This is a show that aims impossibly high and hits its target. It's probably not possible to top the adrenaline rush.
Hamilton (NY) Concert & Tour Photos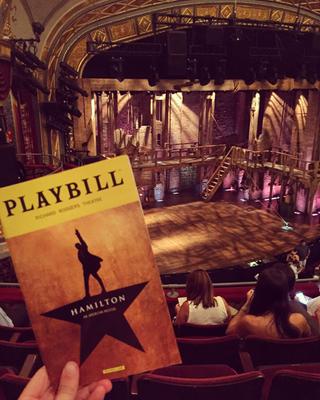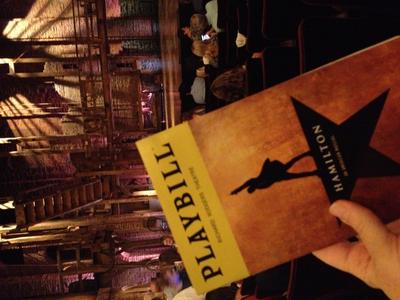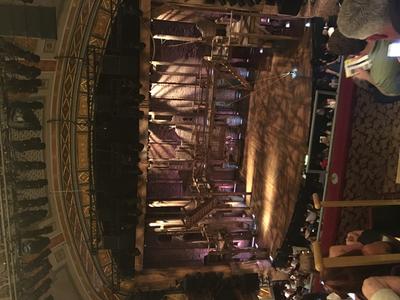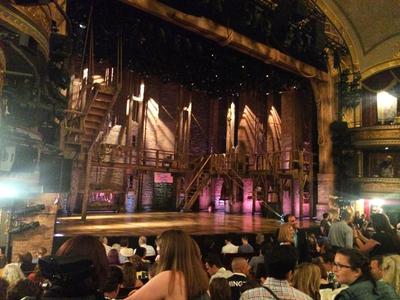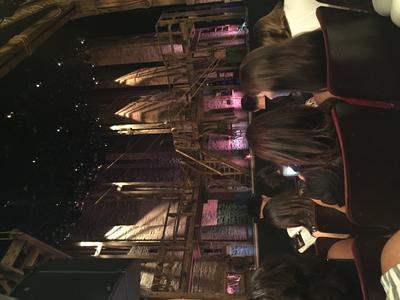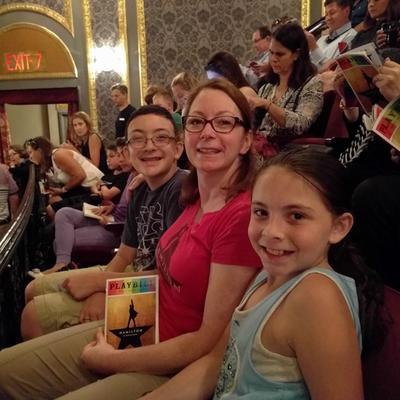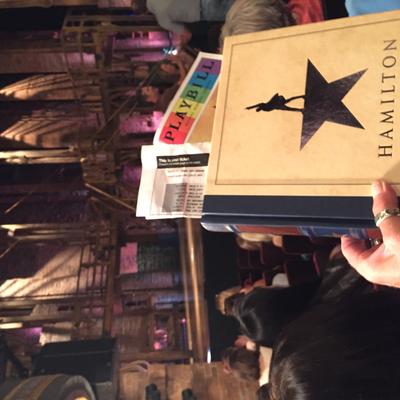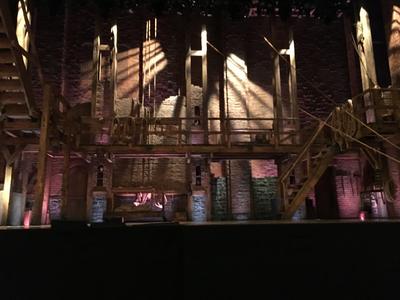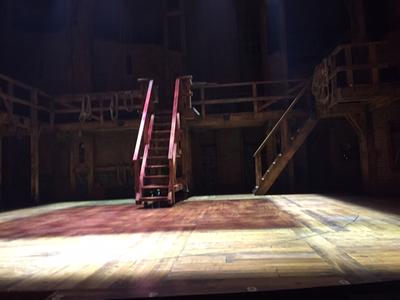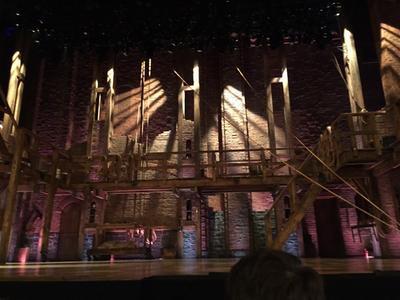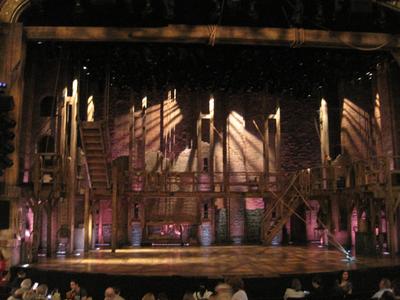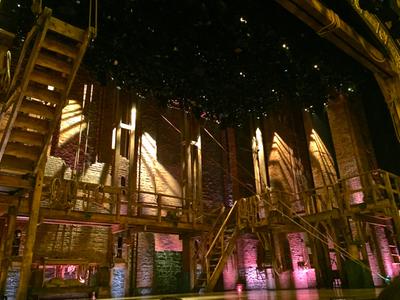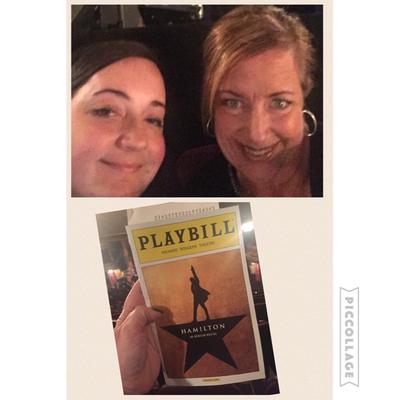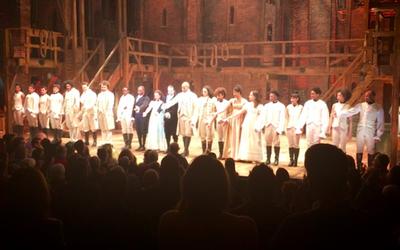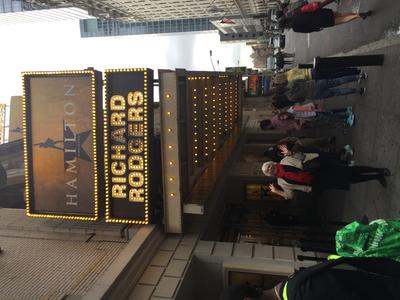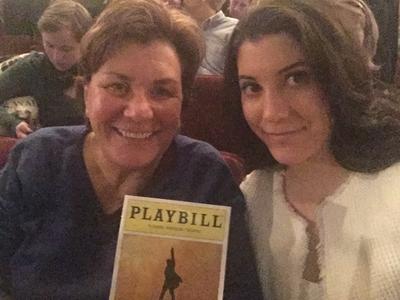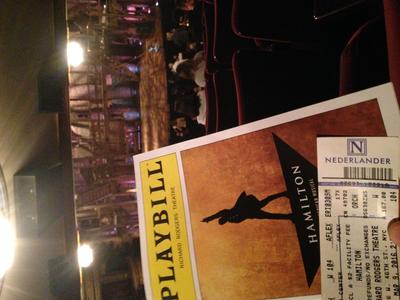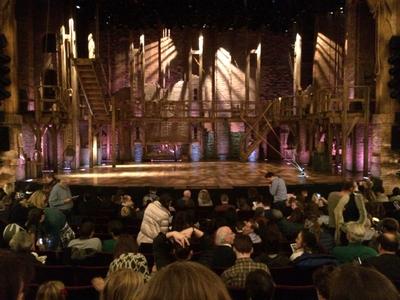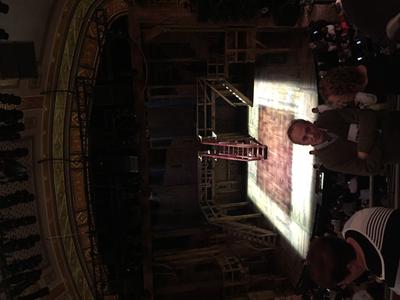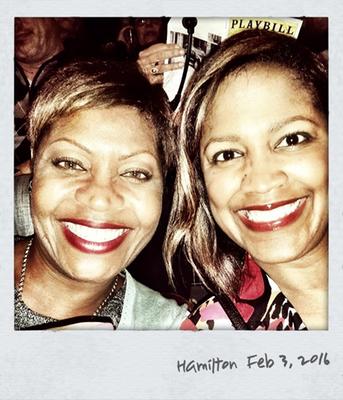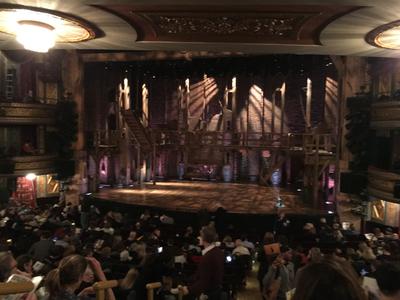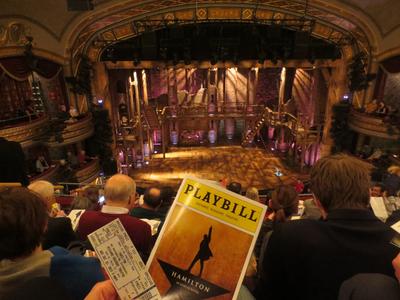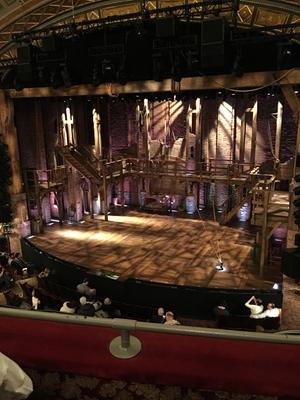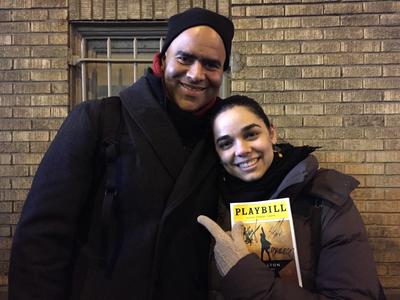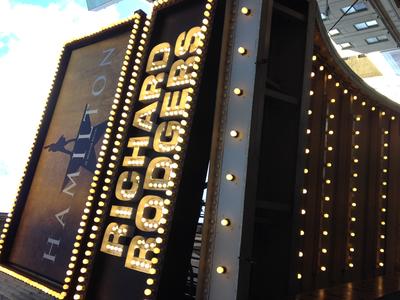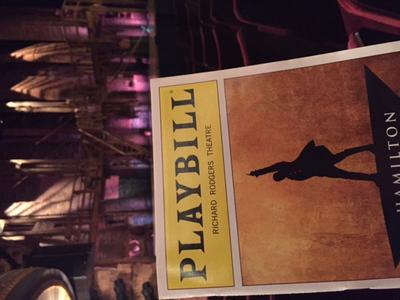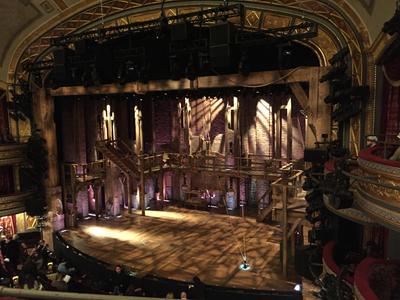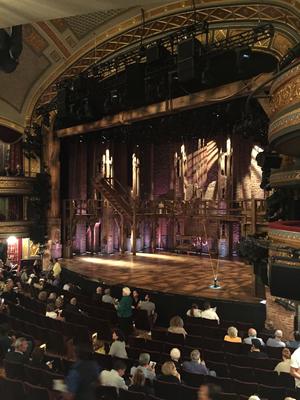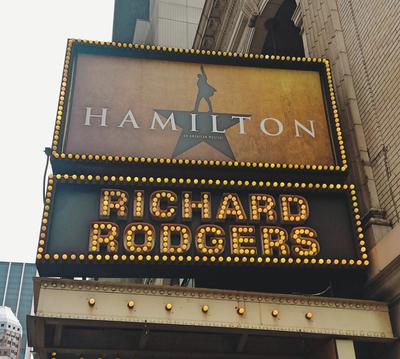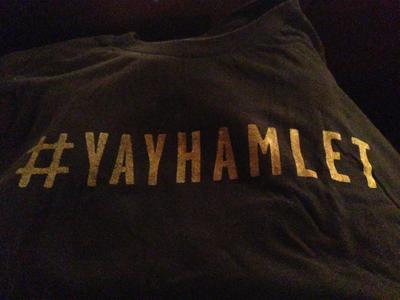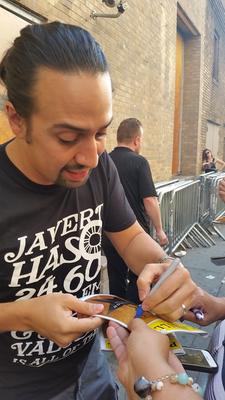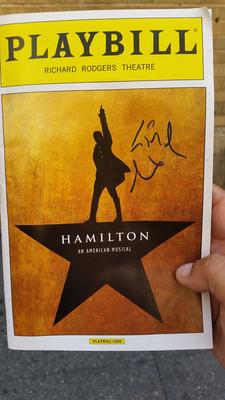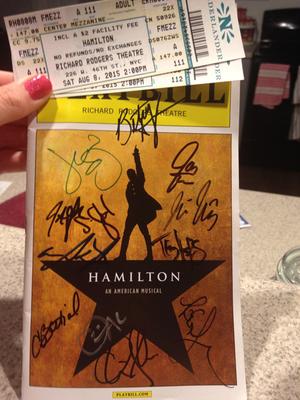 ★ ★ ★ ★ ★
gkat34
Where to begin?? Hamilton was the most amazing performance I have ever seen. I had been looking forward to seeing the musical since last October when my mom bought our tickets, and it did NOT disappoint. From the first second Burr walked on stage talking about the "bastard, orphan, son of a whore and a Scotsman," I was entranced; I don't think I moved from the edge of my seat or closed my mouth for the whole first act! Though I was disappointed in finding out that four of the original main cast members were leaving 9 days (and 3 days, in the case of Daveed Diggs) before I got to see it, the entire cast of Hamilton was brilliant, and made me forget that those actors had left the show; all of their replacements were perfectly chosen, and the ensemble honestly made the show the amazing thing it was. Plus, I still got to see Renee Elise Goldsberry, Christopher Jackson, and Okieriete Onaodowan on stage (and get a photograph with Mr. Jackson!), and they were just incredible. I cannot recommend this show enough! Truly my favorite musical and show.
Richard Rodgers Theatre - New York, NY - Sat, Aug 8, 2015
★ ★ ★ ★ ★
Momisme
There's always an original cast - an originating actor. Every new production lives up or down to that benchmark. When a bar is as high as Lin, et al set... My hubby & I were fortunate enough to see Lin on his last day with the show; and - due to my ineptitude - had tix for 3 weeks later as well! The Lin performance was unbelievably good; a "Lifetime Event" so I was bummed he & the others had left -- right up until the show began. This cast is fantastic! I don't know if it was the newness of the cast combo, their determination to fill the shoes left for them or just their abilities but the energy works PERFECTLY for a revolution. Just as an example - I loved the Lafayette/Jefferson characters early this month so I was truly impressed that the new actor could improve- keep the good but bring more depth. Not surprisingly but even the remaining cast has been changed - and for the good - Washington shows more of his rawness and exhaustion (the determination has not left, just new layers are shown.) I am and believe I will always be one of Lin's most ardent fan-of-an-elder-generation; that is unchanged- the man is his generation's Sondheim - but I like the new Hamilton as much (and perhaps a hair more) than Lin in the role. This remains the best I've seen on a live stage! It actually surpassed its hype the first time and improved on that near-perfection last weekend.
Richard Rodgers Theatre - New York, NY - Sat, Aug 8, 2015
★ ★ ★ ★ ★
ChiFran
I don't think I can say anything that others already have not. It's simply brilliant. It is genius songwriting in melody and lyrics. It's a story about Alexander Hamilton. Who cares, right? And that's the genius of this musical. It makes you care. It gets you completely engaged in this man's story, a man who we think little about and never really cared to know about. I had listened to the soundtrack many times before seeing it on stage, and it lived up to all of the hype. It's just so good, and it's certainly worth seeing on stage, no matter how well you know the soundtrack on its own. I saw the musical after many of the original cast members had left, and it was hardly noticeable. Most notably, Javier Munoz is incredible. There would have been something cool about seeing Lin-Manuel Miranda perform the role he created, but, for me, Javier Munoz sounded as good (if not better) and I didn't feel like I missed much in not seeing Lin-Manuel. And that is not a knock on Lin-Manuel who is a genius. It's just a compliment to how good Javier Munoz is in that role, too.
Richard Rodgers Theatre - New York, NY - Sat, Aug 8, 2015
★ ★ ★ ★ ★
Anonymous
I love the theater and try to go whenever I can. I've seen some wonderful shows this year but Hamilton is by far the most innovative, approachable, and truly delightful show I've seen in years. I highly recommend it... to EVERYONE, especially young teens studying the American Revolution. It is not your traditional musical and makes history very approachable and, dare I say, personal.
Richard Rodgers Theatre - New York, NY - Sat, Aug 8, 2015
★ ★ ★ ★ ★
LawTD
I have seen a lot of Broadway musicals, but nothing like Hamilton. When the likes of Alexander Hamilton, Aaron Burr, George Washington and Thomas Jefferson - none of whom are played by caucasian men- are communicating with one another about the American Revolution via rap and R&B ballads, surrounded by troops of 18th-century hip-hop dancers, you've got a hit on your hands. They say this multiracial musical is the American-history Les Miserables of our time; without a doubt. In one vein, it's so current: You could've heard the soundtrack in a NYC nightclub and never have known it was from a Broadway musical. Yet, in another vein, the multiracial casting, and energy and restlessness of the rap and R&B music brilliantly convey so much of our Country's past and what our founding fathers must have been feeling during those times. Simply put, this musical is phenomenal!!!! I'm sure it will be around for a while but if you're in NYC anytime soon, do what you can to get a ticket
Richard Rodgers Theatre - New York, NY - Sat, Aug 8, 2015
★ ★ ★ ★ ★
Joycez62
From the minute the play started until the very end it was amazing. Hopefully it will bring history and rap to another level
Richard Rodgers Theatre - New York, NY - Sat, Aug 8, 2015
★ ★ ★ ★ ★
HyePR
What a great musical Lin made! Especially every King George's part was my favorite!!!! I will watch the musical again!!!!
Richard Rodgers Theatre - New York, NY - Sat, Aug 8, 2015
★ ★ ★ ★ ★
tink1001
What a fabulous irreverent show! Javier was perfect as was the entire cast. Kudos to Kesler Odom as well
Richard Rodgers Theatre - New York, NY - Sat, Aug 8, 2015
★ ★ ★ ★ ★
BostonGlo
This is a revolutionary musical in its story telling and music style. It's highly entertaining and moving.
Richard Rodgers Theatre - New York, NY - Sat, Aug 8, 2015
★ ★ ★ ★ ★
parashuz
WOW, unforgettable....unusual and full of talent....lin-manuel is genius....
Richard Rodgers Theatre - New York, NY - Sat, Aug 8, 2015
★ ★ ★ ★ ★
Yoginc
I have seen a lot of theatre over the years and this is one of the best musicals that I have seen in quite a long time. Simply put it's brilliant!
Richard Rodgers Theatre - New York, NY - Wed, Aug 5, 2015
★ ★ ★ ★ ★
Anonymous
The best show to ever grace Broadway with its presence, hands down. You will learn, you will laugh, you will cry, you will have the music stuck in your head forever and you will be thrilled about that.
Richard Rodgers Theatre - New York, NY - Wed, Aug 5, 2015
★ ★ ★ ★ ★
Aconway
Incredible. Absolutely phenomenal. Lin Manuel has crafted the best show I've see in New York in a long time. The music is infectious, the acting is amazing and the show is mind blowing. Sell your children to get a ticket if you have to, it's worth more than them.
Richard Rodgers Theatre - New York, NY - Wed, Aug 5, 2015
★ ★ ★ ★ ★
Junot
Hamilton, is a bright refreshing bit of true Broadway magic. Instead of the soppy songs of yore that interrupt the flow of the play. The music in Hamilton flows naturally and tells the story to a hip hop beat and yet the music does make a nod to the former greats such as Gilbert and Sullivan. Which is a great juxtapose. Clearly the writer Lin-Manuel Miranda has great respect for Broadway and the very American art form the musical. One cannot forget the incredible casting it is a joy to see so many black and brown faces on the great White Way. The talent is clearly there which makes one wonder why most plays/musicals still only have the token minority cast member!
Richard Rodgers Theatre - New York, NY - Wed, Aug 5, 2015
★ ★ ★ ★ ★
midwifetheatregoer
All I can say is, the hype does not live up to the experience of seeing this show. I cannot remember ever before actually wishing a show would not end, that I could just sit there all night watching and listening. And after almost 3 hours no less. Waiting impatiently now for the CD. (there I've aged myself). Bring it on, please!
Richard Rodgers Theatre - New York, NY - Wed, Aug 5, 2015
★ ☆ ☆ ☆ ☆
Borzoipub
Never NEVER have we hated a show so much. Dr. Zhivago was simply just bad. But this we loathed. I know this is an extreme minority opinion as it is destined to win every prize including the Pulitzer, but it is a show out of the Bronx and should have stayed \u2018in the heights. It glorifies bad English and all that is bad about rap (is there anything good?). It didn t help that the star, Lin Manuel Miranda, only does certain performances that didn t include yesterday s. Also when we pay $142 for a seat, I expect to get leg room with it. I could not get my feet in; fortunately, I was on the aisle. And, for row T in the orchestra one should not have to climb a long flight of steps to get to it. We walked out at intermission not to return.
Richard Rodgers Theatre - New York, NY - Wed, Aug 5, 2015
★ ★ ★ ★ ★
Herzogin
Hamilton is simply the best musical I have seen on Broadway for 20 years. Lin Manuel Miranda et al have turned the American Musical form on it's head! Run don't walk to get tkts.
Richard Rodgers Theatre - New York, NY - Wed, Aug 5, 2015
★ ★ ★ ★ ☆
PlaybillSam
I saw Hamilton Wednes afternoon. I want to know WHY didn't they announce on the call board or the PA system that the star, Lin-Manuel Miranda, would NOT be performing? I specifically bought tickets for a performance he would be playing (note on website: Javier Muñoz will play the role of Hamilton on Saturday matinees through September 6 and Sunday matinees September 7 onward.) I traveled from Boston specifically for that performance. Can someone explain this to me, please????
Richard Rodgers Theatre - New York, NY - Wed, Aug 5, 2015
★ ★ ★ ★ ★
AaronBurr
Very unique hip hop presentation of Alexander Hamilton's life. Terrific dancing, costumes and lighting. Only negative is the enunciation of some words in the singing.
Richard Rodgers Theatre - New York, NY - Wed, Aug 5, 2015
★ ★ ★ ★ ★
Anonymous
Fabulous music, acting, costumes and an inventive telling of early American history!
Richard Rodgers Theatre - New York, NY - Wed, Aug 5, 2015
★ ★ ★ ★ ★
Bobrulez3
"Hamilton" is more than a hit, it is a force of nature. The show packs a powerful wallop that never lets up throughout the nearly 3 hour running time. The music is incredibly strong with an opening number that takes you immediately into the story. Although a hip-hop version of history, the show also has some wonderful mixes of other musical genres to keep balance throughout. History was never as cool as it is in this production. You feel caught up in the revolution along with the characters and even stunned by the scandals of the times, only to remember that the story of the lives of great men have dark shadows as well as bright triumphs. The staging and direction are a fascinating study in how to not only bring history to life but also comment on it in an intelligent way. One scene, in particular, is played out in one perspective, rewound, and played from another character's perspective to give a fuller interpretation of the event. And interestingly, rather than speculate on what might have happened in some details of history, Lin-Manuel Miranda wisely sticks to what the documents tell us only and make us wish, like Aaron Burr sings, that we too could have "been in the room where it happened" so we could know why some events unfolded the way they did. But for every moment of this show, you will be thankful you ARE in the room where it happened that Broadway history is being made, and you will know why because you were there.
Richard Rodgers Theatre - New York, NY - Sat, Aug 20, 2016
★ ★ ★ ★ ★
dramamama611
An amazing theatrical experience. A history lesson, an examination of human nature, a look at the past, present and future. Lin-Manuel Miranda has written an unadulterated masterpiece. Music that is new (to musical theater) and alive and raw. Don't worry about whether you like rap or hip hop...this music (which includes more than that) says SO much, the rap is simply needed for the potency of the story. Upon leaving the theater, my 14 year old made sure to tell me he'd accompany me to see it again. He's not asked to see a show a second time. We already bought tickets.
Richard Rodgers Theatre - New York, NY - Sat, Aug 20, 2016
★ ★ ☆ ☆ ☆
JLoriJ
I was fortunate to see the show 3 times with the original cast. They were terrific. They were all fluid and perfectly intertwined. Now that the Tony winners and many of the original dancers have left, the understudies have filled the void. While they tried, it just wasn't as good. I saw the show with 2 different under studies replacing the incredible Daveed Diggs who played Lafayette and Jefferson. In my opinion, their attempts to imitate Daveed just didn't work. It looked forced and unnatural. My biggest complaint though is with the inconsiderate theater goers who come back from intermission 5 minutes AFTER the second half starts forcing everyone to get up to let them get to their seats. Or the whispering during the show. Or the cell phone that's on with its distracting light. If you don't want to be aggravated with someone crawling over you, get a seat in the middle of any row. On the aisle, you'll be jumping up and down repeatedly. For what they're charging for these seats, the audience deserves better. And next year the price goes up to $850 for the orchestra and no original cast......no.
Richard Rodgers Theatre - New York, NY - Sat, Aug 20, 2016
★ ★ ★ ★ ★
DanceCaptain908
Hamilton lives up to much of the hype that surrounds it. While there were small moments that I felt the cast didn't put 100% into the performance, I was overall amazed by the production. From the lighting and set design to some amazing performances by the cast (including an understudy for George Washington who I think stole the show and beyond perfect performance by Rene as Angelica Schyuler), you will leave the show feeling both excited about what you've just seen but heartbroken by the ending of the story. It is definitely one of the best shows I have ever seen.
Richard Rodgers Theatre - New York, NY - Sat, Aug 20, 2016
★ ★ ★ ★ ★
Anonymous
This was the absolute best musical I have ever seen. From beginning to end I was blown away!!!! The powerful and emotional singing of all the actors; the ensemble's mesmerizing movements and dancing; the addicting musical score and the beauty of the stage lighting made this the highlight of my life. Thank you to everyone involved!
Richard Rodgers Theatre - New York, NY - Sat, Aug 20, 2016
★ ★ ★ ★ ★
MLSt
The show was even better than I expected. Wonderful. I'm already looking for tickets to do this again!
Richard Rodgers Theatre - New York, NY - Sat, Aug 20, 2016
★ ★ ★ ★ ★
Tina1210
This was completely amazing and I can not wait to go again. Went by so fast, Javier was awesome. The new Aaron Burr was great. Lexi Lawson was super. Bravo to the cast and the orchestra. I don't know how they put this together. I know why it took 6 years to write, it was a work of art.
Richard Rodgers Theatre - New York, NY - Sat, Aug 20, 2016
★ ★ ★ ★ ★
LaurieAnnF
Hamilton was awesome, from the opening to the finale. I just can't believe how difficult the Richard Rogers theater was to get around. Definitely not for the people who have walking difficulties. The steps are steep and no elevator! They only have bathrooms on the first floor, so the lines were very long. Thank goodness the show was spectacular, for I will not be returning to this theater. The four stars is for the show not the theater.
Richard Rodgers Theatre - New York, NY - Sat, Aug 20, 2016
★ ★ ★ ★ ★
momma52
Hamilton is an amazing show. Even if you are not into Broadway musicals you should see this one. The modern music and multiracial cast make it fresh and fun. Plus you might learn a little about our country's history to boot! Even with the change in cast recently, the show still exceeds its hype. A MUST SEE!!
Richard Rodgers Theatre - New York, NY - Sat, Aug 20, 2016
★ ★ ★ ★ ★
peggyvb
I read the book and Hamilton- revolution which gave a lot of insight into the incredible lyrics and other details. People cheered every number, all were so well performed, more than at any other show I've ever seen. I think I'd have appreciated it less without having the background knowledge. It was extraordinary on so many levels but listening to the cd and having everything in my head made it more memorable. Since people need to wait so long for tickets, I recommend they prepare before for the ultimate experience. I am sure that anyone without prior knowledge enjoyed the show also but not on the same level.I
Richard Rodgers Theatre - New York, NY - Sat, Aug 20, 2016
★ ★ ★ ☆ ☆
Jen4Ham
We saw the show last night. I bought tickets nine months ago and was disappointed when half of the original cast left last month. But, I had heard great things about Javier Munoz so was excited to see him perform. However, for our performance, it was Javier's understudy and I felt he did not carry the show. He was flat, with little emotion. Definitely a talented singer, but for the hip hop parts it was monotone and spoken. The rest of the cast was excellent. However, I left very disappointed after waiting so long to see the show, paying through the nose for tickets, and incurring considerable travel expenses to get to NYC.
Richard Rodgers Theatre - New York, NY - Wed, Aug 10, 2016
★ ★ ★ ★ ★
LalenaD
I bought tickets to this show nine months ago and worried a little when some of the original cast moved on. I needn't have. Javier Munoz was brilliant as Hamilton and every single cast member was amazing. I have never seen anything like it. The show was so powerful that I still can't stop thinking about it. I am looking forward to seeing it again when it comes to California.
Richard Rodgers Theatre - New York, NY - Wed, Aug 10, 2016
★ ★ ★ ☆ ☆
Criticsw
I get it-subs are part of the "show must go on ethos". But Thursday's last minute sub for Hamilton was wooden, without charisma, and lackluster. We all left wondering why Washington would have picked him, why Eliza was so smitten? To have waited so long and paid so much to see this with a lead character that could not carry the show was so disappointing.
Richard Rodgers Theatre - New York, NY - Wed, Aug 10, 2016
★ ★ ★ ★ ★
2sandyj
I was already in love with the music, but it was amazing to watch the actors physical interpretation of the lyrics, it brought an even greater depth of the words to me. I have never seen a musical with such intricate and physically demanding choreography. It is now the musical that I will judge all other musicals by.
Richard Rodgers Theatre - New York, NY - Wed, Aug 10, 2016
★ ★ ★ ★ ★
IowaRiver
Hamilton is different but still great. The newer cast (as of August 2016) are individually both stronger/weaker but not enough to be distracting to someone who has seen the original. It was easier to follow the lyrics and the staging is more "dramatic." Overall just as exciting as when first seen.
Richard Rodgers Theatre - New York, NY - Wed, Aug 10, 2016
★ ★ ★ ★ ★
JLori
THE MUSIC, LYRICS, STAGING, LIGHTING, CHOREOGRAPHY ARE INCREDIBLE. THEY MORE THAN EARNED THEIR TONY'S. I SAW IT 3 TIMES WITH THE ORIGINAL CAST AND THE REMAINING WITH UNDERSTUDIES. I LOOK FORWARD TO SEEING IT AGAIN. JUST LOVED CHRIS JACKSON, ANTHONY RAMOS, ANGELA GOLDSBERRY FROM THE ORIGINAL CAST...AND WHO CAN FORGET DAVEED DIGGS, LESLIE ODOM, AND LIN MANUEL. THE DANCING IS PART OF THE SET DESIGN AND JUST WONDERFUL, ESPECIALLY THE JITTERBUG NUMBER DURING "WHAT DID I MISS?" TO TRULY ENJOY IT, I RECOMMEND TO ALL THAT THEY READ THE STORY, GET THE MUSIC AND LISTEN TO IT WITH THE LYRICS PRIOR TO GOING. THAT WILL MAKE IT MORE FUN. DON'T DRINK OR EAT BEFORE THE SHOW IF YOU NEED TO RUN TO THE BATHROOM FREQUENTLY...EACH ACT IS 90 MINUTES LONG. DIDN'T UNDERSTAND FOLKS BRINGING KIDS UNDER 10. IT'S TOO AN ADULT SHOW FOR THEM TO UNDERSTAND AND THE YOUNG KIDS I DID SEE WERE RESTLESS AND BORED. BUY YOUR SOUVENIRS AFTER THE SHOW. NO ROOM IN SEAT AREA AND THEY WON'T GET WRECKED TRYING TO PUT THEM SOMEWHERE.
Richard Rodgers Theatre - New York, NY - Wed, Aug 10, 2016
★ ★ ★ ★ ★
Anonymous
After memorizing the soundtrack before seeing the show, it was everything we hoped for!
Richard Rodgers Theatre - New York, NY - Wed, Aug 10, 2016
★ ★ ★ ★ ★
Aeron765
The musical itself was simply amazing. There was constant choreography, overlapping of lyrics, wonderful emotions portrayed by the actors, it was simply incredible. I sat in awe the entire time. The theatre was gorgeous as well, and the stage was sooo gorgeous! the use of the the revolving stage was well played and really enhanced certain scenes, and the sets that were used were also perfect! The ONLY complaint i would have out of everything would be the bathroom situation. The bathroom, mainly the women's, was located down a tight stair well and the line was so long it went into the theatre itself and wound back out to the lobby. More than several people were not able to make it back to their seats due to the bathroom size and intermission time. Aside from that the musical, in every aspect, blew me away and I would love to see it again and again and again! Please Broadway, release official films of your musical, I would pay a gracious amount of money for that! Some of my favorite moments were between the moment in yorktown where they represent the fact that the british have surrounded them by having many british soldiers stalk around the stage where Alexander and Washington are centered, and when Eliza finally breaks her stillness to take Hamilton's hand in 'It's Quiet Uptown', which absolutely broke my heart.
Richard Rodgers Theatre - New York, NY - Wed, Aug 10, 2016
★ ★ ★ ★ ★
melballerina
Whether you've just been hearing the buzz online or you've listened to every song on the cast album, Hamilton is an experience you have to have in person. The show is by turns exciting, poignant, revolutionary, and moving. The technical elements are beyond superb and they add a remarkable atmosphere to the show. If you can see it with Chris Jackson you definitely should--his voice is unbelievable. Lin Manuel-Miranda's writing is pure genius and I feel so lucky to have seen his vision in person.
Richard Rodgers Theatre - New York, NY - Wed, Aug 10, 2016
★ ☆ ☆ ☆ ☆
Malinette
You better crave hip hop and not care about costumes!
Richard Rodgers Theatre - New York, NY - Wed, Aug 10, 2016
★ ★ ★ ★ ★
FrankiejrBaby
Wish we had seen it with the original cast but this is still the best play we've ever seen by a mile. I think Javier Munoz was close to being as good as Lin Manuel-Miranda but the other replacements were not as good. Still, I have no real faults and would see it again.
Richard Rodgers Theatre - New York, NY - Sat, Aug 6, 2016
★ ★ ★ ☆ ☆
Guitargirl18
I purchased tix 9 months prior as a way to celebrate my daughter's and my birthday. My hope was that soon after the Tonys, I would get to see some original cast members, as original cast members usually stay in a show once it becomes "best musical." I could never have predicted that there would be a mass exodus of so many original cast members at the same time. When nothing could be done about that, I resigned myself to thinking that talented replacements, the material and fantastic music would carry the show. Much to my disappointment, there were just too many new understudies coming in and out to make that happen. I felt that there was not enough chemistry between the entire company to make the show feel cohesive. It seemed more like a performance of great music by some stand out people including Javier as Hamiliton. The rest of it was performed by understudies who you recognized as not being regulars. If it was the first or only show I have ever seen, perhaps I would have felt differently. With all respect to Lin, the show is fresh, unique in concept and the music is fantastic. However, I see many Broadway shows a year, and I walked out feeling let down. There were some easy things to fix. Someone had mentioned in their review about the music being so loud that it was hard to understand the words. That could be fixed! However, above all, there needs to be cohesiveness and chemistry among the actors. Though all the pieces are in place, it seemed to lack integrity. It stands to reason that with different people going in and out each night playing multiple parts, that is really hard to achieve. The original piece was solid because the actors appeared together night after night. . I'm sure that the original show truly lived up to all the hype, but the new evolution of Hamilton left this seasoned theater goer just not feeling it. Perhaps this is a transitional period for Hamilton, but go explain that to people who have paid premium prices and spent tons of money to get to NY to see it. There really needed to be some consideration and thought put into keeping the quality up to expectations given the price and support that the theater community has shown to Hamilton.
Richard Rodgers Theatre - New York, NY - Sat, Aug 6, 2016
★ ★ ★ ★ ★
ActoChiGuy
Beyond my expectations. Amazing from start to finish. Sad I didn't get to see the original cast though.
Richard Rodgers Theatre - New York, NY - Sat, Aug 6, 2016
★ ★ ★ ★ ★
Metalyogi
nonstop performance at the highest level in a lovely theater where you sit up close and personal to the stage action.
Richard Rodgers Theatre - New York, NY - Sat, Aug 6, 2016
★ ★ ★ ★ ★
gsq123
Going into the theatre yesterday having been reading the #Hamiltome book, listening to all the songs, practicing the raps and currently in the middle of Ron Chernow's biography, I had very high expectations for this show. By the end of "My Shot", my expectations were already met. I had an idea of what the staging, costumes and the use of the set would be like (which turned out to not be the case), but the way it all was couldn't have been more perfect. One part that I really loved was using the principle cast members who weren't in the action of the number stand and sing and dance on the platforms and still engage in what was happening in the scene. Before my Hamilton obsession started, I was really confused as to why people were saying it was "the best show ever". But now having seen the actual show and doing everything a fan of Hamilton can do, I understand why this show is so special. In a time where the mistreatment of minorities is still a controversial topic in this country, here is a hip-hop musical about the Founding Fathers, with most of the cast being minorities. When watching the cast perform characters who were white in real life, it reminded me that anyone can do anything they set their mind to - just like what the Founding Fathers did as well as the cast having their dream of performing on Broadway - no matter their race, religion, or sexual orientation. Also, this show doesn't have glitzy chorus lines, showy choreography, or big emotional ballads (with the exception of "Burn"). It adds something new to the world of theatre and is appropriate for the generation we currently live in. If you somehow get the possibility to see this musical, don't you dare hesitate once. Trust me, it's just as good as what the reviews say.
Richard Rodgers Theatre - New York, NY - Sat, Aug 6, 2016
★ ★ ★ ★ ★
nickname278
I can't add anything to previous reviews. I have attended maybe 80 musicals since my first, "Man of La Mancha", in 1967; maybe half of them on Broadway. This is the best.
Richard Rodgers Theatre - New York, NY - Sat, Aug 6, 2016
★ ★ ★ ★ ★
1040EZ
We bought the tickets in November on Ticketmaster and waited the 9 months to see it. It was worth the wait. The current cast is marvelous. The music and songs are unbelievable. It helps to have read up on AH before you go. You then are better able to understand the story line. After every number, the audience applauded so long that the show had to stop momentarily. It does not matter if you cannot understand all of the rap. It's still clearly understood.
Richard Rodgers Theatre - New York, NY - Sat, Aug 6, 2016
★ ★ ★ ★ ☆
LRARBR
Having seen Hamilton twice before, I know the production the audience watched on August 9th was Not the same. The new Hamilton and Eliza were fabulous. Burr and Jefferson were understudies waiting for the new appointed actors. Four addition primary cast members took the night off! That should not be allowed; it's disrespectful to the audience. Many people traveled in to NYC and paid steep prices; the production company needs to respect the audience. I was disappointed and angry even though the show is so strong it was still great.
Richard Rodgers Theatre - New York, NY - Sat, Aug 6, 2016
★ ★ ★ ★ ☆
gg2d
Somewhat disappointed since a large number of the cast were understudies at this performance. That said most of them did a wonderful job. The orchestra overwhelmed the vocals on many songs making it difficult to hear and understand the lyrics. We read Ron Chernow's book and listened to the CD before seeing the show which helped immensely in following the action. That being said we will see it again if we can ever get tickets.
Richard Rodgers Theatre - New York, NY - Sat, Aug 6, 2016
★ ★ ★ ★ ★
ballerina890
Every bit as great as we thought. Renee was not performing that night so that was a huge disappointment, but her understudy Alysha did a fine job. Christopher was absolutely amazing. Rory and Anthony were as well. We need to go back and see it again!
Richard Rodgers Theatre - New York, NY - Sat, Aug 6, 2016
★ ★ ★ ★ ★
2YAYS
We waited four months to see this and it was unforgettable - we paid more than I usually would even consider for tickets (but way less than many people we know) and it was all worth it - having seen many many Broadway Shows, I can say that this may have been the best ever- the most innovative, beautifully staged and also moving with lots of food for thought and opportunity to Revision History and the Story of Hamilton and all the founders - makes the history come alive and asks you to consider "Who is telling the story?", your story and his story. Don't miss it - the cast has changed as Lin and others left, but no matter - this is an ensemble piece and all still wonderful with great voices and the audience loved every minute - Thanks, Lin, for creating this wonderful piece
Richard Rodgers Theatre - New York, NY - Thu, Apr 28, 2016
★ ★ ★ ★ ☆
RevolutionaryHistoryNerd
The overall performance was spectacular, mind-blowing, heart-wrenching (in the right places), and memorable. Seth Stewart stepped into the Lafayette/Jefferson role admirably and Rory O'Malley was magnificent as the fourth George III. Chris Jackson (George Washington) owned the stage every time he set foot on it, and Javier Munoz shouldered all of the expectations heaped onto the "sexy Hamilton" gloriously. The only false note - I'm sorry to say - was Austin Smith's Aaron Burr. He sang his songs just fine (including Wait For It which is still my favorite of the soundtrack) but his stage presence between songs made it appear that he forgot he was supposed to act too. It is fortunate that the show is strong enough that even a role as large as Aaron Burr poorly acted could not take away from an incredible performance. I understand that Brandon Victor Dixon (Shuffle Along) is taking the Burr role in a few weeks and I wish theater goers a better embodiment of the character than the one we got.
Richard Rodgers Theatre - New York, NY - Thu, Apr 28, 2016
★ ★ ★ ★ ★
ohmycarlisle
I waited 10 months to see it and I bought tickets a week later to see it in another 10 months! Hamilton is an incredible work of art and regardless of who is on the stage the show itself is phenomenal. The rapping is at times fast and furious, so it wouldn't hurt to familiarize yourself with the cast album ahead of time to make it easier to follow - I didn't and I wished I did. Don't pay a fortune to see it now because it will run for a long time, but plan ahead and get tickets at cost the next time a block of tickets go on sale.
Richard Rodgers Theatre - New York, NY - Thu, Apr 28, 2016
★ ★ ★ ★ ★
Glyderjl
I will never forget the experience this show gave me; everything about it was incredible. The choreography, the staging, the set, the lighting, and of course the actors have made this show a timeless phenomenon. If I ever get the chance to see it again I absolutely will (and this time i'll bring tissues), raise a glass!!!!
Richard Rodgers Theatre - New York, NY - Thu, Apr 28, 2016
★ ★ ★ ★ ★
dawnkhan
This was my second time seeing Hamilton. Knowing the soundtrack and the actors added so much more to the experience. We had the full cast, fantastic seats, and ended up sitting next to Renee Goldsberry's (Angelica's) 15 year old brother. Chris Jackson gave the most impassioned and unforgettable performance as Washington. Daveed Diggs was so obviously enjoying the enthusiasm of the audience. Leslie, Odom, Jr., Philippa and Renee were flawless. And Lin....I cannot imagine the show without him, although I am sure Javier Munoz is fantastic. We laughed, we sang, we cried our eyes out. A perfect experience.
Richard Rodgers Theatre - New York, NY - Thu, Apr 28, 2016
★ ★ ★ ★ ★
TalkLessSmileMore
Brilliant! An incredible performance by the original cast...more than I had hoped for. Truly the highlight of my year!
Richard Rodgers Theatre - New York, NY - Thu, Apr 28, 2016
★ ★ ★ ★ ★
Heykendra
I got tickets back in December, so I've been hyping myself up for the show for a while. I'll admit my expectations were high. Yet somehow the show was able to exceed those tenfold. I've listened to the soundtrack 100's of times, so I was lip singing the entire time with a huge smile on my face. I was in awe of the amount of detail was put into every moment and the sheer amount of emotion that was visible in the actor's faces and audible in their voices. I honestly didn't know where to look most of the time, because every part of the show was phenomenal- the principles and the company. You could go 10 times and notice something new each time. I just want to go again and again and again and again.
Richard Rodgers Theatre - New York, NY - Thu, Apr 28, 2016
★ ★ ★ ★ ★
Selat2
Hamilton was amazing. The music and staging is tremendous and the performances were incredible. This is the best show I've ever seen. Probably the most important show since Rent.
Richard Rodgers Theatre - New York, NY - Thu, Apr 28, 2016
★ ★ ★ ★ ★
Hamhamham
This is my first visit to New York and Hamilton completed my visit. The musical is the best thing I have ever seen.
Richard Rodgers Theatre - New York, NY - Thu, Apr 28, 2016
★ ★ ★ ★ ★
TheatregoerFromLondon
This is the best musical written in a decade. I'm hoping Lin-Manuel Miranda is going to be the next Andrew Lloyd Webber, but perhaps Shakespeare is a better comparison since Miranda performs in his own pieces. Still, I'm praying for more output. In the Heights was an admirable freshman effort, but Hamilton is a work of sheer genius. Often when you leave a musical, you think it was great as long as it has 2 songs that really stay with you. This show is exceptional because EVERY song is a tour de force. The original cast is also so talented across the board that you really can't believe it. Seriously, Leslie Odom Jr. has a voice that takes you to new heights. Daveed Diggs steals every scene and has you from the minute Lafayette prances out on stage. Renée Elise Goldsberry conveys a staggering intellect with her speed rapping. Phillips Soo has such a sweet clear voice that she had me in tears, it's like an angel singing. Chris Jackson is so dignified and commanding as Washington. I was anxious at the loss of Jonathan Groff whom I saw in July at my first Hamilton viewing as he was AMAZING at King George, but Rory O'Malley plays it with the same delightful over the top excess. Oak Onaodowan conveys power as Hercules Mulligan and stateliness as Madison. Anthony Ramos is lovable as both Laurens and Philip Hamilton so that both of their deaths, tear at your heart. Jasmine Cephas Jones holds back admirably as Peggy and then kills it as Maria Reynolds so that the fallen woman is like a torch singer and you'd go to another show just to see her in the lead. The ensemble - Bettiol, Chappelle, Easterbrook, Gooden, Hutchings, Jasperson, Judd, Rua, Smith, Sykes, and Zayas - are all insanely good, a well oiled machine that performs so flawlessly that if the music and story weren't so compelling, you'd still go for the choreography. Of course, the man behind and in front of all of this is Miranda. He shows humility in surrounding himself with performers who have voices that out-gun him, but he owns Hamilton and his performance is a sensitive portrayal that perhaps benefits from it. He is to quote the lyric, young, scrappy and hungry, and he doesn't throw away his shot. Hamilton is so good and so jam packed with songs and lyrics that it's a good idea to buy and listen to the cast album before and after the show just to be able to digest and appreciate all of the wit, the history, and the word play.
Richard Rodgers Theatre - New York, NY - Thu, Apr 28, 2016
★ ★ ★ ★ ★
mrsfikar
A wave of panic rushed over me when I realized that I had little to no knowledge of Alexander Hamilton's life. After all, I believe I may have slept through half of American History in 10th grade. I would have never slept if history was presented in this fashion! BOOM! Hamilton grabbed me from the first note Leslie Odom Jr. purred during the opening number. I quickly became entangled in a web of history, song, fun, and excellence. This production was sheer genius. If you do nothing else in your lifetime, make sure you see this show at least once (if that is even possible at the rate the tickets are going). Take your shot and get into the room where the magic happens!
Richard Rodgers Theatre - New York, NY - Wed, Dec 16, 2015
★ ★ ★ ★ ★
IceMomNyc
Saw the 4/6 matinee and was blown away. Had listened to the soundtrack prior, and of course had high expectations going in. Not just LMM, but Leslie (WOW!!), Daveed, Renee and Jonathan's (who knew King George could be funny) performances all moved me more than I could have imagined. The heart and soul and passion they, and the entire cast, put in this show was really special, and I feel so lucky to have gotten a seat to see this talent (got tix at face value back in Oct). I would pay the premium to see this with the original cast (we did not get to see Phillipa but her standby Alysha was wonderful)!
Richard Rodgers Theatre - New York, NY - Wed, Dec 16, 2015
★ ★ ★ ★ ★
Gyneen
We bought tickets in August and specifically traveled to New York City to see this play. Many years ago we saw an ad for "In The Heights" on TV and got theater tickets during a visit in NY. We became HUGE Lin Manuel-Miranda fans. Imagine our dismay when we learned that he was on vacation the week we were in NY. Not only that, his regular understudy was not performing - but rather the second understudy Jon Rua. What can I say! The play was FANTASTIC. It is a true test of a play that when the absolute star isn't performing, t and he play still is incredible. Jon was impressive in the role. The entire play speaks of musical, human and idea diversity. I was so proud to be able to attend, and I vote for Lin Manuel Miranda for PRESIDENTE! Amazing
Richard Rodgers Theatre - New York, NY - Wed, Dec 16, 2015
★ ★ ★ ★ ★
BroadwayPatron
What can I say that hasn't already been said about the cleverest, most entertaining play on Broadway? I read the biography and Lin-Manuel Miranda captures it perfectly.
Richard Rodgers Theatre - New York, NY - Wed, Dec 16, 2015
★ ★ ★ ★ ★
StacyMB
I've had the pleasure to see Hamilton twice. It is the best thing I have ever seen on Broadway or anywhere for that matter! It makes you so excited about history, you'll want to learn more after seeing the show! (Take the Hamilton's NY Tour if you can!). Lin-Manuel Miranda is a lyrical genius. The choreo, the singing & the set are all incredible! Be prepared for this to sweep the Tony awards this year (HamilTonys?). This one will be around for a very long time. #YayHamlet
Richard Rodgers Theatre - New York, NY - Wed, Dec 16, 2015
★ ★ ★ ★ ★
ktm71
The play was utterly terrific. Honestly the best musical I have ever seen and I have seen a lot.
Richard Rodgers Theatre - New York, NY - Wed, Dec 16, 2015
★ ★ ★ ★ ★
AdrieRed
This was one of the most fantastic musicals I have seen. I was so fortunate to see the original cast. I think it is well known how wonderful and innovative this musical is but it is unfortunate that tickets are so hard to come by. I was lucky to buy directly from Ticketmaster and not from a broker, which is pretty much all that is available today. The set it very simple and one day everyone will know this musical as well as they know Les Miserables and Guys and Dolls.
Richard Rodgers Theatre - New York, NY - Wed, Dec 16, 2015
★ ★ ★ ★ ★
CYPT
I am so fortunate to have seen Hamilton on BWay. It was the most energetic performance I've seen on Broadway; original, raw and artistic! Hamilton made history interesting! Word!
Richard Rodgers Theatre - New York, NY - Wed, Dec 16, 2015
★ ★ ★ ★ ★
mg81992
Hamilton is a genuine cultural milestone. It is also an absolutely unforgettable, overwhelming theatrical experience. Even if you don't love hip-hop, you will love Hamilton. Do not miss it.
Richard Rodgers Theatre - New York, NY - Wed, Dec 16, 2015
★ ★ ★ ★ ★
DebJRe
Incredible. I was expecting greatness and that's what I got. From the pre-show Ham4Ham to getting an autograph at the stage door from Lin-Manuel Miranda himself afterwards it was an amazing night that I will remember for a long long time.
Richard Rodgers Theatre - New York, NY - Wed, Dec 16, 2015
★ ★ ★ ★ ★
RCTNYC
Is this review even necessary? Everyone who doesn't already know that "Hamilton" is unique, extraordinary, a new genre, amazing . . . . etc., hasn't been reading the reviews or talking to friends who've seen it. 10 minutes into the performance, my companion turned to me and said, "I've never seen anything like this." I've been going to the theatre since age 13 -- several decades -- and I agree. The entire concept, a hip hop musical, is new; the idea of applying that concept to the live of Hamilton was a stroke of genius; and the multi-racial cast and hip-hop format make the point that we have changed, but that the message remains. Hamilton is also an excellent history lesson. Go, take your kids, take your friends -- but go!
Richard Rodgers Theatre - New York, NY - Sat, Aug 15, 2015
★ ★ ★ ★ ★
Lorna08
This musical is innovative, funny, has heart, inspirational and so much more. Please go see it. Be advised it is not a traditional musical but something very new that plays with hip hop, pop and many other contemporary genres. It's put together very smartly.
Richard Rodgers Theatre - New York, NY - Sat, Aug 15, 2015
★ ★ ★ ★ ★
silifam
Transformative. Buy your ticket now for next fall since it's otherwise sold out. These tickets were a wedding present from our parents. They were purchased last summer not long after they went in sale.
Richard Rodgers Theatre - New York, NY - Sat, Aug 15, 2015
★ ★ ★ ★ ★
JCAndrews
L-M M s Hamilton not only borders on Genius but is Genius. What else to call it but phenomenal. How is it possible to take Chernow s book of more than 700 pages of Hamilton s intricate and unlikely story and weave the most important elements into a modern musical? To be able to reduce its complexity to put on such a compelling and up to date musical is a pure gift. And to perform the lead role as well! L-M M is obviously gifted in all these capacities. The show caries the tradition of Broadway musical while at the same time breaks from the past. It is a gift to reside in his time to see it and feel it live.
Richard Rodgers Theatre - New York, NY - Sat, Aug 15, 2015
★ ★ ★ ★ ★
lite2shine
Yes this show lives up to the hype and it's worth whatever price you'd pay. Even if you are not familiar with rap/hip hop, don't worry the score varies and you can catch the lyrics for the most of the part. (If you have Amazon Prime, you can download the entire cast recording for free) The show is ingenious in every part: music, lyrics, casting, direction, choreography, orchestration, and performance. The energy from the cast is very strong and it will deserve every possible Tony Awards nomination next year. BTW I got side orchestra row G and the very end seat, which is a partial view but it doesn't say in the seating map or on the ticket. I miss any action on the left upper side. I assume it's the same for the other side of orchestra too. Still you can't complain because getting a ticket for a face value is challenging for this show unless you want to wait until next summer.
Richard Rodgers Theatre - New York, NY - Sat, Aug 15, 2015
★ ★ ★ ★ ★
Anonymous
In the hands of Lin-Manuel Miranda, the life of Alexander Hamilton during the American Revolution and American Experiment comes to life in the most creative and entertaining way. The story is compelling, the actors amazing, the music incredible. The set is innovative.
Richard Rodgers Theatre - New York, NY - Sat, Aug 15, 2015
★ ★ ★ ★ ★
laureldg3
This is a must-see! The energy, talent, and story telling made this historical tale as exciting as it was educational. Hamilton's story was brought to life in an entertaining and original way. It made me want to read Chernow's biography of Hamilton upon which this show was based. This fast-paced show will leave you breathless!
Richard Rodgers Theatre - New York, NY - Sat, Aug 15, 2015
★ ★ ★ ★ ★
tgriffi
Absolutely fabulous....this hip hop musical has lyrics that are so creative performed by incredibly talented actors. The singing and dancing are phenomenal...I would LOVE to see it again.....It is a Must See Broadway Musical if visiting NYC...Also, we had partial view seats Row E on the end...great seats..just missed a little bit of the stage! Michelle Obama, John Stamos and Martin Short were at the same matinee. Don't hesitate....get your tickets now!
Richard Rodgers Theatre - New York, NY - Sat, Aug 15, 2015
★ ★ ★ ★ ★
Kalisah
This show will blow your mind. It's a game-changer for musical theater and destined to be a classic. Lin-Manuel Miranda is a musical genius. Phenomenal cast with especially amazing performances by Leslie Odom, Jr. (Burr), Renee Elise Goldsbury (Angelica Schuyler), and Daveed Diggs (Lafayette/Jefferson). You will not be disappointed in this show. In fact, buy tickets for two nights because you're gonna want to see it again!
Richard Rodgers Theatre - New York, NY - Sat, Aug 15, 2015
★ ★ ★ ★ ★
Patria71
I bought the tickets for my sister and I (it was her birthday, but she couldn't go alone!!) We were second row in the mezzanine. Great seats. I thought Hamilton was amazing. I laughed, I almost cried during one scene...and on top of it all, I learned a lot! Sometimes I couldn't keep up with the dialogue because I was laughing so much. There was at least one of the characters that needs to enunciate more, but still I managed to get what he was saying. I was a little disappointed that Lin-Manuel had a stand in, but I later found out that is the case during Saturday matinees. This only means that I will have to purchase tickets to another show. It is not to be missed for sure! Very proud of Lin-Manuel. Can't imagine writing all that dialogue and set it to rap music...unbelievable. The cast is top-notch. The storyline made me want to read up on Alexander Hamilton. Save up your money and buy tickets! Truly worth every cent!
Richard Rodgers Theatre - New York, NY - Sat, Aug 15, 2015
★ ★ ★ ★ ★
Kementari
This show was amazing! It completely blew away all of my expectations (which were extremely high)! The hype is not unwarranted. The cast is phenomenal, the music and lyrics are moving, the choreography and staging are beyond compare. Lin-Manuel Miranda is a genius. If you like to visit stage doors, the cast is accommodating and kind, signing autographs and posing for pictures. This truly is a game-changer in what is acceptable on Broadway and I hope it will not only run for a very long time, but also open the doors for other new, young artists to make their mark on this time-honored tradition.
Richard Rodgers Theatre - New York, NY - Wed, Jun 29, 2016
★ ★ ★ ☆ ☆
SandraFromLondon
I came all the way from London to see Lin-Manuel perform this musical, it was my daughter's birthday present (she is only 10 and knows the whole musical by heart). To my surprise four of the original cast were not performing any longer. I paid a exuberant amount of money with the promise to see award winning performers and in exchange I saw a musical which concept was amazing but with actors that could not execute it properly. The actor that plays Hamilton CAN'T rap, which is the whole point of the musical. He was trying to sing instead and his performance, specially in the last monologue, which is one of the most touching moments of the musical was very poor. The new Aaron B. showed potential but he was out of breath in the first song. The new Thomas Jefferson/Lafayette is a great actor amazing energy, but came in late in lots of his parts, which makes me wonder if the sound system had a delay for the actors. Again it's a genius idea, but the new cast needs serious consideration. I'm just hoping the casting in London is done properly, just like it was for In The Heights. I hope I can make it up to my daughter one day :(
Richard Rodgers Theatre - New York, NY - Wed, Jun 29, 2016
★ ★ ★ ★ ★
Rickthetennisplayer
I don't know if it is the best thing I've ever seen but it is right up there.
Richard Rodgers Theatre - New York, NY - Wed, Jun 29, 2016
★ ★ ★ ★ ★
JLori
Nothing short of perfect....the music, lyrics, choreography, stage setting, and talent...
Richard Rodgers Theatre - New York, NY - Wed, Jun 29, 2016
★ ★ ★ ★ ☆
TODtoTT
All the hype is accurate. The show is amazing. We were a little disappointed more than 1/2 the original cast was not there, however those who performed were fantastic.
Richard Rodgers Theatre - New York, NY - Wed, Jun 29, 2016
★ ★ ★ ★ ★
MadiH
Simply amazing. This is an unforgettable experience. If you can get tickets, don't hesitate to do so!
Richard Rodgers Theatre - New York, NY - Wed, Jun 29, 2016
★ ★ ★ ★ ★
Anonymous
In my 50 years of going to Broadway shows I have never seen a show that is as fabulous as Hamilton. The genius of the music which tells the unique story of Alexander Hamilton and other historical figures is beyond compare. For days after seeing the show I would be humming the music. Even better, I'd listen to the 2 disc CD's and could visualize the scenes. All of the actors in the original cast are superb. Not only do they have fabulous voices but marvelous acting ability. The story ranges from the very funny to the very sad. It truly depicts Hamilton as a genius with serious character flaws. Famous historical figures come to life in ways that none of us ever learned in school. Hamilton is a show I hope to see over and over again!
Richard Rodgers Theatre - New York, NY - Wed, Jun 29, 2016
★ ★ ★ ★ ★
Vicky1797
The musical managed to exceed my expectations. Entertaining, poignant, and comical. Fast-paced and supremely creative.
Richard Rodgers Theatre - New York, NY - Wed, Jun 29, 2016
★ ★ ★ ★ ★
Anonymous
Hamilton was amazing! Lived up to all of the hype and was worth every penny
Richard Rodgers Theatre - New York, NY - Wed, Jun 29, 2016
★ ★ ★ ★ ★
BrooklynBeat
Having rec'd tix for my birthday last fall wondered if the long wait, the continued media excitement and listening to the cast album since its release would dampen our enthusiasm. I am elated to report that it didn't ...while Hamilton fits right into the context of Broadway theater, the amazing cast, energy of the production, artful design overall and of course the fantastic collision of history, drama, even rom-com, and all of this marvelous music from all eras of the American experience bring tears to the eyes and joy to the heart. A friend suggested I sell our orchestra tix and go on vacation instead. Well, we didn't and I couldn't be happier. Thank you Everyone involved with Hamilton. As a Schuyler sister says- "I'm about to change your life!" Hyperbole, yeah. But that could sum up the excitement of this wonderful play.
Richard Rodgers Theatre - New York, NY - Wed, Jun 29, 2016
★ ★ ★ ★ ★
HamFanTakingTheFamToHam
Even tho this was the most I have ever spent on 4 tickets to a single event - I can honestly say it was worth it. Family of 4 - (2 boys ages 21-17) We had 2 sets of 2 tickets in different areas. 2 in Orch Center - Row Q and 2 in Orch Right - Row D. Only mom had never listened to the entire 2 CD's worth. (We played CD 1 on the drive to the airport - and the first 2 songs of CD 2 - thru Cabinet Battle 1.) It was funny to hear mom complain after the show that we didn't warn her to bring a tissue to wipe her eyes. :) Also it was great to see the 17 year old smile ear to ear whenever I looked over at him during the show. (I'm sure many of you know how hard it is to make a 17 year old smile about anything.) It was also fantastic to see the Original Cast perform. the only one missing at this performance was Chris Jackson - who was replaced by Nicholas Christopher who was fantastic. So I consider us fortunate to have gotten to see the rest of the performers before some depart the show on July 9th. At any rate - the show was great. We switched seats at intermission - so it was neat to have the 2 different perspectives on the show. Row Q was good for seeing the formations and lighting - while Row D was good to be able to see their facial expressions and sweat, spit and tears. I like the raised seats that start at Row L - So I think row L-M-N would be perfect actually. Anyway - I have no regrets at all about paying the price to have gotten to see these original performers for this show. I was hoping to create memory for a lifetime for each of us and I think I succeeded.
Richard Rogers Theatre - New York City, NY - 06/14/2016
★ ★ ★ ★ ★
Suedee10
Hamilton was brilliant! Making history come to life by using rap was fabulous! Of course, the songs are constantly playing in my head, which has never happened with any other play that I have seen. Bravo!
Richard Rogers Theatre - New York City, NY - 06/14/2016
★ ★ ★ ☆ ☆
Joe3752
Can't help but say it was spectacular, but how disappointing it was to not have four of the leads perform that day! Seven months of waiting and $2500 for five tickets, I thought that showed a disregard for the audience who's been waiting to attend. Understudies were fine, however. After that wait and those prices, aren't I allowed to feel a little bit snubbed?
Richard Rogers Theatre - New York City, NY - 06/14/2016
★ ☆ ☆ ☆ ☆
Anonymous
The characters spoke way too fast for me to follow. I am not (NOT) a fan of rap music
Richard Rogers Theatre - New York City, NY - 06/14/2016
★ ★ ★ ★ ★
Anonymous
It is definitely one of the best shows I have seen on Broadway. Every actor on the stage is amazing and the music and lyrics are brilliant.
Richard Rogers Theatre - New York City, NY - 06/14/2016
★ ★ ★ ★ ★
Kfall
I am completely obsessed with Hamilton. I know every word to every song/rap and spent hours finding tickets online. I bought my tickets 8 months in advance and let me say.. This show DID NOT disappoint. The talent in this cast is everything. Lin, Chris, Leslie, Daveed (who was HYSTERICAL as TJ), Anthony, Oak, Renee and everyone else just blew me away (no pun intended). The lighting was fantastic and the set was beautiful. I cried my eyes out at least 5 times.
Richard Rogers Theatre - New York City, NY - 06/14/2016
★ ★ ★ ★ ★
Hamfan16
The show was so extraordinary, I actually had tears well up in my eyes at the end. I have seen many plays and musicals on Off - and Broadway, but I didn't feel anything close to what I felt when I was watching "Hamilton". I read the book and think Alexander Hamilton was the best founding father, so I don't know if that influenced my feeling.
Richard Rogers Theatre - New York City, NY - 06/14/2016
★ ★ ★ ★ ★
jess4twins
Now, there's only 999,999 things I haven't done. Even better than you've imagined.
Richard Rogers Theatre - New York City, NY - 06/14/2016
★ ★ ★ ★ ★
AmerTrav
Enjoyed this show thoroughly ... to the sets, the lighting, the choreography, the music, the talented actors ... all terrific.
Richard Rogers Theatre - New York City, NY - 06/14/2016
★ ★ ★ ★ ★
cherubina85
I bought these tickets back in November as a Christmas gift for my husband. I realize now I was very lucky, because soon after they became impossible to get, and earlier this month we learned that Lin-Manuel and Lamar Odom Jr. would be leaving the show July 9. We got in just in time! We had partial-view seats (Row V orchestra), but we could still see everything just fine. The show is well worth it, and now I can't stop listening to the original cast recording.
Richard Rogers Theatre - New York City, NY - 06/14/2016
[Temporary disabled] Hamilton (NY) needs your feedback