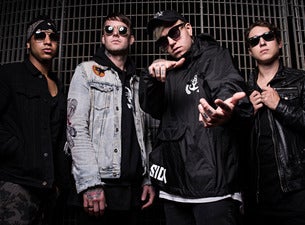 With a reputation of mayhem, partying and humor, metalcore/deathcore band Attila is ready to please the crowds. Attila's flame is kept burning higher and higher thanks to the explosive energy of the band's live concert performances as they bring in the new year with their New Kings Tour launching in January 2014. Fronzak opened up their Warped Tour 2013 performance by rallying up the audience, pumping up the energy before exploding into their set. June of 2013 saw the release of Attila's fifth album About That Life, which stormed onto the Billboard 200 charts at No.
★ ★ ★ ★ ★
JOHNDOEJUGGALO
Great venues, great staff. Great show and artist set lists!
Masquerade - Atlanta, GA - Thu, Nov 7, 2013
★ ★ ★ ★ ★
ElectricFuneral65
Attila was direct support for ICP tonight in Reading PA. They played 12 songs in 45 minutes and stole the show. ICP was very good,but Attila had more energy,catchy music and Fronz is an excellent front man. They get the crowd involved with every song and the 45 minutes went by too fast. I highly recommend seeing them if they come anywhere near you.
Masquerade - Atlanta, GA - Thu, Nov 7, 2013
★ ★ ★ ★ ★
ElectricFuneral65
Excellent show and excellent line up. Attila always delivers a very intense show. Fronz is a very good front man. The music is in your face and does not take a break. They played for about an hour and I wish they would have played a little longer since they were the headliner.
Masquerade - Atlanta, GA - Thu, Nov 7, 2013
★ ★ ★ ★ ★
skylynn
I had VIP and it's a good thing to because it was cold outside haha. I got to meet Attila and they were all really nice guys. I was in the front soo tt was really uncomfortable for me. I really enjoyed it though! Each band had a really great sound. I even enjoyed listening to the bands I didn't really like. I was upset at first that the concert wasnt being held in heaven but hell was the perfect place. The crowd went crazy the whole time and it was impossible to stay still. I did get bruised up badly but it was all worth it. I'm soo glad I was able to go, it's hard to find bands that sound soo good live and have a great stage presence the whole time but I found that on thursday night. I can't wait to see Attila again here!
Masquerade - Atlanta, GA - Thu, Nov 7, 2013
[Temporary disabled] Attila needs your feedback