The NBHD (The Neighbourhood)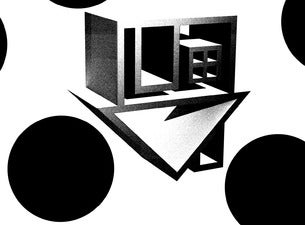 Formed in 2011, The Neighbourhood are captivating concertgoers with a fusion of evocative, moody indie rock melodies and hip-hop inspired beats. The band burst onto the scene in early 2012 with the track "Female Robbery." With little to no information available about the band, fans clamored for more, until finally the Neighbourhood's identity was revealed as a young quintet from Newbury Park, Calif. consisting of lead singer Jesse Rutherford, guitarists Jeremy Freedman and Zach Abels, bassist Mikey Margott, and drummer Bryan Sammis.
The NBHD (The Neighbourhood) Concert & Tour Photos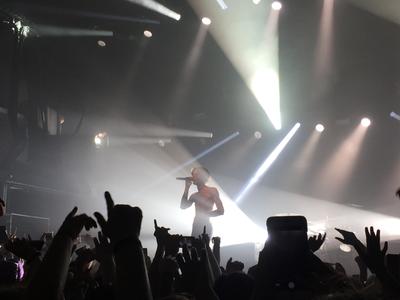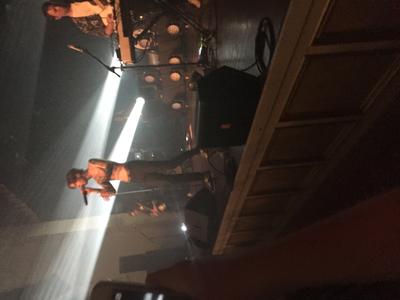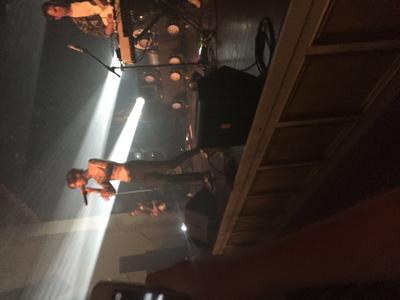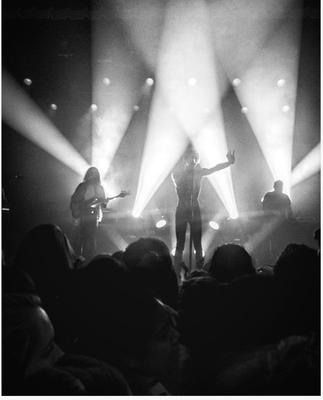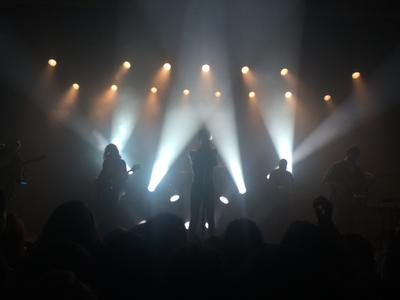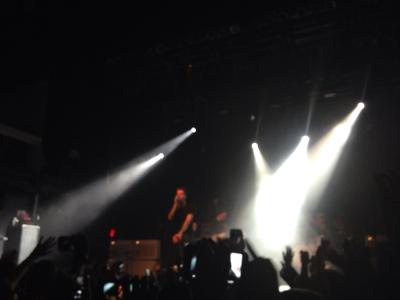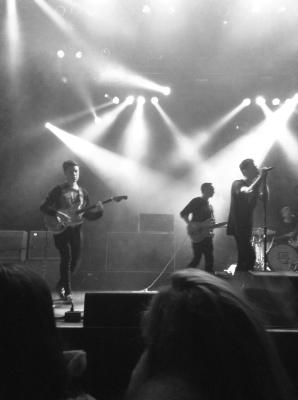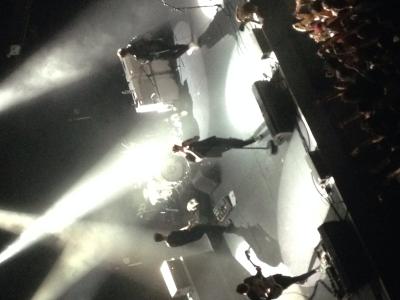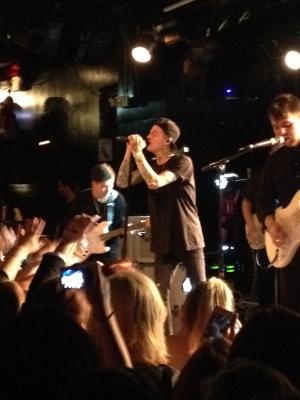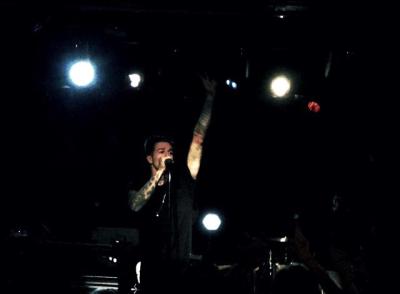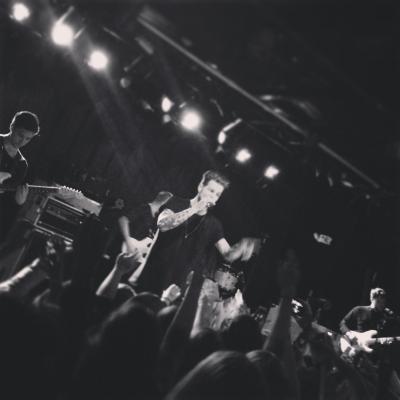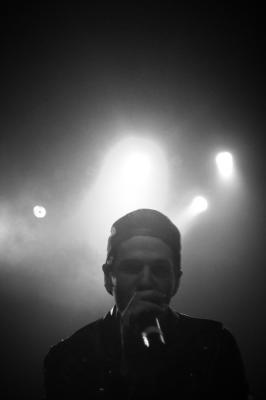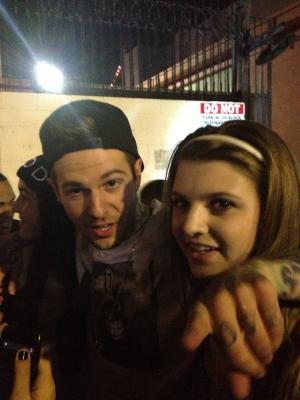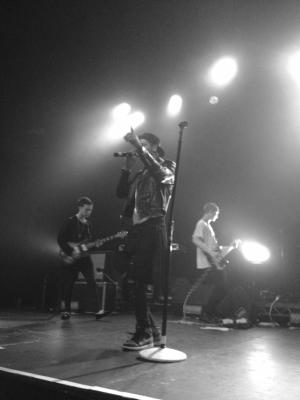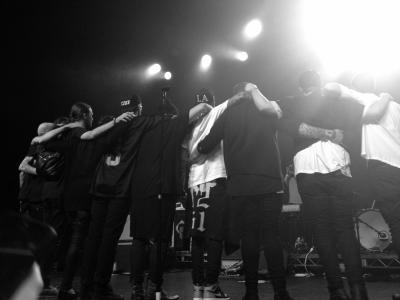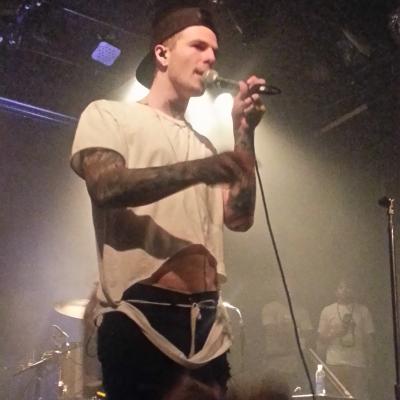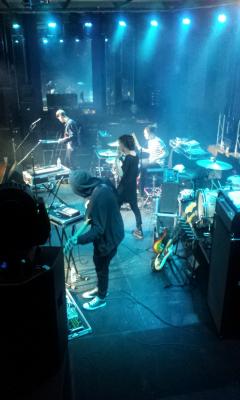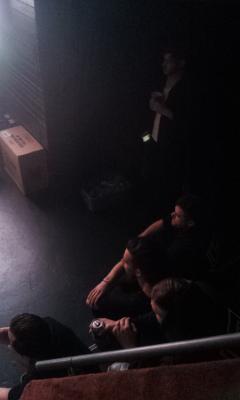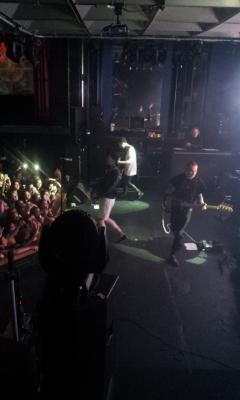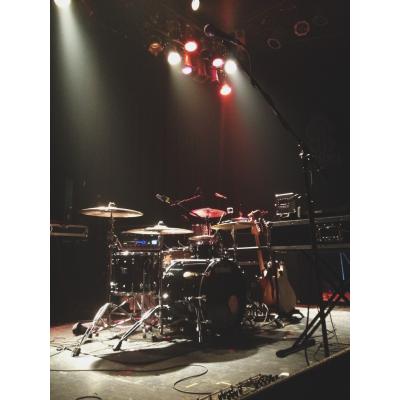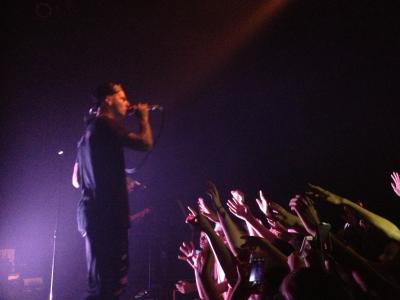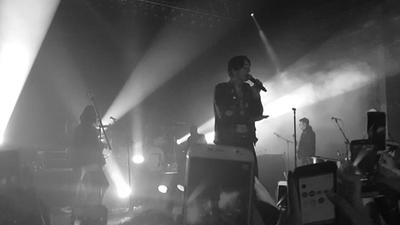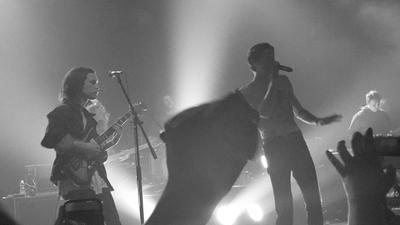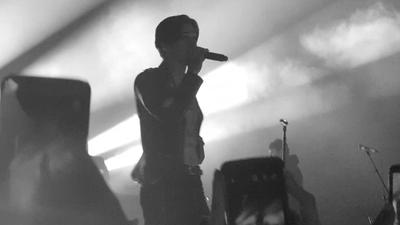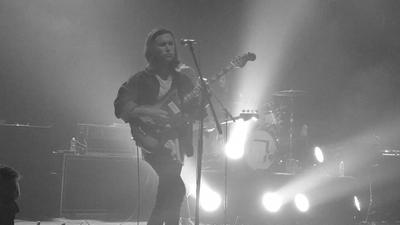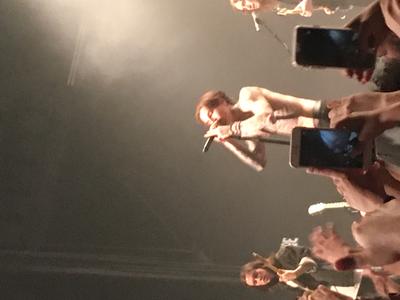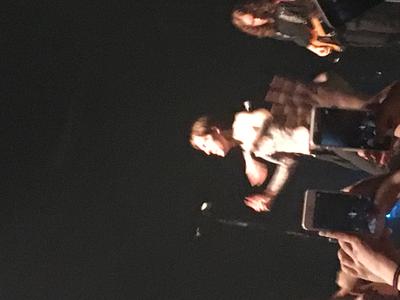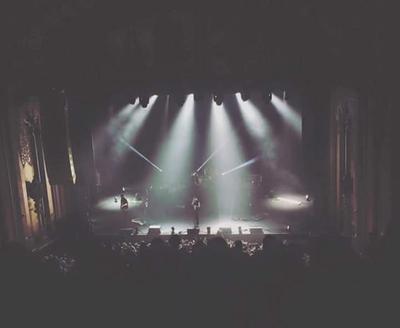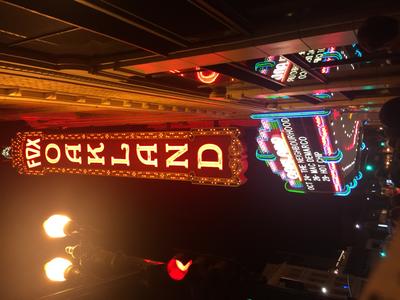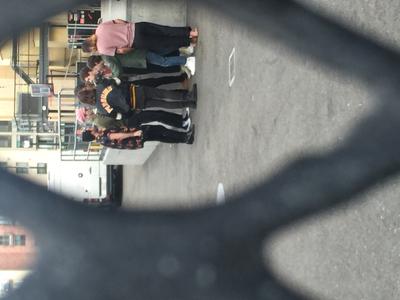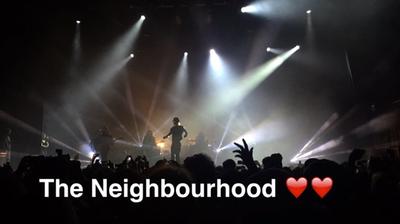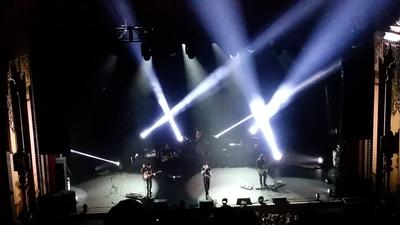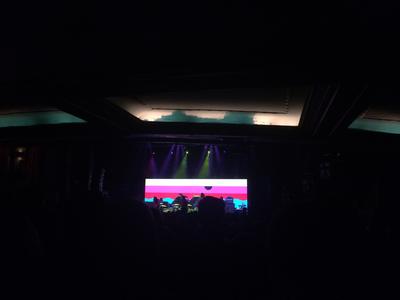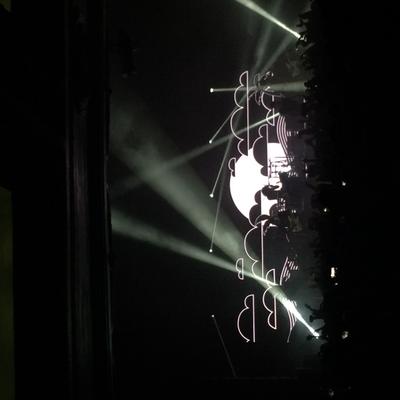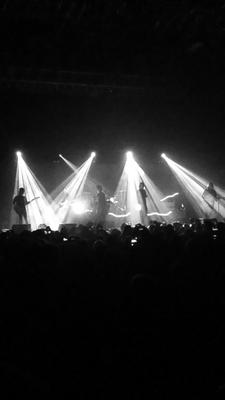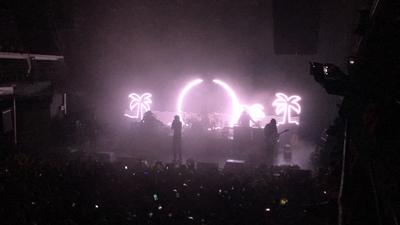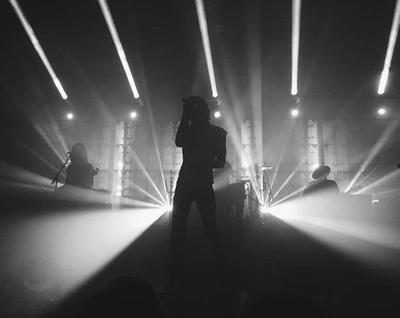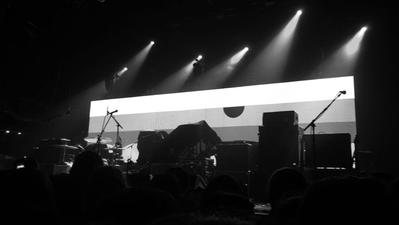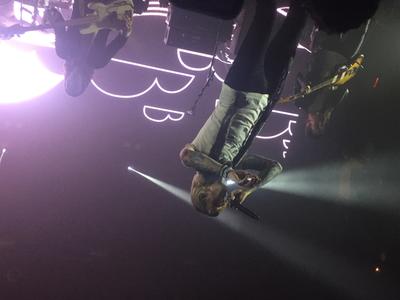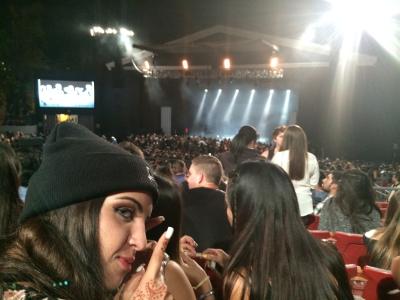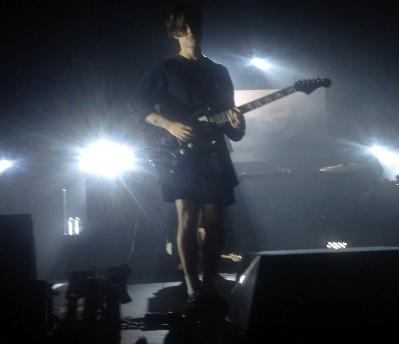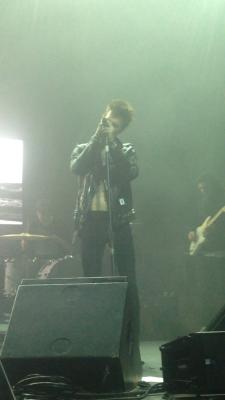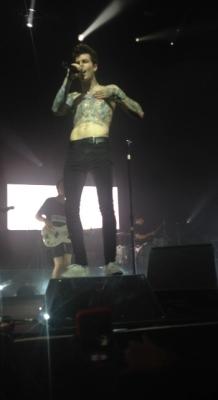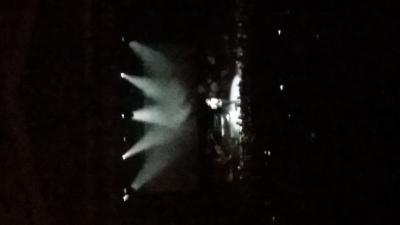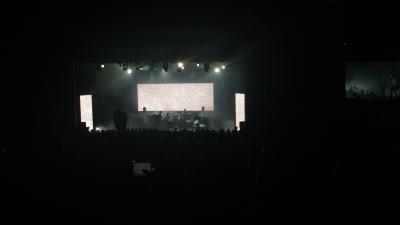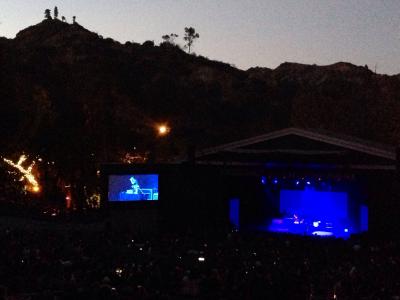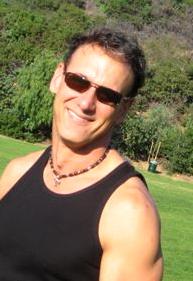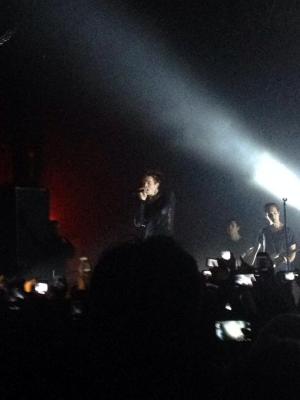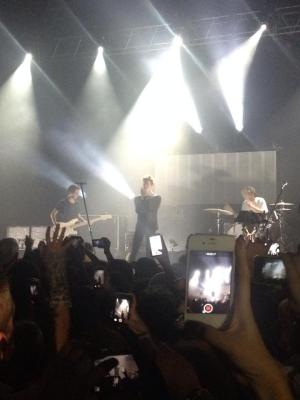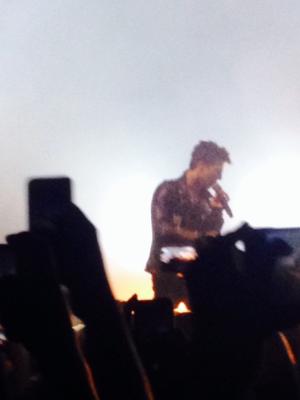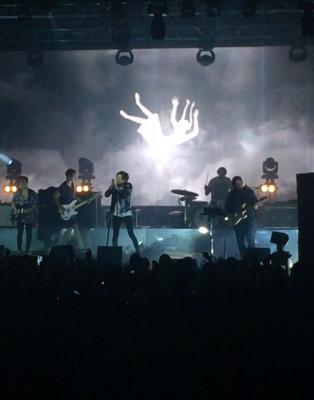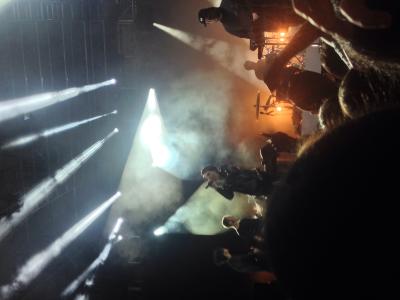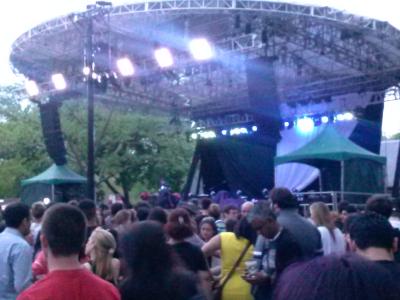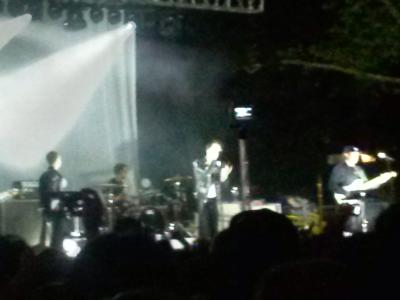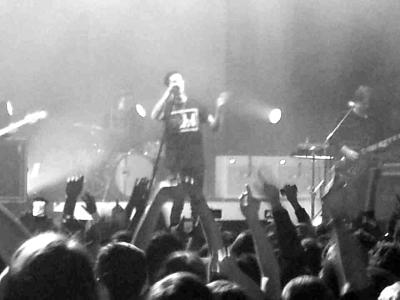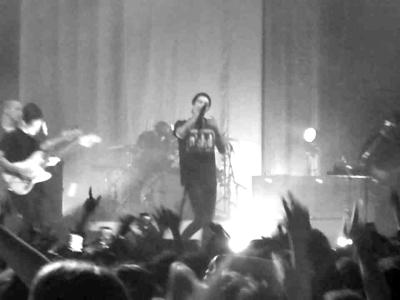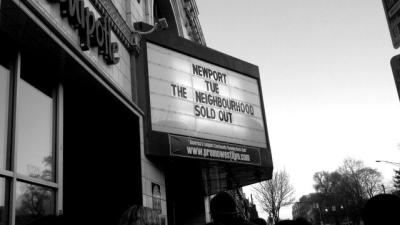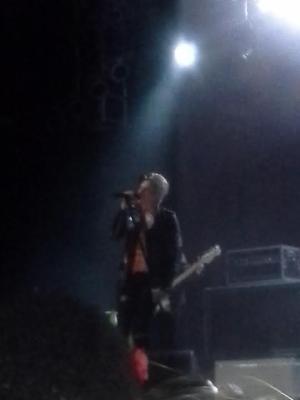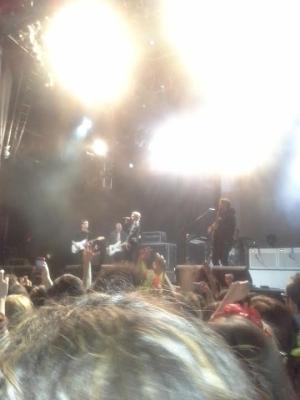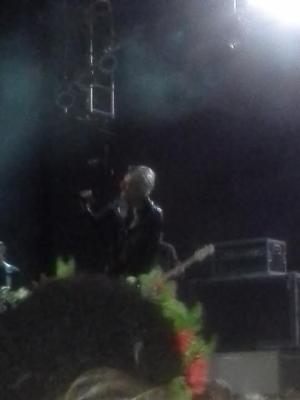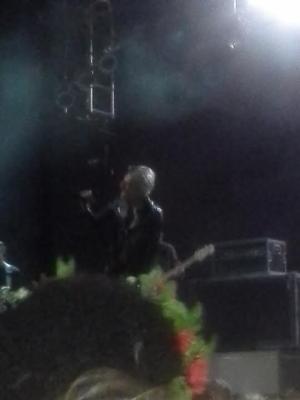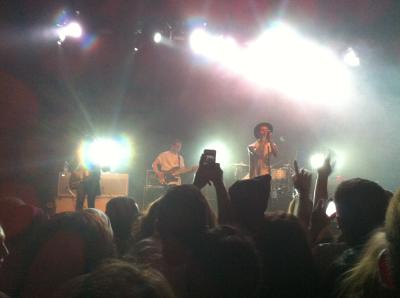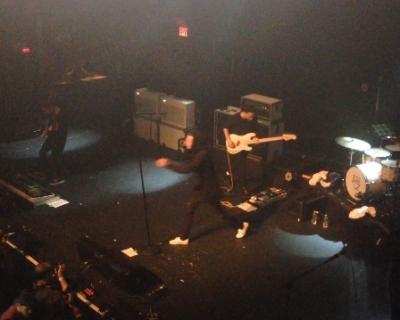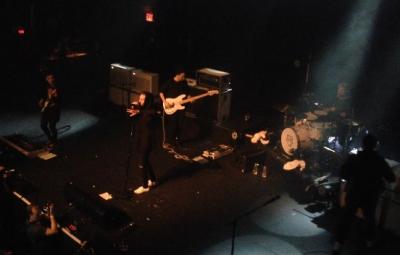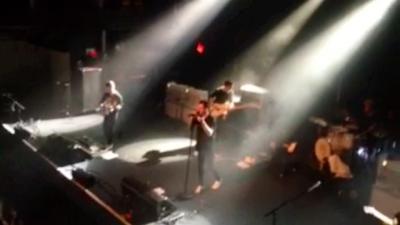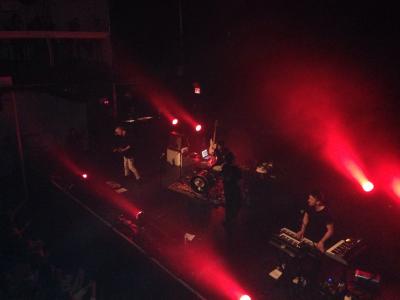 ★ ★ ★ ☆ ☆
theflood
I expected the concert to be a little more chill but some fans were animals. Not sure how many people I nearly elbowed in the face. But totally worth seeing them.
State Theatre - St Petersburg, FL - Wed, Jun 12, 2013
★ ★ ★ ★ ☆
AndiCandi
It took a long time for the band to come on stage and there was about a 30 min wait between acts. I wish they had played more from I Love You but it's understandable as to why they didn't. I showed up 3 hours before the show started and ended up with a front row spot. The first opener was really weird but JAKOY was great and I'll be following him now as well. Overall fun Tuesday night.
State Theatre - St Petersburg, FL - Wed, Jun 12, 2013
★ ★ ★ ★ ★
Alternativelover24
I had such an unbelievable time listening to a band I've loved for a while... All of my expectations were met or exceeded!! The crowd was pushy and loved to be in my personal space but it was worth it for The Neighbourhood...
State Theatre - St Petersburg, FL - Wed, Jun 12, 2013
★ ★ ★ ★ ★
Micholina
Both The 1975 and The Neighborhood were an amazing performances. Venue was perfect for their shows and if you didn't have a chance to see them, you truly missed out. Make sure you catch their shows!!!
State Theatre - St Petersburg, FL - Wed, Jun 12, 2013
★ ★ ★ ★ ★
whatcouldmynicknamebe
Let me start off by saying The Neighbourhood are phenomenal and one of my favorite bands ever. The 1975 are also fantastic and I was quite pleased with their performance. The crowd went nuts when Jesse came out and you could really feel the energy throughout the night. I will definitely go to another one of their concerts for sure! I was in front of where Zach Abels (guitar) was and I was not disappointed at all considering Zach is fine fellow. Waiting in line in the rain was worth it and I totally would get poured on again to see these boys! Now concerning the venue: Usually after the concert is over both bands head out to the back of the venue to meet the fans. Security was a pain the butt because they would not let anyone through after a group of girls got in. I was really disappointed I was unable to get a picture with anyone from The Neighbourhood. Matt (lead singer of The 1975) was nice enough to come around to the front and meet everyone there for pictures. He is super sweet and I am glad I got to meet him.
State Theatre - St Petersburg, FL - Wed, Jun 12, 2013
★ ★ ★ ★ ★
Anonymous
One word, Perfection. Going through Post concert depression right now
State Theatre - St Petersburg, FL - Wed, Jun 12, 2013
★ ★ ★ ☆ ☆
Tersch
The 1975 was a very pleasant surprise; good catchy riffs, danceable, good energy, and cute accents. The Neighbourhood was a bit of a dissapointmen; the sound was poor, the vocals weren't clear, and their was too much base. The energy was good and the crows was receptive, but their live show didn't match their recordings.
State Theatre - St Petersburg, FL - Wed, Jun 12, 2013
★ ★ ★ ★ ★
yoohooemz
By far one of the best concerts I have ever attended! Jesse interacted with the audience the whole time it was great!
State Theatre - St Petersburg, FL - Wed, Jun 12, 2013
★ ★ ★ ☆ ☆
ConcertJunkie12345
This was the second time seeing them live and have to say I was a bit disappointed in the sound! I was incredibly muffled and did not seem like a professional was behind the sound board at all! Was very disappointed in that!
State Theatre - St Petersburg, FL - Wed, Jun 12, 2013
★ ★ ★ ★ ★
Bree528
They were amazing. The venue was perfect for the bands. You could really feel the vibes given off from the music.
State Theatre - St Petersburg, FL - Wed, Jun 12, 2013
★ ★ ★ ★ ★
marisaaaaaaaaaa
The concert was one of the most looked forward to things ive had, however as an avid concert attendee, i normally keep my tickets; BUT the security as opposed to scanning the tickets just took them and let us in. I was quite upset about it because now i have no ticket to add to my collection. Not even just that but the ticket i would've preferred to have had to have signed as well. HOWEVER this is just one little thing that i can go on without because i happened to be the first person in line and i got front row! It was great both bands sounded amazing! A tad loud from the opening act that caused me to plug my ears momentarily, but it was still wonderful. Also after the concert had ended both bands were in the back of the venue in the alleyway to be met and taken pictures with which was absolutely wonderful! All in all it was a wonderful concert that i HIGHLY recommend!
Bowery Ballroom - New York, NY - Mon, Apr 29, 2013
★ ★ ★ ★ ☆
Jnixi2
They were excellent in STL. The crowd wasn't the best and feedback was awkwardly lacking, but they made it work. There was a slight synthetic quality to the lead singer's microphone so the music sounded very similar to the cd. I would definitely see them again. The sound tech had some issues and the microphone fed back a few times which wasn't pleasant. The vibe was was very "underground" and they all seemed/looked like 90's cool kids. They are also insanely attractive, which is just a plus when staring at five people for an hour.
Bowery Ballroom - New York, NY - Mon, Apr 29, 2013
★ ★ ★ ★ ★
PLUR618
For their first show in St. Louis they were definitely one of the best shows. I will definitely be attending the next STL show!!! Great job!!!!:)
Bowery Ballroom - New York, NY - Mon, Apr 29, 2013
★ ★ ★ ☆ ☆
HankB1
First the good news, and there is plenty. California indie rockers The Neighbourhood have released a rather solid debut record (released 4.23), I Love You. From it, we have been fortunate enough to learn/devour/enjoy some exciting new songs; namely the comely and sedutive "Sweater Weather" and pulsating/spooky "Female Robbery". The band, Jesse Rutherford (vocals), Jeremy Freedman and Zach Abels (guitar), Mikey Margot (bass), and Bryan Sammis (drums) have youth on their side. As I struggle to get out of bed these days it is easy to lavish praise on kids. And these guys are kids! For that reason it is easy to give them a pass when it comes to identity, stage presence and overall live presentation. With that in mind their sold out performance at Bowery Ballroom 4.29.13 must be graded as an incomplete. Some more positives if you will allow. For a Monday evening show the place was jammed and most of the crowd was energetic, engaged and polite those in attendance old enough to be their parents. It must be noted that my ever growing sample size indicates concert crowds under the age of 30 are far more behaved than thirty somethings and beyond. Also, although it can adversely effect your morning routine for days to follow, seeing a concert early in the week can be rewarding in a few ways. That is, if you head to a concert on Monday you are making a firm commitment. So are the rest of those in attendance. These folks really want to see the band on stage. Worst case they are eager to see a live act and jump on the bandwagon. My posse qualified for the latter. Go to Terminal 5, or even my beloved Webster Hall, on a Thursday or Friday and the crowd is vastly different. Some are out for a good time. Some are out to get drunk. Some are there for the band. The chatter intensifies among the concert goers as the night moves on. Not to mention those evenings might find the band hitting the stage after (gasp!) 11pm. That kind of night screws up your morning routine for weeks! Anyway, the kids on stage and the kids in the crowd were clearly having fun. For my money, the hour long set was entertaining, but not captivating. Rutherford seems to be trying 1) to establish himself as a large than life lead singer in every sense of the phrase while 2) still trying to figure out who exactly he is? Is he a tough, leather jacket-wearing rap/singer jumping on stacks and leading the crowd in a sing along? Or maybe the soft spoken, misunderstood romantic you might see in an Abercrombie ad or Twilight film? He works real hard, maybe too hard. His voice is strong and his hit singles were all played to perfection. Many times a new band will try desperately to "re-work" their notable songs in an effort to show their versatility. When you roll into a town the first couple times you are better server playing them as we all know, and love them. The Neighbourhood did exactly that and both "Female Robbery" and "Sweater Weather" were high points. It was during the quieter times that Rutherford and his mates became more worrisome. Some songs were similar sounding. It was not bad, just similar. More troubling was Rutherford's styling as opposed to the rest of his crew. Sure they all wore the same crew cuts, but that is where the similarity ended. Rutherford was in all white, covered in ink, with sharpie written messages sprawled on his ripped white jeans. His bandmates wore things like Anaheim Mighty Ducks t's, wife beaters, blazers and scoop necks. All. Over. The Map. While that might not seem like much, trust me, it is. Because during those "off" moments when the song performed does not captivate your eyes start roaming. They notice a disconnect. They start wondering about cohesion. Then you start listening to the song again and think "maybe this isn't sounding quite right cause they are not ALL feeling it." "Perhaps the lead singer is wielding too much influence and turning the others off?" Listen, if your mind starts playing tricks like that then something is amiss. But, as mentioned earlier, these guys are young. They roll through NYC in June for stops at Bowery again and Music Hall of Williamsburg (tix here). Maybe this added time on the road will seem them mesh even stronger. Maturity is a wonderful necessity. Marrying maturity with the inherent adolescence rock and roll demands is a tall task. Time will tell if The Neigbourhood remains up to it.
Bowery Ballroom - New York, NY - Mon, Apr 29, 2013
★ ★ ★ ★ ★
Aeruss
I loved The Neighbourhood, the show was so awesome! They played nearly every song they've ever written - including their newest album! The band sounded perfect - just like their studio recordings! Wow! Also, Brighton Music Hall was a great venue, I'd never been before and I can't wait to go back. I had a lot of fun, I hope The Neighbourhood comes back to Boston soon!!! I'll DEFINITELY see them again!!
Bowery Ballroom - New York, NY - Mon, Apr 29, 2013
★ ★ ★ ★ ☆
JMNY8
The venue was a bit more cramped than I'd anticipated, but not horrible. The Neighbourhood was just as great as I thought they'd be, but opener Little Daylight was amazing, and a band I'm looking forward to seeing a lot more from.
Bowery Ballroom - New York, NY - Mon, Apr 29, 2013
★ ★ ★ ★ ★
Sarah489
The crowd was young, but very excited and were clearly devoted fans. This makes for a better overall experience, in my opinion. The openers played well, and had a good mix of songs. The Neighbourhood played well, seemed to be energetic and excited to be there. Fairly engaging, and definitely good musicians. Overall a really fun time, especially for a Tuesday!
Bowery Ballroom - New York, NY - Mon, Apr 29, 2013
★ ★ ★ ★ ☆
Anonymous
The band was amazing, opener: Little Daylight was amazing, but the acoustics at the Brighton Music Hall with the brick walls was a bit much. I should have brought ear plugs.
Bowery Ballroom - New York, NY - Mon, Apr 29, 2013
★ ★ ★ ★ ★
frankta
Saw them last night in Boston at Brighton Music Hall and it could not have been a better show! Small venue, cheap tickets, and a great band! I've been wanting to see them for a long time and this was just what I'd hoped it would be. Plus I got to meet lead singer Jesse Rutherford after the show and he was super nice! They seem to really appreciate their success and were really happy to talk with their fans for awhile. Can't wait to see them again someday!
Bowery Ballroom - New York, NY - Mon, Apr 29, 2013
★ ★ ★ ★ ★
truthtelleveryoneyouknow
These guys certainly know how to put on a show. They sounded fantastic (bass turned up the way it should be) and were excellent performers. I've never seen a bassist groove so hard.
Bowery Ballroom - New York, NY - Mon, Apr 29, 2013
★ ★ ★ ★ ☆
AJthedude
To see them live is a must. They engage with the crowd so much. I went with a friend who only knew 2 songs and he still had a blast!
Terminal 5 - New York, NY - Wed, Jun 15, 2016
★ ★ ★ ★ ★
svivxo
The Neighbourhood's performance was outstanding !! they made my experience unforgettable and I'm so looking toward to attending another concert of theirs .
Terminal 5 - New York, NY - Wed, Jun 15, 2016
★ ★ ★ ★ ★
Tochrispher
The best live performance I've seen to date. The lead singer has so much energy and soul and puts it into his performance. I was a huge fan before the show, but I walked away even more impressed with the band's talent. I can't wait to see them perform again.
Terminal 5 - New York, NY - Wed, Jun 15, 2016
★ ★ ★ ★ ★
NBHDLOVE
The NBHD is one of a kind. A different sound, an amazing collaboration of hip hop and rock. Jesse is an amazing vocalist surrounded and supported by his remarkable band. I was already in love with them, I didn't think it was possible to fall even more in love with them. But I did. Jesse is an entertainer, and a humble one at that. You could see it in his face how much he adored and truly appreciated the screaming fans as we all sang the words to every song. I couldnt help but just truly smile the whole time. They are a band you can relate to both lyrically and on a personal level. I am so glad I was able to experience them in a small venue before they start performing for thousands of people. Its a different kind of connection when you are that close to them. I think if they continue to do what they're doing, they will be my favorite band for life. I love The Neighbourhood!
Terminal 5 - New York, NY - Wed, Jun 15, 2016
★ ★ ★ ★ ★
TenMore24
The Neighbourhood put on an amazing show! The lead singer Jesse was sick during this show and they still sounded great! Even though the show was sold out the venue was small enough to easily get close to the band/stage but big enough to easily walk around if needed. Had so much fun!
Terminal 5 - New York, NY - Wed, Jun 15, 2016
★ ★ ★ ★ ★
Anonymous
I waited months to see The Neighbourhood perform live and I don't think it could have been any better, even if I planned the entire day my self. We actually got to the venue really early like(2pm in the afternoon) in order to guarantee a spot in the front since it was general admission. SO WORTH IT. Hanging out all day in LA was fun and we actually heard their sound check and saw the band while we passed the back of the venue. After we got inside, literally being at the front and against the barrier, we were incredibly close to the band that it was unbelievable. The show was perfect. Their set list order was amazing. They perfectly planned their songs in order to make that slow and intense vibe that The Neighbourhood loves and feeds off of for every aspect of their band. Multiple times during the show Jesse was standing straight in front of me and making deliberate eye contact. At one point he even kneeled down to my eye level and sang right to me. Maybe it was just my personal experience but his amount of interaction with the crowd truly makes their shows one of the best I've ever seen. The Fonda is a create small venue. I almost hope that the Neighbourhood doesn't get too big in order to stay in those small venues to preserve and enhance their intimate style that resonates through their lyrics and music as a whole. Bottom line, they sound great, they look great (Jesse is smokin), they are so cool and friendly, and overall genuinely the best concert I have ever seen. And I've been to a lot of concerts.
Terminal 5 - New York, NY - Wed, Jun 15, 2016
★ ★ ★ ★ ★
Christina6277
Great band live; I had such a good time. Next time The Neighbourhood are playing in your area I suggest you get tickets asap because this isn't a band to miss.
Terminal 5 - New York, NY - Wed, Jun 15, 2016
★ ★ ★ ★ ★
TheGraylady8
I was really excited to see both of the bands, but mostly The 1975. The 1975 came out and played an amazing set. I was so sad when they were done. The Neighbourhood came out and I was excited to hear them, but unfortunately I could hardly hear Jesse's singing. I don't know if something was wrong with his mic. The rest of the band sounded great, so that kind of stunk. They also didn't play an encore. But all an all it was a great show. After I bought a shirt from The 1975 and the bands were hanging out by the merch so I was able to get a picture with Matty from The 1975. I had an amazing time and I can't wait to see them both again!
Terminal 5 - New York, NY - Wed, Jun 15, 2016
★ ★ ★ ★ ☆
Cassieyeah
The 1975 and The Neighbourhood are both talented, young bands. The crowd was eating up their cool-guy looks, and their smooth voices with multi faceted background compositions. They were entertaining to watch, and very good live! The only complaint I have is that they took a very long time to get on stage, but I suppose all "rockstars" do. They also could have been a little more interactive with the crowd, but that's my personal preference. All in all a very good live music experience! Extra points because they came out to meet their fans.
Terminal 5 - New York, NY - Wed, Jun 15, 2016
★ ★ ★ ★ ★
kuntymermaidIG
Seriously everything from start to finish was amazing ! From the opening acts to them coming out and performing was amazing ! They really know how to engage with the audience and they sound SOOO much better live . Music and venue was great . I totally recommend . It was great !
Terminal 5 - New York, NY - Wed, Jun 15, 2016
★ ★ ★ ★ ★
HoodlumCici
This is the second The NBHD concert I have been to in less than a year. Both times they slayed. Opening acts Kevin Abstract and Mxther had great energy and music. The Neighbour opened with their killer Ferrari. The crowd was so hyped with anticipation. The venue was packed shoulder to shoulder from pit to balconies. They didn't have visuals this year but it brought that right amount of focus on the music. Finally, the closed with their new anthem other than Sweater Weather, RIP 2 my youth, the crowd went wild. After the song, people stayed to see if there was an encore unfortunately, there wasn't. The concert was a ball
Newport Music Hall - Columbus, OH - Wed, Jun 8, 2016
★ ★ ★ ☆ ☆
maddiBraps
Got there about an hour early. Doors were supposedly going to open at 6, but they opened at around 7. Stood around for a long time, and then Kevin Abstract appeared. The performance was sort of bizarre but his vocals are pretty good. Mothxrs came on at about 9. Seriously terrible... best way I can put it is it's like one of those indie bands who only has one sound. Sooo at about 10 I think The NBHD finally appeared. I've seen them before, so I knew what to expect. They perform for about an hour, Jesse never really acknowledges the crowd, and I don't think they've ever done an encore. I like their music so that's why I'm giving this 3 stars. I think that they should find better opening acts, and maybe perform longer than 45 minutes to an hour. Maybe that's not in their control, but I don't know.
Newport Music Hall - Columbus, OH - Wed, Jun 8, 2016
★ ★ ☆ ☆ ☆
Julie567
The opening acts were alright. The neighborhood disappointed me. The band washed out the lead singer. His vocals were trash. I would see the band with the lead singer any day though! I still love them but they need to work on their performance. Also the didn't say goodbye to their fans just walked off the stage after the last song :(
Newport Music Hall - Columbus, OH - Wed, Jun 8, 2016
★ ★ ★ ☆ ☆
Anonymous
I love the Neighbourhood! However I felt like the show was too quick. It's like they were in a hurry. Also, The opening acts felt like they lasted more than the actual band I wanted to see. After the show was finished, they didn't decide to do encore and he just left. I would recommend if your just going to have a good time with a couple of friends and your want to listen to good music. Other than that, I didn't think it was such a great show.
Newport Music Hall - Columbus, OH - Wed, Jun 8, 2016
★ ★ ★ ★ ★
ttng
The neighbourhood is my favorite band so I was pretty excited for this concert. I waited on line since 9 in the morning, terminal 5 should be more organized when letting people in the venue because a lot of people skipped, but I still got the second row in front of barricade. The performance was AMAZING. The energy is always going. If you not sure about seeing the nbhd YOU NEED TO GO YOU DONT WANT MISS THESE GUYS ON TOUR THEY NEVER LET DOWN.
Newport Music Hall - Columbus, OH - Wed, Jun 8, 2016
★ ★ ★ ★ ★
Aubsshea
I love them even more, would recommend band and venue 100%
Newport Music Hall - Columbus, OH - Wed, Jun 8, 2016
★ ★ ★ ☆ ☆
landondmb4ever
sold out show so my friend and i decided to stay in the very back by the bar and boy i am glad we did. now i am not sure if it was because we were back there or what, but the sound was not very good. all i could hear (and feel) was the bass. but with all the young folks (yes i felt old at the show even though i am not) up towards the front, there was no way i wanted to deal with all of them. the way i could tell they were young is because there was hardly NO ONE buying alcohol :/ oh well, i would still go to another show by the neighbourhood, maybe just an outdoor one as it might be better for the sound.
Newport Music Hall - Columbus, OH - Wed, Jun 8, 2016
★ ★ ★ ★ ★
Cornell8377
According to my 16 year old who attended... I'm pretty sure that's a good thing..
Newport Music Hall - Columbus, OH - Wed, Jun 8, 2016
★ ★ ☆ ☆ ☆
Anonymous
The venue was great but the neighbourhood was not. They seemed rushed to get off stage, they weren't personable at all as in they didn't even acknowledge the audience and they were on for maybe 30 minutes.
Newport Music Hall - Columbus, OH - Wed, Jun 8, 2016
★ ★ ★ ★ ★
Christina134567
I've been a fan of the band for a couple years now and seen them a few times and I have to say, they never disappoint! The only problem with the Nbhd shows is that if you want to get close to the stage you have to arrive 3+ hours before the actual show starts (or more). But I guess that's the same with all standing room shows. The first time I saw them I waited in line all day, however I'm past the point of doing that anymore so my friends and I went out for drinks and arrived right before the band came out. Had a decent view, but would have been more fun to be closer. They put on a fantastic show and they always sound great live, the lights are always cool as well. They played a lot from the new album this time which was to be expected but I would've loved to have heard A Little Death. Overall a great show, but if you want any shot at being close to the stage (or front row like I was when I got there at 1:30 a couple years back) pleeease go early! Its worth it to do at least once. Nothing like being front row on a tour like this.
Newport Music Hall - Columbus, OH - Wed, Jun 8, 2016
★ ★ ★ ★ ★
kjamison
I F**king love The NBH. Hands down the best show yet! My new favorites! I love every last one of thier songs and that rare for me. Very talented young men and will definitely see them again! ❤️❤️
South Side Ballroom - Dallas, TX - Mon, May 16, 2016
★ ★ ★ ★ ☆
TNBucco
The NBHD were great! Really enjoyed their set. Wish I had know who opening acts were as they were terrible and I would have skipped them.
South Side Ballroom - Dallas, TX - Mon, May 16, 2016
★ ★ ★ ★ ★
Anonymous
AMAZING. One of the best shows I've ever been to. They are fantastic live.
South Side Ballroom - Dallas, TX - Mon, May 16, 2016
★ ★ ★ ★ ★
allisonxallen
I waited outside the venue for 10 hours to see this show and I do not regret anything. I have never felt so happy in my life. I recommend to anyone and everyone to go see this amazing show. You will not be disappointed.
South Side Ballroom - Dallas, TX - Mon, May 16, 2016
★ ★ ★ ★ ★
Madbrows
I really enjoyed this concert, and not just because the Neighbourhood is my favorite band, I also really like Kevin abstract. I don't really like jahkoy at all, his opening took forever. I also wish I had better seats, but that's only because I came late. Awesome concert overall, and I hope they come back to Atlanta soon.
South Side Ballroom - Dallas, TX - Mon, May 16, 2016
★ ★ ★ ★ ★
bacasanova
BADASS CONCERT LOVED IT TOTALLY WOULD GO AGAIN. AWSOME BAND, RAD MUSIC
South Side Ballroom - Dallas, TX - Mon, May 16, 2016
★ ★ ★ ★ ★
rainB1
Once again, amazing concert! The band sounds great, Jesse has a beautiful voice, and leads the band better each time. The Southside Ballroom is probably my fave venue, because it is small and more intimate and they have it together with parking etc. Love this band!! They never do disappoint me.
South Side Ballroom - Dallas, TX - Mon, May 16, 2016
★ ★ ★ ★ ★
gabrielfromearth
amazing definitely worth the money/wait. it gets a little crowded but just get there early and try to get close and in the middle. They are excellent live. Hope to see them again soon.
South Side Ballroom - Dallas, TX - Mon, May 16, 2016
★ ★ ★ ★ ★
Star2323
Great sound it was not too loud or too low I would have to say the sound was perfect. The Neighbourhood has awesome songs. The band did not waist time talking they just made music giving a good show.
South Side Ballroom - Dallas, TX - Mon, May 16, 2016
★ ★ ★ ★ ☆
CaptainKangaroo75455
Place was very crowded. No seating. Great show. I guess you have to have a certain number of letters.
South Side Ballroom - Dallas, TX - Mon, May 16, 2016
★ ★ ★ ★ ★
ohyasmine
The crowd was horrible but the performance was amazing and well worth going! Vocals and band were just outstanding. The NBHD is one of the best music groups
STAGE AE - Pittsburgh, PA - Mon, Oct 12, 2015
★ ★ ★ ★ ★
Anonymous
The stage presence was amazing. Jesse Rutherford emoted so well to all of the songs and the band, especially for the solos and instrumentals, played flawlessly. There were even a couple of meter changes in there that were amazingly executed. Best concert I've been to.
STAGE AE - Pittsburgh, PA - Mon, Oct 12, 2015
★ ★ ★ ★ ★
koko1687
The NBHD was amazing!! They put on an incredible show! The music was beautiful, Jesse's vocals were lovely and emotional and passionate! This was my first concert, and I was overjoyed! I had a great time :D
STAGE AE - Pittsburgh, PA - Mon, Oct 12, 2015
★ ★ ★ ★ ★
Iliwysmakayla
SO AMAZING BABY CAME HOME AND I CANT EVEN WERE SO GOOD
STAGE AE - Pittsburgh, PA - Mon, Oct 12, 2015
★ ★ ★ ★ ★
JDomi26
This concert was amazing! From the light effects, to the vocals and music. Jesse and the crew gave an amazing show that I will not forget. The venue was also very beautiful. The concert was a great blend of the band's popular tracks as well as new songs from their new album. I would most definitely see them again.
STAGE AE - Pittsburgh, PA - Mon, Oct 12, 2015
★ ★ ☆ ☆ ☆
goldenjess92
I was very excited to go see The Neighbourhood, I didn't even have to think twice about getting my tickets. I drove two hours and waited in line for five just to be able to have a closer look and enjoy the show. When the band arrived they didn't even acknowledge the less than 20 people that were at the gate. We waited and not even a wave, a glance, a smile, nothing...it was like if we weren't even there. I passed in front of the gate to a coffee shop around the corner earlier and saw the lead singer of Bad Suns greeting and taking pictures with the fans, showing appreciation. I was very disappointed with Jesse. Now the concert. The sound quality was mediocre, it was hard to understand what they were saying. It was especially hard to understand the lyrics of the other bands, Bad Suns and Hunny, but they gave a good show. When The Neighbourhood finished, they just walked off the stage, just like that. No gratitude or appreciation towards the fans was shown that day.
STAGE AE - Pittsburgh, PA - Mon, Oct 12, 2015
★ ★ ★ ★ ★
KillaCilla
Nothing is better than seeing one of your favorite bands perform live, and them KILLING IT. So amazing, Jesse is such a great singer. Not to mention awesome for stopping the whole concert just to make sure someone that was a litte too wastey-pants was okay. Dear Neighbourhood, YOU ROCK. <3<3<3
STAGE AE - Pittsburgh, PA - Mon, Oct 12, 2015
★ ★ ★ ★ ★
QueenElizabethI
The Neighbourhood put on a spectacular show! Good music with great people! Although they stopped the music for a time, it was for a good cause as someone had fainted. They truly care about their fans and want everyone to be safe and have a fantastic time! I love this band, not only for their music, but for their humor and good hearts. Definitely a night I will never forget. Thank you!
STAGE AE - Pittsburgh, PA - Mon, Oct 12, 2015
★ ★ ★ ★ ★
Kid127
The Neighbourhood but on one of the best performances I have ever seen. The lights in the background made the songs seem more alive. They were always changing. Jesse (the lead singer) was so sweet too. After every song he said "thank you". You never got bored of just watching them play. The show was alive and real. I would recommend this concert to anyone, totally worth it.
STAGE AE - Pittsburgh, PA - Mon, Oct 12, 2015
★ ★ ★ ★ ★
Lunacee22
I have always loved The Neighbourhood, as well as Bad Suns from the beginning. I had heard of Hunny as well, who opened, and I loved their music as well. But I seriously did not expect this concert to kick as much ass it did! I seriously did not expect to be so blown away. The Neighbourhoods set was incredible, their lights were gorgeous. Bad Suns set and lights were too. And then you had Hunny who rocked it without all the light effects and still blew you away. I seriously cannot say enough amazing and wonderful things about this concert. My year was definitely made and I will see the Neighbourhood every chance I get.
STAGE AE - Pittsburgh, PA - Mon, Oct 12, 2015
★ ★ ★ ★ ★
hancoursey
I went with a friend and her mother and it was just amazing. the concert was in terminal 5 in New York City which I've heard pretty bad reviews on, saying it's dangerou$, etc. but it was FANTASTIC !!! the balcony was great !! I sat with my feet hung over under someone's table and no one minded. the guards told us to put our feet back up but once they left and the music picked up they were dangling again && they never came back over - not a big deal.
Greek Theatre - Los Angeles, CA - Thu, Jul 24, 2014
★ ★ ★ ★ ★
Jessesrealgirlfriend
The Neighbourhood is my favorite band, so it's obvious that I would have an amazing time, however all bias aside, it was extraordinary. I waited in line for about 4 hours and met some awesome people along the way. I think it may have been drizzling, but I didn't notice bc the line was in a perfect place; under the bridge. Getting in went pretty smoothly, I had my ticket on my phone and it took a few times to scan it (on my horribly cracked screen) but it worked. I ran inside with my best friend in the entire universe and we were screaming all the way to the pit. We were maybe, 3rd row, something super close. But as the pre shows went by, we got a lot closer. There were a few rude people that kept elbowing us in the boob, neck, back, but we yelled at them so they kind of stopped. I mean, the pit is a hectic place anywhere, going in there you should be prepared for the worst. THEN THE BOYS CAME OUT.... AND HOLY JESUS IT WAS SO SURREAL. WE FELT THE DRUMS IN OUR VIENS AND THE GUITAR IN OUR HEARTS (WHICH JESSE MELTED WITH EVERY FLAWLESS HIGH NOTE) Every song sounded even more amazing live and JEsse had the stage for himself at one part where he sang a few from the mixtape. Overall, this was one unforgettable night of my life and is definetly worth much more than paid for.
Greek Theatre - Los Angeles, CA - Thu, Jul 24, 2014
★ ★ ★ ★ ★
Anonymous
they were amazing! hunny and bad suns opened up for them, and they were also really good. even if you don't know them, they got the crowd really hype and excited for the nbhd. the neighbourhood's show was really cool! jesse is so energetic and everyone has fun. they also performed a ton of songs and it was just a fun concert in general.
Greek Theatre - Los Angeles, CA - Thu, Jul 24, 2014
★ ★ ★ ★ ★
bosshog81
Took my daughter to NYC for the weekend to celebrate her 16th birthday...despite the cold rain and wind from impending Hurricane Joaquin, it was totally worth it! The Neighbourhood puts on amazing performance. Would see them again and again!!!
Greek Theatre - Los Angeles, CA - Thu, Jul 24, 2014
★ ★ ★ ★ ★
idude4873
It was my first concert and it was just such a great experience. I loved white arrow at the beginning and the energy was so great once the neighbourhood actually came on and the life of the concert was just great! The Venue was amazing as well!
Greek Theatre - Los Angeles, CA - Thu, Jul 24, 2014
★ ★ ★ ★ ★
KayDubs
I loved every bit of the concert. The opening acts were great too but I wish they would have been on for a shorter time. I just say this because I was anticipating nbhd so much. GA TICKETS ARE THE BEST. My friend and I were front row dead center! They didn't perform flawless though. Awks
Greek Theatre - Los Angeles, CA - Thu, Jul 24, 2014
★ ★ ★ ★ ★
Tanina
Love the band. I wished they would have played a little longer. But the overall experience was amazing. They sound great!
Greek Theatre - Los Angeles, CA - Thu, Jul 24, 2014
★ ★ ★ ★ ★
valeriiiieeeee
probably one of the most amazing concerts I've ever gone to! the nbhd was so full of excitement and the Greek theatre was the perfect size and it was out doors so there was no Eco!
Greek Theatre - Los Angeles, CA - Thu, Jul 24, 2014
★ ★ ★ ★ ★
BigSpawn
The while event was awesome. Good food, good drinks. My fiancé and I had a great evening.
Greek Theatre - Los Angeles, CA - Thu, Jul 24, 2014
★ ★ ★ ★ ★
Vracko
The Neighbourhood is the best show I have seen at the Greek all year. wow! 3 days later still thinking about it... Amazing fresh NEW music, sexy profomance. a must see hands down.
Greek Theatre - Los Angeles, CA - Thu, Jul 24, 2014
★ ★ ★ ★ ★
emilypster8
I absolutely ADORE The Neighbourhood and just fell even more in love with them at this concert. Sounded great, looked great. I LOVED their opening act (White Arrows) and aside from the long wait time and the heat, it was so perfect. Would go again and again and again if I could.
Terminal 5 - New York, NY - Thu, Oct 17, 2013
★ ★ ★ ★ ★
amberlynn015
Absolutely loved every minute of it. From the opening act to the very last song. Couldn't of asked for a better night. Had an absolutely amazing time with them!
Terminal 5 - New York, NY - Thu, Oct 17, 2013
★ ★ ★ ★ ★
Jesssiemc
The neighbourhood was amazing! The best show ever, they gave an awesome preformance. Jesse's voice was just as good in person!
Terminal 5 - New York, NY - Thu, Oct 17, 2013
★ ★ ★ ★ ★
umsamantha
I have been to quite a few concerts and this one was by far the best concert I have ever been to. So many amazing things happened n jesse was smokin.
Terminal 5 - New York, NY - Thu, Oct 17, 2013
★ ★ ★ ★ ★
CcristinaMmarie
Although there was a lot of pushing and shoving because it was general admission the neighbourhood put on an amazing show full of energy. They sound exactly the same live as they do in studio recordings. They sang new songs as well as old it was an unbelievable show although their set was sort of short. little daylight was rely good they're a gret band but I hated Danny brown he was trash.
Terminal 5 - New York, NY - Thu, Oct 17, 2013
★ ★ ★ ★ ★
BkzMarMar
It was AMAZING!! I would pay triple to experience it all over again. They hyped the crowd, the songs are great, the performance was perfect. It was a beautiful day in Central Park. The opening acts were good, too. Wasn't a big fan of Danny Brown, since I couldn't understand anything he was saying/rapping about. Little Daylight, was awesome, they made the crowd feel like friends, always thanking everyone, pretty cool songs. Overall, it was an experience I will never forget..Thank you for allowing me to be part of it.
Terminal 5 - New York, NY - Thu, Oct 17, 2013
★ ★ ★ ★ ★
brechibi777
Newport was small, so no matter where you were, you had a pretty good view. The overall sound was just OK, it was really hard to hear the vocals, but I had a great time. I would definitely recommend The Neighbourhood and I would go to any of their concerts nearby.
Terminal 5 - New York, NY - Thu, Oct 17, 2013
★ ★ ★ ★ ☆
Poison723
This was my third time seeing them and they seem to get better every time. The sound was good and they played almost all of their songs from their album. I was surprised they didn't play an encore at all but I still had a great time. They even sold out the venue. They definitely sound just as good live as they do on their album. Very highly recommend if you get the chance to see them!
Terminal 5 - New York, NY - Thu, Oct 17, 2013
★ ★ ★ ★ ★
5secondsofemily
The Neighbourhood concert was wicked. I was so pumped to finally see my favorite band, and they did not disappoint. The whole concert was rad, and the vocals were amazing. The energy in the crowd and the acts was unbelievable. I fell in love with Lovelife, one of their opening acts. I was in the pit, right against the barrier, people pushing and shoving from all around, but the fact that Zach was less than six feet away from me is... wow. Jesse had so much charisma, and was so pumped throughout the show. During West Coast, my favorite song by them, Jesse stood on top of the speakers and sang with the crowd. During Flawless, he brought out Leonard Newell, the lead singer of Lovelife, which was totally rad. Since it was the last concert of the tour, they brought EVERYONE out for Afraid. The crowd was going insane, and everyone was singing along to the lyrics. Overall, it was an amazing show with tons of hype.
Terminal 5 - New York, NY - Thu, Oct 17, 2013
★ ★ ★ ★ ★
AlyssaSoto
Defiantly a night to remember ! The Neighbourhood was amazing and the whole crowd was pumped the whole time .
Terminal 5 - New York, NY - Thu, Oct 17, 2013
★ ★ ★ ★ ★
Saucyyyyyyyyyyy
awesome awesome awesome. had a stellar time and loved the performance
Boulevard Pool at The Cosmopolitan of Las Vegas - Las Vegas, NV - Fri, Oct 30, 2015
★ ★ ★ ★ ★
SophieHoran
The venue was great and allowed us to see very well from the side of the stage! The neighbourhood killed it like usual and I'll be on the lookout for the next time they're in town! Best concert I've been to.
Boulevard Pool at The Cosmopolitan of Las Vegas - Las Vegas, NV - Fri, Oct 30, 2015
[Temporary disabled] The NBHD (The Neighbourhood) needs your feedback