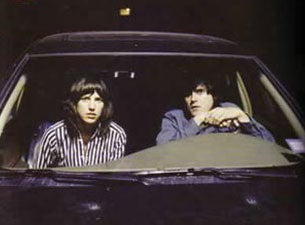 The Fiery Furnaces Concert & Tour Photos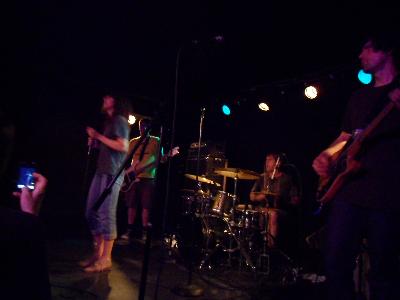 ★ ★ ★ ★ ★
Anonymous
Played real tight, and as they usually do change up a lot of the songs, I was really looking forward to see them play live and I was not disappointed, they are a really great group. The only possible downside was that there were no surprises, it was straight forward an over hour straight playing... was intense.
Black Cat - Washington, DC - Sat, Aug 8, 2009
★ ★ ★ ★ ★
HamandEggs
Fiery Furnaces are one of the most exciting bands to see live. Their set is basically one continuous medley and the songs take on much different forms live than they do on the record. Once the energy starts, it doesn't end until the band walks off the stage.
Black Cat - Washington, DC - Sat, Aug 8, 2009
★ ★ ★ ★ ☆
MAKAR
The Fiery Furnaces and their opening acts - Private Income, Shilpa Ray & Her Happy Hookers - were very impressive. The playing was tight, the drummers in all three bands incrediable. All of the female vocalists had striking voices. The songs were strange but seductive. Although I'm more biased towards melody driven music, I would recommend these acts to anyone looking to expand their horizons. My head swam with their strange compositions all night. Whoever put together this tour did it with great thought. That being said, I think every band's set suffered from being a little too similar. Fiery Furnaces' songs were the most differientated. Unfortunately, by the end of the night the bass tended to be overwhelming. But overall, a great experience I'd repeat again. MAKAR
Black Cat - Washington, DC - Sat, Aug 8, 2009
★ ★ ★ ★ ★
miltonesque
excellent live performance by an original, smart group, mixing complicated lyrics and tunes within a broad range of musical styles.
Black Cat - Washington, DC - Sat, Aug 8, 2009
★ ★ ★ ☆ ☆
jcjd
the openers were Dent May and Cryptacize. they were both fabulous. we left 3 songs into FF cuz we felt like all dynamics and intricacies flew right out the venue doors and it just became this big rock show that seemed calculated and boring. sorry, FF. i was hoping to like it.
Black Cat - Washington, DC - Sat, Aug 8, 2009
★ ★ ★ ★ ☆
Dekyrd
This show had great energy from both bands. I really enjoyed the White Rabbits after going into the show knowing nothing about them. The Fiery Furnaces were good too except I had some problems hearing Eleanor at times. There was probably a sound problem which I can't blame the band for. Highly recommend this show for all the subsequent cities.
Black Cat - Washington, DC - Sat, Aug 8, 2009
★ ★ ★ ☆ ☆
fullofspies
First, almost every show is great in an awesome venue like The National theatre! Fiery Furnace's complex sophistication may be too tough to re-create in a live environment. The music was tight but their whole effect lagged a bit. White Rabbits' style is better suited for the live environment. The big sound of 2 drum kits plays well and keeps the energy high.
Black Cat - Washington, DC - Sat, Aug 8, 2009
★ ★ ★ ★ ★
Tasha85
Went to the White Rabbits show in August and it was an amazing experience! First of all, the parking is excellent in the area and so easy to just park in the lot across the street for a tiny $6 charge. The staff at the National was really helpful and friendly when entering and bartenders were nice too. This has to be one of the cleanest venues I've ever seen - the floors are shiny (not sticky like a lot of places) and the stage is wide enough so that people can always get a good view. White Rabbits played an awesome show as always even though I believe there were a few technical difficulties with the sound. That's the only thing I would complain about ...the sound system was just mediocre, however, everything else was absolutely perfect.
Black Cat - Washington, DC - Sat, Aug 8, 2009
★ ★ ★ ★ ★
narlhotep
The Fiery Furnaces are amazing artists! Every song keeps you guessing. Eleanor Friedberger has a unique vocal style. Two of the best songs from the new album, "I'm Going Away" are "Staring at the Steeple" and "Cut the Cake." The Black Cat is a small venue, so everywhere you stand you have a great intimate view. I would prefer if there was only one opening act, and definitely thought The Screens did a better job of energizing the crowd. The Fiery Furnaces did not go on stage until 11:00, so it would have been better if they started earlier and played longer.
Black Cat - Washington, DC - Sat, Aug 8, 2009
★ ★ ★ ★ ☆
th1729
I had a pretty good time at the show. A friend invited me and I didn't know their sound so I bought their new album, "I'm Going Away", and another album that had a ton of songs on it, "Remember." Their music is pretty easy to get into. The only disappointment for me is that they didn't have anyone playing the keys. I expected a little more organ like their albums had. They played most if not all of "I'm Going Away" and some older songs from the other album I got. They also took some requests (for their own songs, not Freebird). Since the band was new to me it was nice that they played a lot of songs that I had heard.
Black Cat - Washington, DC - Sat, Aug 8, 2009
★ ★ ★ ★ ★
niftykracker
Everyone got their money's worth at this 3 and a half hour tour de force of a concert. Fiery Furnaces team up with local greats Wye Oak to rock you all night long.
Middle East - Cambridge, MA - Fri, Jun 12, 2009
★ ★ ★ ★ ★
Anonymous
fiery furnaces good music heard well you know it was good
Middle East - Cambridge, MA - Fri, Jun 12, 2009
★ ★ ★ ★ ★
robotglasses
the FF played their whole new album "i'm going away " it was amazing trying to take in every little note so i can remember when i buy the album on it's release date 7/21/.09 the band was super tight as always they also played a bunch of their "hits" with the crowd singing along and bouncing off the walls i brought 2 people who had never heard of them before and they are now hooked the band had fun the crowd had fun it was a blast
Middle East - Cambridge, MA - Fri, Jun 12, 2009
[Temporary disabled] The Fiery Furnaces needs your feedback