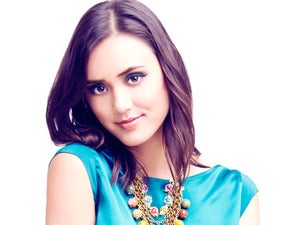 Don't let Dia Frampton's humble demeanor fool you -- this songstress knows how to command the stage with her dynamic vocal range, hitting every note with crystal clarity. As a contestant on the first season of The Voice, Frampton honed her craft as an incredible performer, captivating audiences with her charismatic presence and down-to-earth personality. Whether she's hammering out her piano rendition of Kanye West's \"Heartless\" or singing originals like \"Don't Kick the Chair,\" Frampton is sure to thrill fans as she opens for Lindsey Stirling on a string of summer tour dates. BACKGROUND SNAPSHOT:Dia Frampton got her s.
★ ★ ★ ★ ★
Anonymous
I am so happy I got to hear, meet and talk to Dia Frampton, I have been a fan of her for years. Her voice is so beautiful. Also, Jesse Ruben & Castro the band were fantastic!
The Record Bar - Kansas City, MO - Sat, Mar 3, 2012
★ ★ ★ ★ ★
saidyL
Dia is amazingly talented and she tells anecdotes in between songs which I love. She interacts with the audience and makes an effort to spend time with everyone at the merch table at the end of the show. She is a lovely person with possibly an even lovelier voice.
The Record Bar - Kansas City, MO - Sat, Mar 3, 2012
★ ★ ★ ★ ★
Anonymous
Super fun time Dia Is amazing she is super down to earth
The Record Bar - Kansas City, MO - Sat, Mar 3, 2012
★ ★ ★ ★ ★
TheRealConcertKing
I've been a fan of Meg & Dia since 2006 so I've kind of grown up along with Dia and I could not be any more proud of her success. I've never been anything less than impressed with any of her performances and I would highly recommend going to see her in concert.
The Record Bar - Kansas City, MO - Sat, Mar 3, 2012
★ ☆ ☆ ☆ ☆
DiJoLo
HATE the Record Bar. Couldn't see the stage around a pole placed right in the line of sight and all the people standing in front of us. Very few chairs and the ones they do have are beaten, battered, lopsided and wobbly. Might as well stand. Waited in line for over an hour to be among those to get one of those very few uncomfortable chairs. Food sucked. The venue was so bad we left after about 5 songs by the headliner. Vocals were indecipherable. Very disappointing after watching her on The Voice for an entire season.
The Record Bar - Kansas City, MO - Sat, Mar 3, 2012
★ ★ ★ ★ ☆
chandagirl
While the Record Bar is probably not the best place to see a concert, the setting was very intimate. Andrew Allen opened for Dia and I enjoyed his music even though I had never heard of him before. When Dia Frampton came onstage I was reminded of her unique voice and how much I love hearing her sing. This is the first time I have seen her perform live, I was pleased to see the chemistry between her and her band members, especially her sister Meg. The only downfall was that I was unable to see the full set as I was standing towards the back of the audience. This limitation was due to the fact that the Record Bar is not truly a music venue. Overall this was a fabulous show!
The Record Bar - Kansas City, MO - Sat, Mar 3, 2012
★ ★ ★ ★ ★
KandyJ
Dia and Meg were both great. The stage could have been higher so that we could see her when she was playing piano, but sound was great.
The Record Bar - Kansas City, MO - Sat, Mar 3, 2012
[Temporary disabled] Dia Frampton needs your feedback