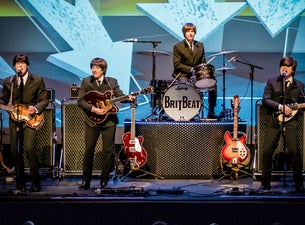 ★ ★ ★ ★ ★
JerryWhite
My wife and I saw BritBeat at Thunder Valley Casino and we were both just blown away. The band was really dynamic and energetic throughout the show. We couldn't get over how authentic it all sounded and their video backdrops were stunning. It really made the whole show theatrical. By the end of the show, we counted five costume changes! The musicians were very pro and they had a fantastic Ed Sullivan character with them. Nice touch. I would definitely recommend these guys to anyone. I think what impressed us the most is the sound quality these guys put out. Bravo!
HOYT SHERMAN PLACE - Des Moines, IA - Thu, May 30, 2013
★ ★ ★ ★ ★
Anonymous
Great show nice trip back to penny lane singing was great and the guys were very funny
HOYT SHERMAN PLACE - Des Moines, IA - Thu, May 30, 2013
★ ★ ☆ ☆ ☆
Anonymous
The music choices were good, and they can play the tunes just fine, but they looked nothing like the Beatles, didn't really sound like them, and weren't even trying to faithfully get into character, or stay in character. I was very disappointed from the outset. I saw the "Fab Four" tribute group a few years ago and was blown away at their look, sound, and commitment to delivering a great "Beatles" experience. The "fab Four" was an awesome show and BritBeat wasn't. Another problem with BritBeat is that they had a fifth dude prominently on stage playing the synthesizer the whole time....fifth Beatle?? He didn't even bother to dress to the time period, he was just some dude also on stage. I was ready to leave half-way through the show, and would have but my wife was enjoying the music, so...
HOYT SHERMAN PLACE - Des Moines, IA - Thu, May 30, 2013
★ ★ ★ ☆ ☆
ProfessorR
The BritBeat played fantastically during the first set of Beatles songs. Great guitar playing and the Bass player was super. The second set was fair due to the drug-infested songs that the Beatles did during that period. A few songs were OK. A couple of songs reminded me of VietNam.
HOYT SHERMAN PLACE - Des Moines, IA - Thu, May 30, 2013
★ ★ ★ ★ ☆
Mmill1980
This is the second Beatles cover band I've seen, the first being RAIN. While the two shows follow a similar format (covering the different "eras" of the Beatles, complete with changing costumes), have similar costumes and play a lot of the same songs, RAIN was a much more polished experience. Every single thing about RAIN was flawless-which is not to say it was better. Just that it gave off a more professional vibe. BritBeat was not as polished, but was much more intimate. Interaction with the band while they were on stage was high, with them asking questions of the audience and the audience able to give feedback. They cracked a few jokes here and there and because the venue was smaller, we got a much better up close look at their costumes and performances. Paul and Ringo especially did a great job mimicking the original Beatles movements while on stage. There were a few sound glitches here and there and there were some areas were the screws could have been tightened, so to speak. But it was clear this band gave it their all and had fun doing it. As far as the music goes, it was great and on par with RAIN. They played some lesser known tunes, which was a nice change of pace and they flowed from song to song nicely. The highlight, though, was easily George (Jeffrey Isoe). The reviewer who said the band switched George's halfway through is incorrect (though dead on about John, especially in that white suit)-Jeff was George the entire time (we were in the 2nd row so pretty sure we would have noticed a totally new George halfway through) and he was simply amazing. He basically carried the band at times, performing all of the guitar solos and doing a lot of the "heavy lifting" musically. His solo on "Come Together" blew the audience away and was definitely the performance I'll remember from that night. Such a talented performer, I found myself trying to Google more info for him when I got home (Button Pushers-Chicago). He was definitely worth the price of admission if you enjoy watching good guitar playing. No, this isn't RAIN and it's certainly not the Beatles, but these guys played a great show with some great music and they clearly gave it their all. They had fun with it and that in turn made the audience have fun with it. It was a fun night with a much more intimate feel than RAIN and a far, far better George!
HOYT SHERMAN PLACE - Des Moines, IA - Thu, May 30, 2013
★ ★ ★ ★ ★
mudflat
The band really knows their music, and how to play it. I listened to 'The Beatles' again!
HOYT SHERMAN PLACE - Des Moines, IA - Thu, May 30, 2013
★ ★ ★ ★ ★
mudflat
They are a great band. The music is The Beatles replayed! i would go again to the show.
HOYT SHERMAN PLACE - Des Moines, IA - Thu, May 30, 2013
★ ★ ★ ☆ ☆
Alanwms
I enjoyed the show. Harmony needs focus in some songs (Paper Back Writer etc). Some chords, although worked, were incorrect (Johns Piano). Lead guitar parts slow to respond turning up the volume - Took about 4 measures to be able to hear the lead guitar. Problem with sound man, I'm sure. These feedback notes are a gift, which should create a continuous improvement situation - I really enjoyed the show.
HOYT SHERMAN PLACE - Des Moines, IA - Thu, May 30, 2013
★ ★ ★ ★ ★
Deputydad23
For anyone who missed the Beatles when they toured the U.S. in the 60's, this is the show to see. From the original boys from Liverpool through Sgt. pepper to the later years, you can sit back, let your eyelids droop, and you are there with the Beatles!
HOYT SHERMAN PLACE - Des Moines, IA - Thu, May 30, 2013
★ ★ ★ ★ ☆
Divadeb52
I thought that the band did a great job. Their instrument playing was exceptional and they sounded a lot like the Beatles for the most part. Great job on the later stuff!
HOYT SHERMAN PLACE - Des Moines, IA - Thu, May 30, 2013
★ ★ ☆ ☆ ☆
Dizzyzebra
I have seen several Beatles tribute shows, and this one was just average. They did play some songs that aren't normally done, which was nice. Did not play Imagine, which was surprising and disappointing. Appearance-wise, John Lennon looked more like Elton John! And Paul looked plastic, more like Michael Jackson in the later years. And they changed actors for George in the middle of the show. Maybe he got sick and had to send in the understudy? Overall, I thought it was overpriced for the quality of the performance.
HOYT SHERMAN PLACE - Des Moines, IA - Thu, May 30, 2013
[Temporary disabled] BritBeat needs your feedback