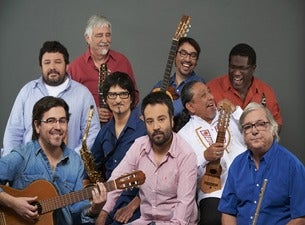 A 45 year, prolific musical journey now offers thiscelebrated Chilean ensemble the singular opportunity to cover a pathway full ofsounds, along a trajectory of over 400 songs in Inti-Illimani's legendaryrepertoire. Linked to the past in spirit, the ensemble nevertheless remainscurrent, creative and vibrant, ever-powerful and willing to cultivate a freshcontinuity deeply linked to the present reality of both Chilean andLatin-American experience, as well as to the universal human experience we allshare.Inti-Illimani warmly welcomes you to share this musicaljourney, featuring songs from each era of its fascinating history.
★ ★ ★ ★ ★
AnnaBananatoo
The range of music and the political spirit that accompanies it make concerts by Inti Illimani, still going strong after 50 years, a real treasure. I was particularly moved by the tributes to Violeta Parra and the always unforgettable Victor Jara. For music that fills your heart and makes your feet dance never miss the rare chance to listen to Inti Illimani in concert.
Virginia Arts Festival - Norfolk, VA - Thu, May 7, 2015
★ ★ ★ ★ ★
Epicmom
It was a great performance. Some sound issues but I really enjoyed it.
Virginia Arts Festival - Norfolk, VA - Thu, May 7, 2015
★ ★ ★ ★ ★
sergio1947
The performance was amazing and the people enjoyed their performance.This group should be invited more often.
Virginia Arts Festival - Norfolk, VA - Thu, May 7, 2015
★ ★ ★ ★ ☆
Donuts086
The musicians were off the charts talented. Their voices chimed together and their ability to interact with each other in such a friendly manner was evident. I took a chance buying these tickets because I like ethnic music even though I don t understand the language. You didn t need to know the songs, they were great to listen to. I highly recommend you see this group someday. You will be amazed at their talents
Virginia Arts Festival - Norfolk, VA - Thu, May 7, 2015
★ ★ ★ ☆ ☆
SEVirginia
Have heard this group live in the late 1970s, in 1990 and now in May 2015. Musicians continue to be very good and the music has evolved in an interesting way, but the sound system was inappropriate for the small private-school auditorium in which the concert was presented. They would have sounded so much better without any sound system at all. Like to hear new material but would have liked to hear a couple of old favorites, too. In this area, we never get to hear South American folk music.
Virginia Arts Festival - Norfolk, VA - Thu, May 7, 2015
★ ★ ★ ★ ★
Gabz1013
Joy, sadness, pride and struggles of south America are expressed in every song of this wonderful and historic group that has been around for almost 5 decades. The folkloric music will take your breath away. I was an honor to be present at one of their performances
Virginia Arts Festival - Norfolk, VA - Thu, May 7, 2015
[Temporary disabled] Inti-Illimani needs your feedback