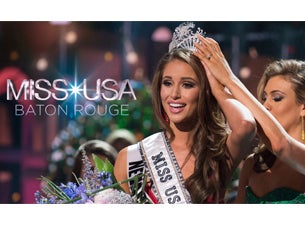 ★ ★ ★ ★ ★
LSUfan
I chose to attend because I use to watch this pageant way back in the 70's & 80's. This event certainly didn't disappoint. It was very exciting. Baton Rouge did a remarkable job serving as host for this event. The girls went all over the area and toured our many attractions and restaurants. NBC did a fantastic job of capturing this and showing it during the nationally televised show. This was the first year the show ran for three hours. I thought it did take a little longer to get the field cut to the final 20. The videos of the final 20 girls were awesome! You really got to know alot about these ladies. The entertainment of Florida Georgia Line, Nelly and all the rest were very good. No complaints at all. The stage was absolutely stunning! A three story building that looked like New Orleans Bourbon St. on each end of the stage. A giant video screen was in the middle that was able to change the background according to each event. The chandelier background was remarkable and provided a perfect backdrop for the evening gown competition with a spiraling staircase. Everything went well and Miss Nevada ended up winning the crown. The only thing I would change is when the final two ladies are left, I would announce the first runner-up before Miss U.S.A., not after. I hope they change this in the future. As for the future, I surely hope that the Miss U.S.A. pageant returns here. This is a perfect place to have it, the River Center sold out quickly and the girls enjoyed themselves almost everywhere they went. And we enjoyed having them here!
Planet Hollywood - Las Vegas,, NV - 06/03/2012
★ ★ ★ ★ ★
Crimsi
Im still going thru online to see if they have started selling tickets to the Pagent as im traveling all the way from Guam via California to watch who will win the Coveted title of Miss USA 2012 on June 3rd. Im Excited !!!!!!
Planet Hollywood - Las Vegas,, NV - 06/03/2012
[Temporary disabled] Miss USA Pageant needs your feedback