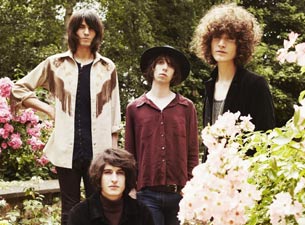 TEMPLES IN CONCERT: Temples has been shaking up the British psych-rock scene ever since their 2012 debut, and they've been hailed as the best new band in the UK by legends like Johnny Marr and Noel Gallagher. At their electric live shows the band delivers the full package, complementing kaleidoscopic hits like "Keep in the Dark" and "Colours to Life" with trippy visuals and retro personal style. Back on the road for their latest tour, Temples will treat fans to cuts from their debut album Sun Structures on a string of highly anticipated dates. BACKGROUND SNAPSHOT: Temples began in 2012 as the home studio project of singer/guitarist James Edward Bagshaw and Bassist Thomas Edison Warmsley.
Temples Concert & Tour Photos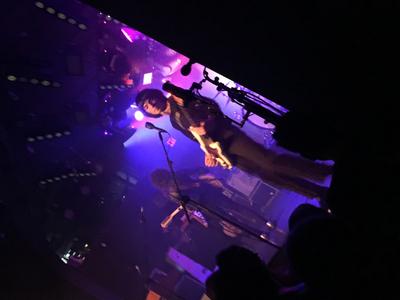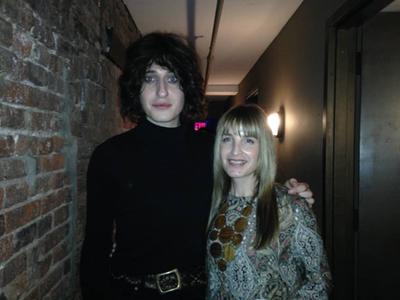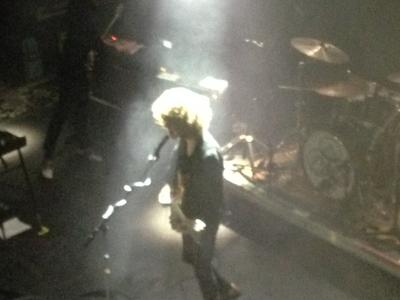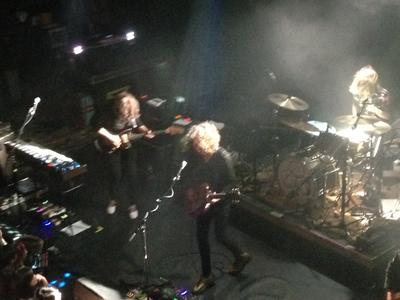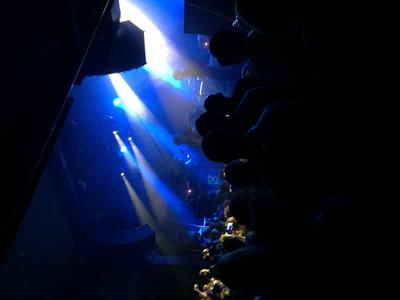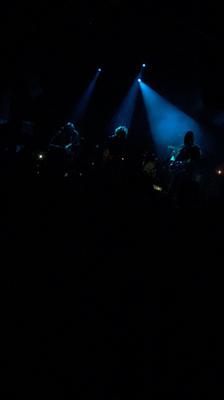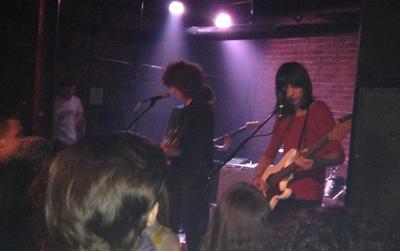 ★ ★ ★ ★ ★
JVHDior
Temples put on Ann amazing show! Everything about it was amazing ! Thanks guys !!!
Irving Plaza - New York, NY - Mon, Oct 27, 2014
★ ★ ★ ★ ★
NancyDominique
Temples are a band that will follow (in my opinion, more accurately, create a new lead) in the ranks of Led Zeppelin, The Kinks, Oasis, etc. My thoughts were confirmed after watching to their live performance at Music Hall of Williamsburg. Just as I felt after listening to their debut album, Sun Structures, for the first time, their live performance solidified my feelings that this up-and-coming band possesses a rare, extraordinary endowment as musicians. Their sound, the lyrics, their on-stage synergy are truly magical and ethereal in ways that I ve never felt or perceived before in band. My only fear is a practical one: I pray (in Temples) that they do not succumb to internal strife and tension created by external demands, which happens to so many great bands that would ultimately lead to their demise. I am hopeful this will NOT happen as they currently appear to love each other s company and are enjoying creating great music together. They need to keep generating more music; the world s a much better place with their sound in the air. One good thing about [Temples] music, when it hits you, you feel no pain. \u2014Bob Marley
Irving Plaza - New York, NY - Mon, Oct 27, 2014
★ ★ ★ ★ ★
Dlodes96
Saw them in brooklyn, great placd. Meet the band in the streets outside and went in to watch what had to be one of the best shows ive ever seen
Irving Plaza - New York, NY - Mon, Oct 27, 2014
★ ★ ★ ★ ★
Lidsville
The true power and intensity of this band really comes out in their live performance. I was disappointing by very low attendance for a Detroit audience, but it sure made for an extremely intimate event. I would say no more than 150 folks were there in my estimate. Anyway, a great time was had by all who attended and they are the best group I have seen in about 15 years. I hope like hell they don't suffer the sophomore blues like so many other bands do after a fantastic first album. A must see IMHO.
Irving Plaza - New York, NY - Mon, Oct 27, 2014
★ ★ ★ ★ ☆
Clearfoster
Having been a devoted lover of psych rock for some years now, it's always a little unnerving to watch how the genre changes and becomes something new, what with all the new gizmos and gadgets our instruments are always gaining. This genre of psychedelics through music started in the 60s and was latched onto by a few very specific culture groups, call them niche if you'd like, the Hippies, the counter-culture, and anyone who tried acid, really, but over time, the sound grew into something more. Now that we have Pop Psych, the death of a genre at time feels like it's coming upon us, and not knowing Vinyl Williams or being very familiar with Temples' coming project, I thought I might have to catch a glimpse of that very death. To my delight, though, both artists have simply done to psych what the original psych artists were doing to rock music, which is throwing in layers and keyboards and whatever twisted warping sounds they can come up with to create something new, something fantastic. The trance was real and inescapable Saturday night, all the way from the Vinyl William's first song choice down to Temples' highly demanded encore, where they played their iconic "Shelter Song", then topped off the night with a collaborative extended version of "Colours To Life" with Vinyl Williams.
Irving Plaza - New York, NY - Mon, Oct 27, 2014
★ ★ ★ ★ ★
mesmerisekate
Very personal venue with friendly staff and fantastic music. Temples' neo psych sound really provides good vibes all round. 12 out of 10
Irving Plaza - New York, NY - Mon, Oct 27, 2014
★ ★ ★ ★ ★
HippieHugger
I have seen Temples 3 times now. Twice in Columbus at A&R Music bar/ Basement and Once at Bunbury Music Festival. Everytime i see them they are better then the last time. They sound better then the CDs even sound. They deliver a powerful psychedelic sound with infusions of classic rock and Indie pop sounds. Its like the beatles, pink floyd, and foster the people made a Beautiful modern band together. I have had encounters with all the band members at one time or another and they have been nothing but kind to me and my friends. They even gave us a shout out and played a song we requested at Bunbury! By far my favorite band. Cant wait to see where they go from here! (event dates 08/2014, 10/2014, and 06/2015)
Irving Plaza - New York, NY - Mon, Oct 27, 2014
★ ★ ★ ★ ★
WPPat
Temples is an amazing band. When they get into one of their jams, they are truly a wall of sound. Although I did miss the live hand-made light show of the last Irving Plaza show, I have to say they once again sounded great. If you would like a psychedelic, cosmic journey without the requisite acid, then this is the band for you. Walmsley (bass) and Toms (drums) provide a steady background for the experimentation of Bagshaw and Smith on guitars and keyboards, together they are a band worth the price of admission.
Irving Plaza - New York, NY - Mon, Oct 27, 2014
★ ★ ★ ★ ★
GG44
I had high expectations for this show and Temples did not disappoint. Great show - band was tight and really rocked it for this show...looking forward to seeing them again.
Irving Plaza - New York, NY - Mon, Oct 27, 2014
★ ★ ★ ★ ★
relayer1976
We have been listening to Temples since the release of their Album Sun Structures back in February. We have listened to the Album to the point of exhaustion, and yet never grew tired of their music (A tribute to their impressive song writing, and hypnotic melodies). We long anticipated to see them live, and they far exceeded the anticipation! I was most impressed just how tight they were, and the enthusiasm they displayed during their performance. Just wish the set was longer, again, a tribute to how much we enjoyed their show. Didn't want to see it end. disappointed they did not play "The Guesser" my personal favorite. Even got to meet Thomas (Bassist) outside before the show at the Headless Horseman. He and Uncle Ernie. They were most cordial. Do they realize the stardom that is about to be laid at their feet??? Temples: you are a fantastic breath of fresh air to an old Rocker like myself. Cheers Temples!!!! Robert
Irving Plaza - New York, NY - Mon, Oct 27, 2014
★ ★ ★ ★ ★
Fuzzwah7
Temples killed it, played a very tight set. My one thought is that James's mic was way too heavy on the top end. He sounded like a mosquito with all that treble. I know that may be part of the sound they're going for but it was a bit excessive at this show I thought.
House of Blues Houston - Houston, TX - Tue, Oct 7, 2014
★ ★ ★ ★ ★
BaldElvis
From the first time you hear one of Temples songs from their debut album - and then see them perform live, you know these young guys from UK have tapped into a cross-generational groove that brings 60's psychedelia into the modern age. Love these guys and hope to see more - I'm 55 and felt like I was listening to Beatles/Doors/Moody Blues back in the late 60's.
House of Blues Houston - Houston, TX - Tue, Oct 7, 2014
★ ★ ★ ★ ☆
blargblarg
Temples was excellent live, big guitars, great set list, excellent sound live.
House of Blues Houston - Houston, TX - Tue, Oct 7, 2014
★ ★ ★ ★ ★
k80krame
Temples' live sound is unreal. They are super tight, and fun to watch. This show will literally take you into a psychedelic dream-land. GO.
House of Blues Houston - Houston, TX - Tue, Oct 7, 2014
★ ★ ★ ☆ ☆
Anonymous
The Bummers killed it, The Districts were unprofessional and the Temples all look like women becuase they were trying to "look the part". Worth the money for the 2 headliners? Nah... But seeing the Bummers made the show for me.
House of Blues Houston - Houston, TX - Tue, Oct 7, 2014
★ ★ ★ ★ ☆
ConcertPlayer
They should be headlining. Room was a bit difficult for their sound.
House of Blues Houston - Houston, TX - Tue, Oct 7, 2014
★ ★ ★ ★ ★
Dule
A very talented group of musicians, I loved every minute of it. It's a shame so few people know about them in a huge city like Houston.
House of Blues Houston - Houston, TX - Tue, Oct 7, 2014
★ ★ ★ ★ ★
KevyB
Saw these guys in SF a month ago. Show was short but the band was tight and sounded excellent! So many bands these days put out a few good songs but cant carry a live performance. Temples are an amazing live band & seeing their show brings their music to life. Their music contains familiar qualities of the past but is refreshingly new and compelling! Cant wait to see them again!!!!
House of Blues Houston - Houston, TX - Tue, Oct 7, 2014
[Temporary disabled] Temples needs your feedback