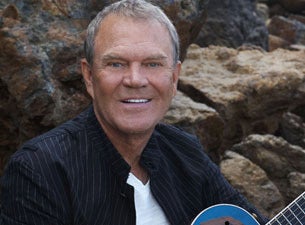 Glen Campbell Concert & Tour Photos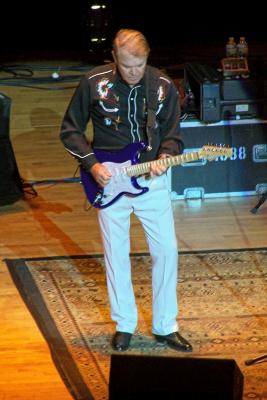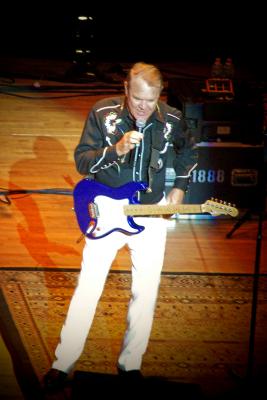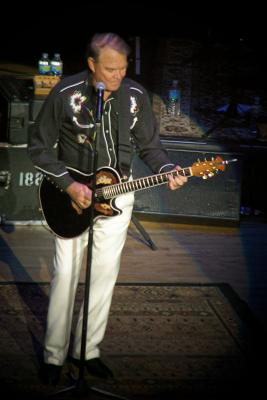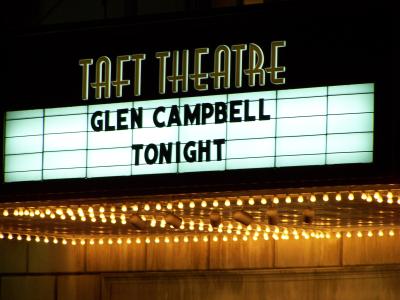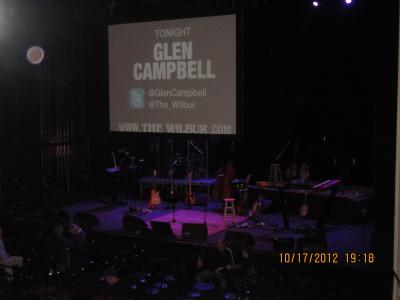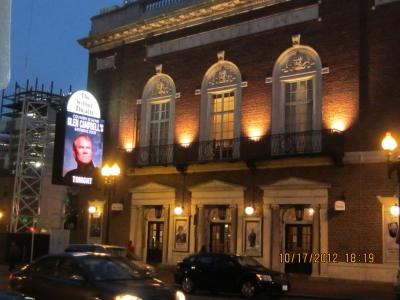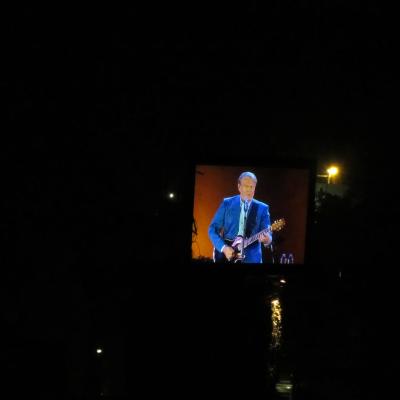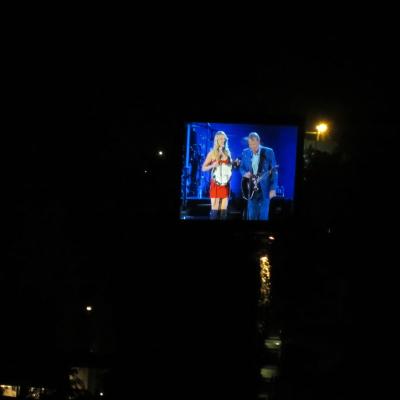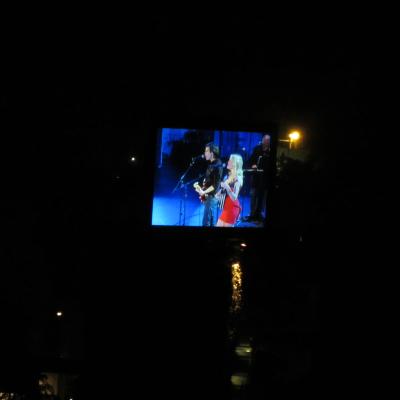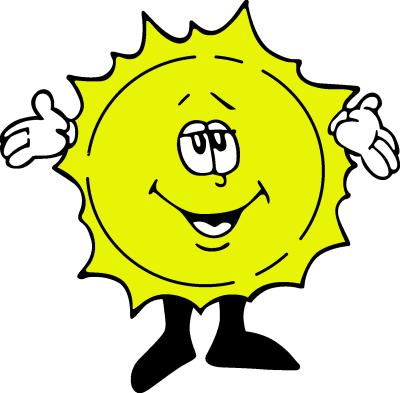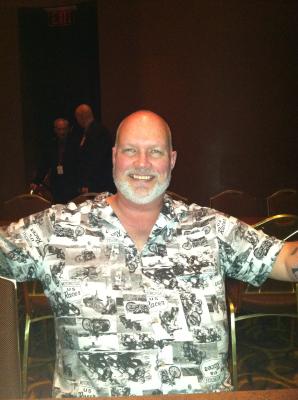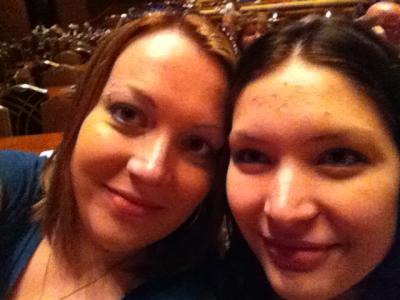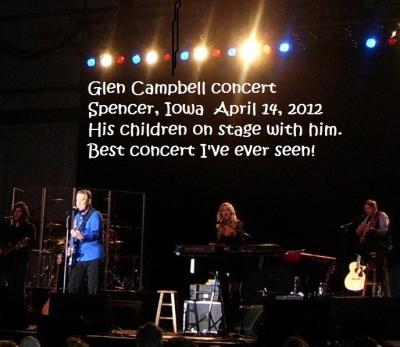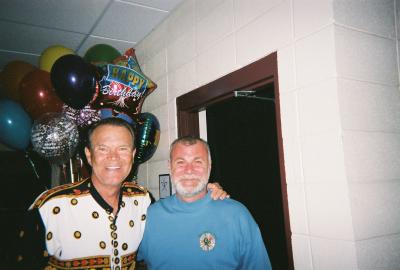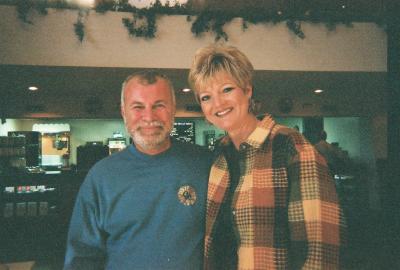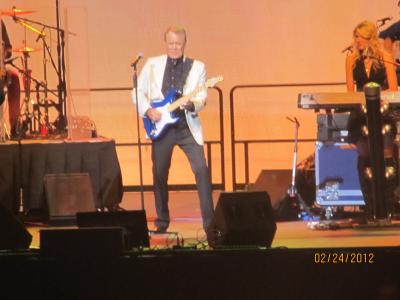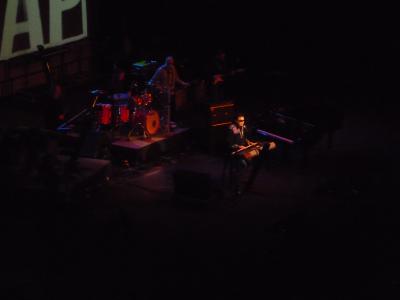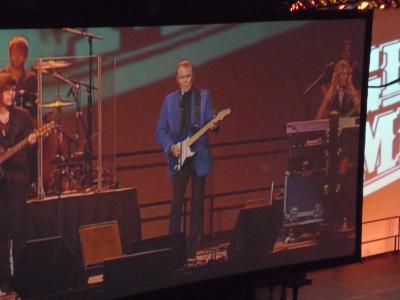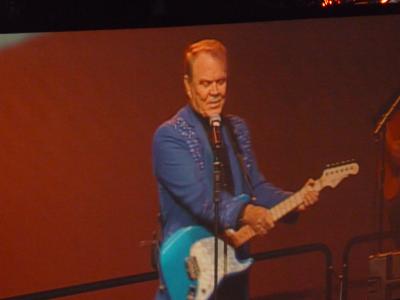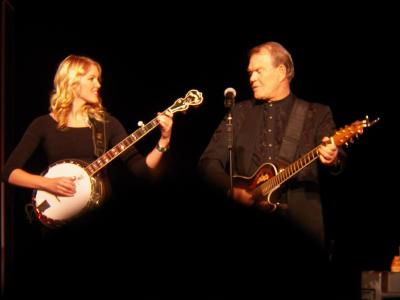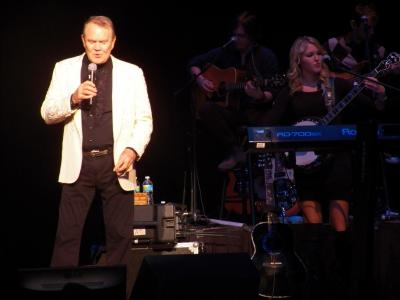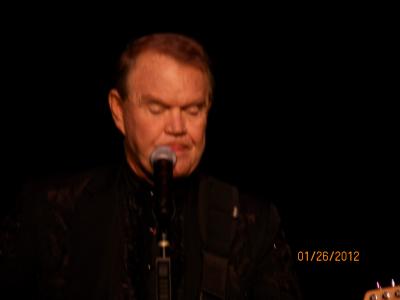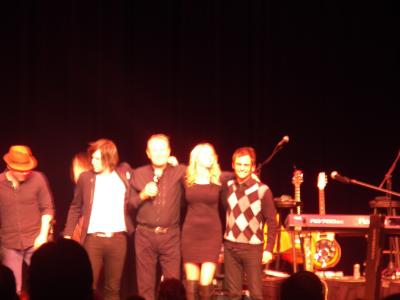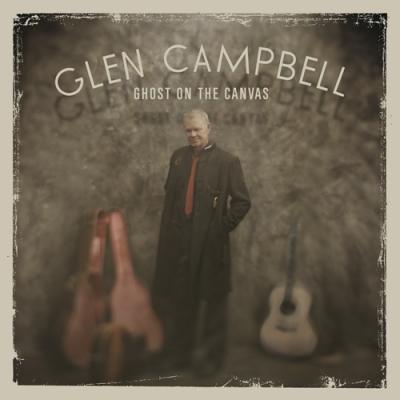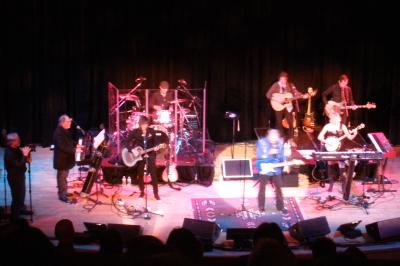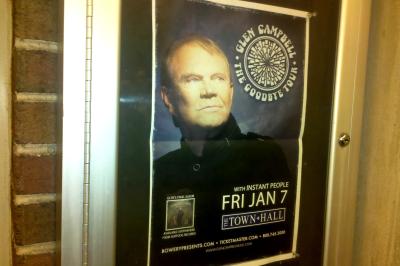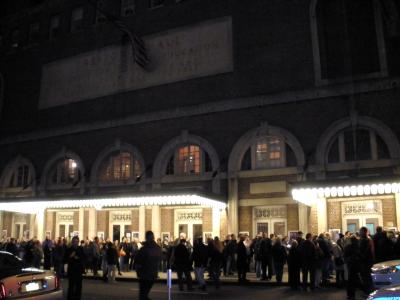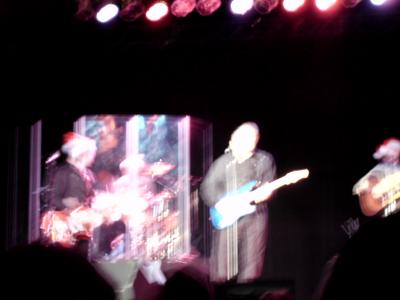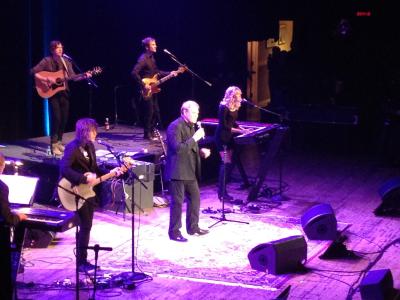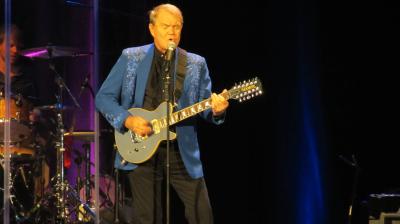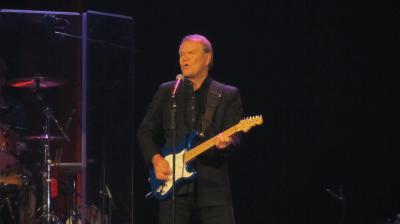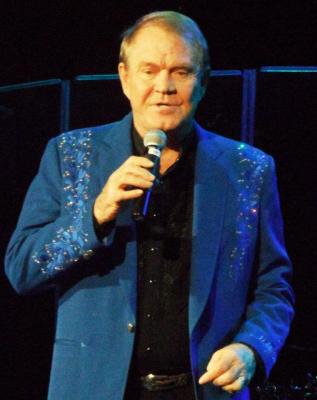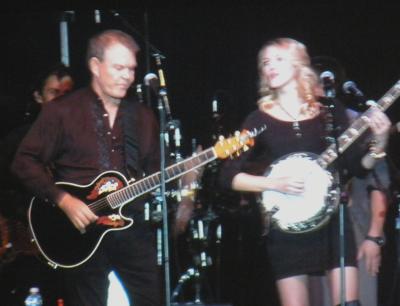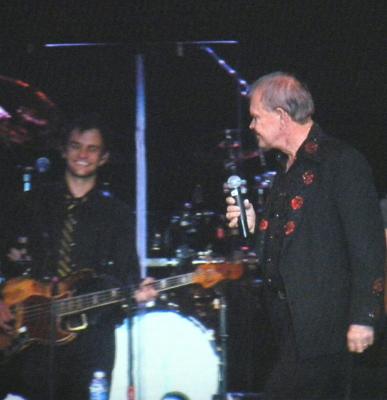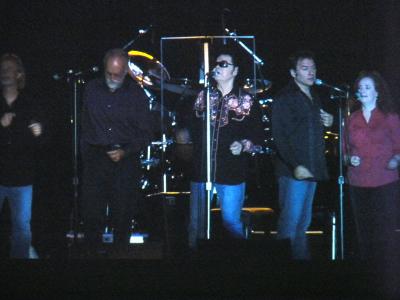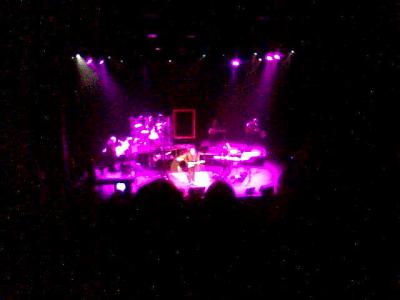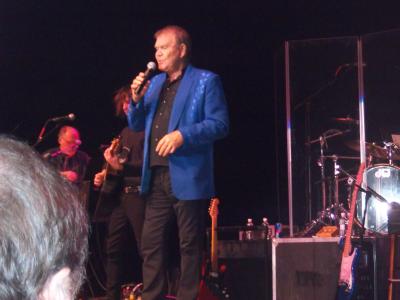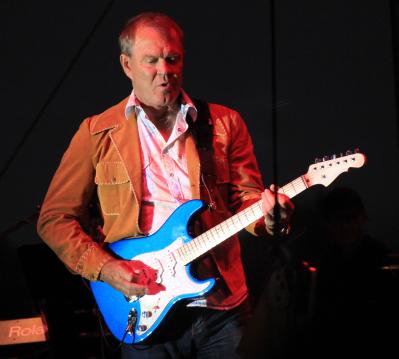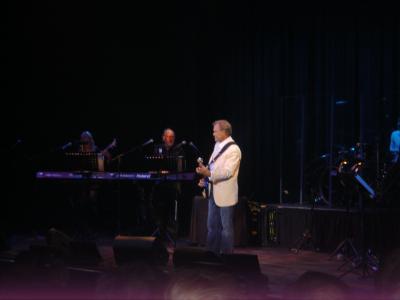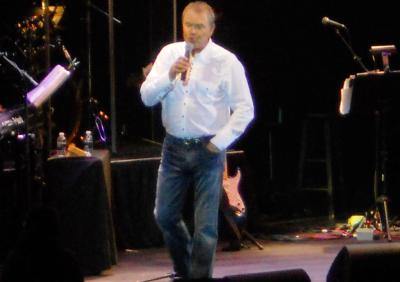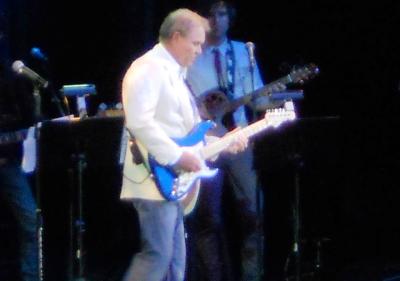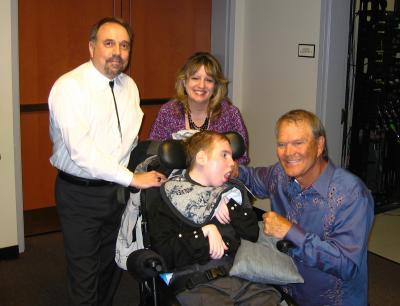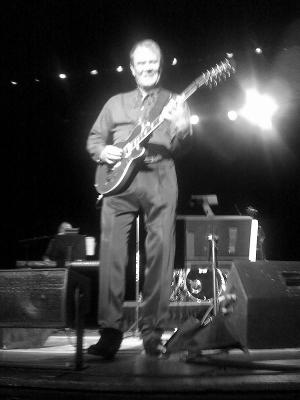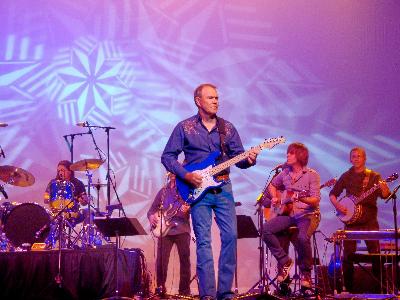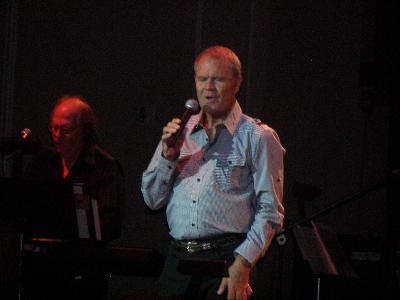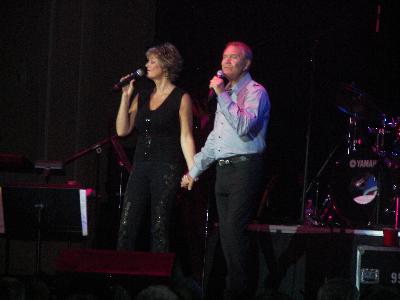 ★ ★ ★ ★ ★
GlenCampbellFan56
Glen Campbell was diagnosed with Alzheimer s disease in the summer of 2011. He began his Goodbye Tour that fall. My family and I went to see him in Renfro Valley, Kentucky that September at the beginning of the tour. On November 11, 2012, my family and I went to see him at the Taft Theatre in Cincinnati, Ohio. Now nearing the end of the final tour of his legendary career, the effects of the disease were certainly more evident than fourteen months ago. If it were not for this disease and the confusion that accompanies it and some understanding on our part, this could have been a disappointing concert. My feeling was that through the first three numbers, as he struggled with words and Teleprompters, the audience was not sure how to react. Then he sang, Try a Little Kindness. Maybe the message of the song resonated with the crowd as he received the first of many thunderous ovations. He chose to do Didn t We a song written by Jimmy Webb. I remember him performing this song the first time I saw him in concert some forty-three years ago. Bringing back even more memories was Lovesick Blues. Originally recorded for the album Houston (I'm Comin' to See You) in 1974; it was a song my dad used to sing. Dueling Banjos and Foggy Mountain Breakdown, with daughter Ashley, showed that Glen could still pick with the best of them. He ended the show with Wichita Lineman and another standing ovation. He returned for a three-song encore ending the evening with A Better Place and a final standing ovation as he walked off stage waving goodbye. As I wrote earlier, this could have been a disappointing concert. It wasn t. My family and I were blessed with one more opportunity to thank Glen for the great music and memories he has provided us over the years. More importantly, we wanted to let him and his family know that they will be in our thoughts and our prayers in the future. Thanks again Glen, you are a man with True Grit. Peace be with you.
Taft Theatre - Cincinnati, OH - Sun, Nov 11, 2012
★ ★ ★ ★ ★
Pearlman68
Wonderful theater (Wilbur-Boston) with great sightlines and intimate. The Campbell kids put on a nice opener and then Glen took the stage. A bit rocky during the first two tunes but not anything to worry about and Campbells humor took away all fears. He is total top of the line professional so his miscues did not effect the overall song. The show was personal and was much like being in his living room. I'm 68, an old rocker who performed on some big stages in my day and I did not want to miss this master do his thing. His guitar work still has some stunning and flawless runs and blazing speed still within him. His voice was flawless and strong in all ranges. I felt honored to attend this concert and only regret waiting so long but as life has it maybe it was meant to be. Old as I am, his dignity stiffened my spine for the end run. Thank you for a lifetime of memories Mr Campbell. The rendition of "By The Time I Get To Phoenix" was exquisite and I honestly could not remember who was onstage with him, his performance was that powerful. What a treat in our celebrity obsessed culture to see three of his very skilled kids performing with him, proudly touring with Dad and he proudly showing them off. Again, Thank you Mr Campbell for your lifetime of song and may the wind be at your back. God Bless
Taft Theatre - Cincinnati, OH - Sun, Nov 11, 2012
★ ★ ★ ★ ☆
Elbron
I was very happy to see that Glen Campbell is still the great talent and showman that he always was.
Taft Theatre - Cincinnati, OH - Sun, Nov 11, 2012
★ ★ ★ ☆ ☆
BarbaraD
The show was good. A little too short. He looks good for his age and can still play a mean guitar. Was a bit dissapointed that he had to keep checking a hidden teleprompter for the words when he was singing some songs by Tom Petty and also that he had to check the words to some of his own songs. In all, thought, I am glad I went.
Taft Theatre - Cincinnati, OH - Sun, Nov 11, 2012
★ ★ ★ ★ ★
TJRN
This concert was well worth the wait. Campbell"s voice was amazing along with his guitar playing. Was glad to see him overcome his frustrations while on stage to provide a wonderful performance. His family/band was also amazing.
Taft Theatre - Cincinnati, OH - Sun, Nov 11, 2012
★ ★ ☆ ☆ ☆
Jamonthe1
Well - of course this was a special show as it was his very last. However, it probably was about 6 months too late - he was just a little too crazy. His kids are saints for taking him on stage. Now that said - he busted out some awesome licks like he always could, and I would go see it again. He was crazy yelling at the sound guys the whole night for the sound quality... and being a musician and sound guy... I'd have to say he was correct. Sound guys botched it up a bit. I mean, how many times does he have to ask to punch his guitar up a bit before you firewall the damn slider? Good God. Glad I went. Bought the T-shirts. He had a great long run.
Taft Theatre - Cincinnati, OH - Sun, Nov 11, 2012
★ ★ ★ ★ ★
Up2speed4
Huge difference between this show and the one we saw at the Hollywood Bowl last summer. In Napa, Glen was easily agitated, complaining he couldn t hear his monitors, yelling at his kids in the band, and he lost his place and forgot the words on most of his songs. Despite this, I wouldn t have wanted to miss this for the world. He is still bigger than life itself. The audience was very sympathetic and patient, sometimes enabling him along in his rants. We have kids too" a fan yelled shortly after Glen threaten to fire everyone in the band and then we all relaxed as we watched Glen bend over in laughter upon hearing this. He just as quickly apologized to his kids and audience for his short temper. All good fun Glen, God bless you.
Taft Theatre - Cincinnati, OH - Sun, Nov 11, 2012
★ ★ ★ ★ ★
Winge
For a man with the beginnings of Alzeimers, Glen was in great form and did a wonderful performance at the Uptown theatre. As a big fan of Glen since the 1960's it was delighted to see him perform and even at 75 he knew his favorites as if he just recorded them. He made a few mistakes but in an odd way it was a bit charming as his daughter and son helped him along. Thanks Uptown for bringing Glen to Napa.
Taft Theatre - Cincinnati, OH - Sun, Nov 11, 2012
★ ★ ★ ★ ★
DandMR
What an enjoyable evening! If Glen and his family come to your city be sure and drop everything to go see this amazing man. From the love you can see and feel from his son and daughter to his incredible talent and his pure joy shown to be still be able to share this with the audience, this is a night you won't forget. It was fantastic to hear HIS HITs sung by him and they sound just as good as they did 30 years ago.
Taft Theatre - Cincinnati, OH - Sun, Nov 11, 2012
★ ★ ★ ★ ☆
BoogersDad
I didn't know what to expect from this concert. As a long time Campbell fan, I wanted to hear all of the hits, as well as some of the newer releases. I was wary about the effect his health would have on his performance - I had heard it was minimal. It wasn't. The attitude was there, the guitar skill was there, and the voice was there - but the performance was a little off. Forgotten lyrics, mumbling, missed cadence - harsh, I know, but it was real. The monitors with lyrics that he spent most of the night trying to follow told the truth. But there were a lot of bright spots as well. Immediately recognizable songs were the least of it. The interplay with the band, which included his son and daughter, was truly fun, and you could tell they truly admired the front man. The reaction of the crowd was fantastic (especially the gray haired old ladies), and when he nailed Wichita Lineman (almost), I went back to the old days and nearly cried. Goose bumps. My daughter and I wondered who was driving this tour - did Glen truly want to make one more run, did the kids just want to sell another record, or did the lawyers see a quick buck. Turns out it didn't matter. Glen seemed to have a good time, his kids seemed to appreciate and admire him, and i gladly turned over my $100 to say i saw Glen Campbell.
Taft Theatre - Cincinnati, OH - Sun, Nov 11, 2012
★ ★ ★ ★ ★
Crpoore
I was honored to have such good seats to watch a legend perform all the songs I love. His voice is still strong and true. I really enjoyed listening to his talented children and watching them perform together. They are lucky to have each other. It was an evening I will always remember.
Taft Theatre - Cincinnati, OH - Sun, Nov 11, 2012
★ ★ ☆ ☆ ☆
HeyReferee50
Glen can still sing, but the show was just sad. His family should give him respect and not let him tour any more.
Taft Theatre - Cincinnati, OH - Sun, Nov 11, 2012
★ ★ ★ ★ ★
heretothere
Glen Campbell still has it. So talented and funny. What a privilege to see him before he retires!
Taft Theatre - Cincinnati, OH - Sun, Nov 11, 2012
★ ★ ★ ★ ☆
Anonymous
He talked , he played and he reminded us of the impact of being a friend and in our lives for over 40 years. He opened up an array of memories so rich and full they rivaled his guitar playing and those wonderful songs. I so enjoyed getting a chance to see him again and say goodbye to this remarkable performer. Glen, you were such a BIG part of our young and vibrant world and your songs are now woven into the mosaic of our lives. Thank you!
Taft Theatre - Cincinnati, OH - Sun, Nov 11, 2012
★ ★ ★ ★ ★
OHDOG
Glen's passion showed through, and his vocals had great flashes of strength and soul. His children were terrific, accomplished musicians, their group should do well. Always had thought Wichita Lineman was a pure, heartfilled song; his voice and soulfulness as he sang it were my high point. A truly special event. His tribute to John Wayne as he sang True Grit, his funny asides and clear love for his fans made the evening warm and thoroughly entertaining. His new songs were great, and he sang all of the favorites. Very special.
Taft Theatre - Cincinnati, OH - Sun, Nov 11, 2012
★ ★ ★ ★ ★
MusicJunkie
I have been a Glen Campbell fan since I was very young, but had never gotten an opportunity to see him in concert. This was a truly great experience getting to see Mr. Campbell in concert. His voice and guitar playing have held up incredibly well over the years. The set list was a very nice mix of all the songs the fans were wanting to hear. It is amazing to see how well Mr. Campbell performs with all the challenges he is currently facing. The opening act of Victoria Ghost was a welcome surprise. I had not heard of this group, made up of two of the Campbell offspring, however I am hoping to hear much more of them in the future! This was an overall great show and I highly recommend seeing it if you get the chance.
Taft Theatre - Cincinnati, OH - Sun, Nov 11, 2012
★ ★ ★ ★ ★
jhofsign
I went with my mother who is 85 years old and starting to forget somethings. She loves Glen's music so much I wanted to take her since it was the last concert for him and probably for my mother as well. There was so much positive energy in the theater for Mr. Campbell you almost felt like all the kind though could have cured him. It was something I'll never forget. Even though I can't take my mother on tour I can still build memories of her as our family goes down this dark hallway. There is light at the end for us and for them. The respect and honer shown to Glen and his family from the audence was upliffting. We felt privledged to particapate in this small way. Unforgettable!!!!
Taft Theatre - Cincinnati, OH - Sun, Nov 11, 2012
★ ★ ★ ★ ☆
sfrom295
The awful disease of Alzheimer's has taken its toll on this aging superstar, however he did a superb job. His ailment did not effect his ability to play the guitar, it was a little apparent that he was having some problems with the lyrics. The frustration level mounted a few times, but he courageously battle through. My goal was to see one of my country favorites perform before he is no longer able to. I was not disappointed, my father died 6years after he was diagnosed with alzheimer s so having a first hand view of the disease s effects made his performance all more incredible.
Taft Theatre - Cincinnati, OH - Sun, Nov 11, 2012
★ ★ ★ ★ ★
j4hill
I had a smile the entire time!!! I was stunned at the difference in Glen's cognitive ability vs his musical ability. He has lost virtually none of the latter. I was afraid that it might be rather sad but instead, it was very uplifting. My wife and I will always be grateful that we saw this. Thank you Glen !!!
Taft Theatre - Cincinnati, OH - Sun, Nov 11, 2012
★ ★ ★ ★ ★
JT94
I am 18 years old and I enjoy listening to Glen Campbell's music. A lot of the music that I listen to today was heavily influenced by Glen Campbell. I hold much admiration and respect for all he has given to the music industry. He may be 76 but he can still whale on that guitar! His voice is as strong and commanding as it ever was! His personality lights up the stage and makes you feel right at home. What an amazing musician. I would go to see this concert again if the opportunity would present itself.
Taft Theatre - Cincinnati, OH - Sun, Nov 11, 2012
★ ★ ★ ★ ★
DianaLB
It was awesome! First time to see him live in concert. Even though he had to use prompters for the words, it was still great. It was wonderful to see his son and daughter play and sing with him. They are really good by themselves. They were so attentive with him. He would ask them what key the next song was in and then he would play and sing as he always had. It is sad about the Alzheimer's. His voice is still beautiful. It brought tears to my eyes. I am so glad I was there.
Taft Theatre - Cincinnati, OH - Sun, Nov 11, 2012
★ ★ ★ ★ ★
Tomcat2011
You could see that Glen was enjoying himself and to hear these songs again, was absolutely tremendous. Even with alzheimers, he was able to give a great performance and even acknowledged a couple of tough moments. A true professional. Thanks for the memories
Taft Theatre - Cincinnati, OH - Sun, Nov 11, 2012
★ ★ ★ ★ ☆
Czar1234
Normally I would be upset with a 45 minute warm up act (which consisted of his son & daughter). This was followed by a half hour break. Once Glen Campbell came on stage it was clear that he would not be able to preform for longer than the hour that he did, It was bittersweet to watch him. He used a teleprompter throughout the show and he sometimes needed to clarify things with his daughter. He still sang well and played (when he could) a variety of guitars. Considering all that he is going through, he preformed amazingly well. I am thrilled that we were able to see this concert and can only imagine how difficult this is for Glen Campbell and his family.
Taft Theatre - Cincinnati, OH - Sun, Nov 11, 2012
★ ★ ★ ★ ☆
ConDan
While we all knew of Glen's medical condition prior to the concert, we weren't sure what to expect. Glen and his children were so endearing! I'm so glad we were able to see him perform One Last Time. Close your eyesand his voice will take you back 30 years. Loved their performance"
Taft Theatre - Cincinnati, OH - Sun, Nov 11, 2012
★ ★ ★ ☆ ☆
Katmusic
Bittersweet evening. Glen did a fine job under the circumstances. His daughter is very talented!!!
Taft Theatre - Cincinnati, OH - Sun, Nov 11, 2012
★ ★ ★ ★ ☆
CincyNewcomer
Great concert featuring Glen Campbell and his kids! His son and daughter played first. Their band is Victoria Ghost and I would definitely buy their music. My husband and I really enjoyed the whole event.
Taft Theatre - Cincinnati, OH - Sun, Nov 11, 2012
★ ★ ★ ★ ☆
musicfansek
i wanted to see maybe his final tour. He is a legend and fantastic musician and i love all his music. His daughter and son opened the show with their band, Victoria Ghost. the were fantastic and incredible musicians and original songs. I dont know why they arent being played on the radio yet but they are up and coming. the sound and music was perfect. Glen came out and the audience gave him a standing ovation before he even began. he got a few words wrong but who cares it sounded great, he had alot of fun up there and just loves performing. and we love watching and listening. He is quite funny and his guitar solos were amazing. he and his daughter did dueling banjos and foggy mountain break down. FOr me it was a highlight of the show along with 'country boy'! i saw him when i was 10 years old back in the 70s and appreciate the music ever since.
Taft Theatre - Cincinnati, OH - Sun, Nov 11, 2012
★ ★ ★ ★ ★
Dave4Dyce
Simply put, I have never cried at a concert in my life, until this one. Unbelievable. Glen's singing is, as always, beautiful. Yes, he had a glitch or two, but that is exactly what I expected, and he was able to joke about it on stage. His guitar playing was phenomenal. He is not missing a thing here. I got what I wanted from this show, and so much more. Highly recommended!
Taft Theatre - Cincinnati, OH - Sun, Nov 11, 2012
★ ★ ★ ★ ★
SlytherinGirl65
Glen Campbell is amazing! I love his music. It was so overwhelming to be there and to see him perform. He is such an amazing guitar player. I never realized that before. He is also a great performer. He is funny and just a regular guy. I loved the show and didn't want it to stop. I am so thankful that I got to be a part of his Goodbye Tour. It's an experience that I will never forget.
Taft Theatre - Cincinnati, OH - Sun, Nov 11, 2012
★ ★ ★ ★ ★
gymbag
Glen's goodbye tour performance was both shaky and sound. He was obviously in the grip of illness, but still gave a fine performance. His voice was sharp and his guitar skill amazing.
Taft Theatre - Cincinnati, OH - Sun, Nov 11, 2012
★ ★ ★ ★ ★
Tebroc
Glen's show was wonderful. It was a great opportunity to see his incredible talent. HIs kids are very talented and will have a great musical future. Their support for their dad was an awesome thing to witness.
Mohegan Sun Arena - Uncasville, CT - 02/25/2012
★ ★ ★ ★ ★
prpoisongirl
Amazing. I took my 78 year old father but I may have enjoyed it more. I laughed, I cried, I cringed, I sang, I danced. It was probably one of the most emotional experiences I have had besides having my children. I grew up listening to Glen Campbell. My father is from around his home town and had crossed paths in childhood. "Galveston" and "Rhinestone Cowboy" were some of the first songs my girls could sing from their car seats in the back of their daddy's truck. I am sad for those who won't have the opportunity to experience this. A great artist STILL. There were some amazing musical moments and guitar playing by him and there were some moments of confusion. I loved every minute.
Mohegan Sun Arena - Uncasville, CT - 02/25/2012
★ ★ ★ ★ ★
AvantiGirl
Altho not a long show, he nailed all the hits as well as some stuff from the new CD "Ghost on the Canvas" w/professional (& heartwarming) support from 3 of his kids. Great experience!
Mohegan Sun Arena - Uncasville, CT - 02/25/2012
★ ★ ★ ★ ★
Dakotalee
Very entertaining - brought back many memories! So glad I got to see Glen Campbell in person! He still can play that guitar!
Mohegan Sun Arena - Uncasville, CT - 02/25/2012
★ ★ ★ ★ ★
JohnnyB52
Glen Campbell's golden voice never faltered and his diamond-studded band shone brightly as he belted out one hit after another with the backing of a capable and loving band consisting of 3 of his children. Glen Campbell does not disapoint in his guitar playing skills either. He has carved a pathway of gold and won the hearts of millions over the years. Don't miss you last chance to see him and his awesome family on his farewell tour!
Mohegan Sun Arena - Uncasville, CT - 02/25/2012
★ ★ ★ ★ ★
050112
I went because Glen Campbell is very talented and puts on a wonderful show. His personal talent shines through and the tunes are classics from a time when real music was played. The man deserves attention for keeping it going all these years.
Mohegan Sun Arena - Uncasville, CT - 02/25/2012
★ ★ ★ ★ ★
TCBRIAN
It was a night to remember for me, I always wanted to see Glen Campbell in concert but was not able. He has always been my favorite entertainer, His great voice, fantastic guitar playing. Glad to see him so happy with his family playing, Thank you Glen for all the great music,you are the BEST!!!
Mohegan Sun Arena - Uncasville, CT - 02/25/2012
★ ★ ★ ★ ★
B4you
We had a wonderful time at the Glen Campbell farewell concert. We felt the whole event was managed very well. The crowds were not pushy and the ushers were wonderful at helping us find our seats. It was a terrific experience we will never forget.
Mohegan Sun Arena - Uncasville, CT - 02/25/2012
★ ★ ★ ★ ★
Baldeagle1952
Thursday April 26th is probably the last day That Kansas City will ever see Glen Campbell play again. I have had the honor of meeting him on several times and be sitting in the front row. I have also had the privilege to have a picture taken with him @ The Andy Williams Moon River Theatre in Branson MO. I also was veyr fortunate to have a picture taken with his eldest daughter
[email protected]
the theatre the very same day. Now as he rides off into the Sunset I just cannot believe that this true icon bids his fans farewell & rides off into the sunset. I do hope @ The Uptown Theatre he will have a meet & greet and have more picture of my all time favorite Country music star. I have been a fan for 45 years and have enjoyed all of music and the talent he brings with him playing many musical instruments. What more can this man do ? Thanks for the Memories Glen You will be missed by all including me.
Mohegan Sun Arena - Uncasville, CT - 02/25/2012
★ ★ ★ ★ ★
Vamp1227
Glen was amazing and fantastic at Mohegan Sun..His kids playing onstage with him was treat as well...
Mohegan Sun Arena - Uncasville, CT - 02/25/2012
★ ★ ★ ★ ★
knovak311
I was glad I had a chance to see Glen one more time. He sang all of his hits and can still show his guitar prowess. Glen needed an assist or two from his son or daughter during the performance but he gave 100%!! God speed to Glen as he combats Alzheimer's! Ronnie Milsap opened for Glen and as usual was great!! His performance of America the Beautiful is second to none!!
Lake Mission Viejo - Mission Viejo, CA - 07/23/2011
★ ★ ★ ★ ★
jim4
Country Legend Glen Campbell was great. His son and daughter's group "Instant People" opened and also accompanied Glen during his set. Glen sang several of his biggest hits,"By The Time I Get To Phoenix", "Galveston", "Rhinestone Cowboy:,"Southern Nights", "Wichita Lineman" ,and some songs from his latest Farewell CD entitled "Ghoast On The Canvas". Great concert!! We will miss Glen!
Lake Mission Viejo - Mission Viejo, CA - 07/23/2011
★ ★ ★ ★ ☆
NYCountryGirl55
Went to see Glen on Saturday night. Show was sold out!. We had a great time and we were very surprised to find out that the opening act "Instant People" had 3 members that were Glen's kids. The band also played with Glen. It was a terrific show with a mix of Glen's old and new songs as well as a more modern twist with the younger band. One of my favorite things was when Glen's daughter said to the audience "I never thought I would be playing bluegrass in NYC". There were several standing "O's" so I know everyone else felt the same way. On the way out we bought both CD's, Glen Campbell's and Instant People. Too bad it's a Goodbye Tour. I expect to see more of Instant People though.
Lake Mission Viejo - Mission Viejo, CA - 07/23/2011
★ ★ ★ ★ ☆
nmwoman55
It was great, hard to say goodbye to an icon. His children are so talented, they should do wonderful in life. Praise God we got to see him and hear him. I only wish the best for him and his family.
Lake Mission Viejo - Mission Viejo, CA - 07/23/2011
★ ★ ★ ★ ★
Lambertgini
Glen looked and sounded great. Although he used a teleprompter for the lyrics, he certainly knew the songs. He was also blown away by the warm and enthusiastic response from the audience. Also of note is his opening act/ back up band whose members include three of his children. The band is called INSTANT PEOPLE and they're very good - great harmonies and memorable original music. GO! This is the Goodbye Tour and this is it . . . .
Lake Mission Viejo - Mission Viejo, CA - 07/23/2011
★ ★ ★ ★ ★
Bowzer137
Had good seats, great fans all around us.... The show was great...
Lake Mission Viejo - Mission Viejo, CA - 07/23/2011
★ ★ ★ ★ ★
NashvilleKat
At 75 years old, and fighting Alzheimer's, no less, Glen Campbell can still out-sing, out-perform, and out-entertain just about ANYBODY currently played on country radio!!!! He came onstage to a standing ovation, and was SO appreciative of the audience's reaction all through the show! He can still play guitar like nobody else can, has a very clear singing voice, and is WELL worth going to see before he retires!!!! He made light of his forgetfulness, has a very strong faith, and just has a great attitude in general! God bless this legend of an entertainer!!!
Lake Mission Viejo - Mission Viejo, CA - 07/23/2011
★ ★ ★ ★ ☆
SheriBlueberry
A friend and I drove two hours to hear Glenn Campbell sing. We sang along with most of his songs. He did sing new ones from his latest album, too. Three of his children play in the band and sing with him and assist when his Alzheimer's gets in the way, which was minimal. He got several standing ovations and I feel everyone enjoyed the concert as much as we did.
Lake Mission Viejo - Mission Viejo, CA - 07/23/2011
★ ★ ★ ★ ★
Jamen
What an amazing evening with such an American Icon. Loved that he played at Club Nokia. It is a nice cozy venue. Glen sang all his GREATEST Hits and some new songs too. It was wonderful to see 3 out of the 6 band members are his actual kids. The Group that the kids play in are called "Instant People", they are very talented themselves. Of course growing up with Glen as your Dad, how could you not play a musical instrument and have a good voice. Glen is STILL one of the best guitar players around, and he showed us he can still play dueling banjos up against his Daughter who played banjo and Glen who played on guitar. Yes he stumbled for words a few times due to his Alzheimer's setting in, but the audience stood up each time and gave him a well deserved standing ovation, he then would find the words again and just keep on singing as if nothing ever happened. He made light of the fact that he is getting older and he tends to forget the words once in a while, For a man that is 75 years old he can still hit those high & low notes just a well as he could when he was young. There was not a dry eye in Club Nokia when Glen left the stage after his last Good-bye. You could feel the LOVE in that room for one of America's greatest entertainers. He really showed his "True Grit"............
Lake Mission Viejo - Mission Viejo, CA - 07/23/2011
★ ★ ★ ★ ★
dwanalyn
It was a little sad that Glen forgot some of the words and the names of his band, but he was so professional and amazing. Alzheimer's is a horrible disease. He is fortunate to have his children with him, helping him to remember. It was hard not to cry. I've always loved Glens music. I was privileged to have been there for his final concert.
Lake Mission Viejo - Mission Viejo, CA - 07/23/2011
★ ★ ★ ★ ★
gregster
His voice, daughters, sons, and band are fantastic. He serves up southern hospitality family style. I really enjoyed it all but dueling with his daughter's banjo over the top!
Uptown Theatre Napa - Napa, CA - Fri, Nov 30, 2012
★ ★ ★ ★ ★
CircleHRanch
Glen Campbell is a true entertainer in every sense of the word. His family has inherited his talents too. I was afraid the show would be melancholy, but it wasn't. I enjoyed it immensely. I would recommend it to anyone. Sold out, standing room only. This was the first time I had been in the IP Casino Resort. The IP facility was wonderful, everyone was very helpful and I had dinner at the 32 Restaurant, which was superb. I will eat there again. Compliments all around, I even bought tickets for the Joan Rivers show in August. Can't wait.
Uptown Theatre Napa - Napa, CA - Fri, Nov 30, 2012
★ ★ ★ ★ ★
Fuzzykiss
You would find it very hard to believe that Glen Campbell is at the young age of 75! His voice, his sense of humor, his love of family, his connection with the audience all spoke very highly of him as he performed from deep inside his heart. It was very exciting to see the audience embrace him as he shared with us the memories of hits from the past and memories to be from his current CD. It was very heartwarming to see four of his children performing with him on this tour. Talent runs deep in the family. It is comforting to know that his legacy will continue through his family. I am so grateful that I took the time and made the effort to see Glen on his farewell tour. It would have been a terrible mistake to have missed this awesome performance!
Uptown Theatre Napa - Napa, CA - Fri, Nov 30, 2012
★ ★ ★ ★ ★
wootoo
Glen Cambell shows why he is considered a legend. His vocals and guitar skills are just as amazing as ever. He is such a natural on stage and even after 5 (or 6) decades Glen is still a must see. Afterwards, my wife and son and I were invited backstage to meet Mr. Cambell after the show and it was such an honor. My son is 20 years old and severely handicapped. Although he has many disabilities that have kept him in a full support wheelchair all of his life, his hearing is perfect. And country music is his love and enjoyment. We wouldn't have missed this moment for anything.
Uptown Theatre Napa - Napa, CA - Fri, Nov 30, 2012
★ ★ ★ ★ ★
OvationPlayerToo
Glen Campbell's recent appearance at Grand Casino Mille Lacs was a throwback to old times. It was, first, a throwback because Glen sounds as good as he ever did. His tenor voice still grabs the high notes in an effortless fashion. He sings "spot on" in-tune all of the time. Second, this show was a throwback because it simply relied on great musicianship to carry the event. There were no dancers or pyrotechnics. There were no acrobatics or flying gymnasts. The evening simply consisted of solid performances by gifted musicians. While there were large video screens flanking the stage, there were no other technological embellishments. They simply weren't needed. Finally, Glen Campbell's artistry on the guitar is still masterful. Years ago, Glen was considered to be one of the finest guitarists in all of popular music - - - rock, country, pop, and more. His virtuosity continues to this day. A guitar player myself, (although I would humbly add that I am no match for Glen - - - not by a long shot,) I do play well enough to know how good he really is. Glen is a master at lead guitar solos and at instrumental numbers such as Mason Williams' "Classical Gas." But my favorite part of Glen's playing is the little things he does with the guitar. It's the short interludes that he plays between lyrical phrases. It's the effortless manner in which he seems to get so much sound out of his instruments. I will admit that I am "prejudiced." Glen Campbell has been one of my favorite performers for 40 years. Still, his performance at Grand Casino was one of my TOP TEN favorite shows of all time. Amazing.
Uptown Theatre Napa - Napa, CA - Fri, Nov 30, 2012
★ ★ ★ ★ ★
clipperwiz
I have seen Glen Campbell many times since 1981 and he has never disappointed me. This time, he said he was hoarse, because had had doen a show the night before. However he was just as good as always, which is amazing since he is almost 74. I will definitely go see him again. The only thing I wish was that he would play his bagpipes, but he hasn't done that the last ten years I have seen him, so maybe he can't for some reason. Oh, he did allow pictures and I did not bring my camera, so be sure to take yours if you go to one of his shows. All I had was my iphone--better than nothing I guess.
Uptown Theatre Napa - Napa, CA - Fri, Nov 30, 2012
★ ★ ★ ★ ★
Annette212
Glen was amazing! He still sounded great and looked awesome. He included some of he favorite new artists U2 and Foo Fighters for great renditions of their hits. Glen had he's grown with him to song background and he band was tight. Glen did the best Elvis impersonation I ever heard! He nailed the king! I took a friend who wasn't familiar with his music and she was hooked by the end of the night! I was a nice walk down memory lane from talking about John Wayne to his TV show! A true legend!
Uptown Theatre Napa - Napa, CA - Fri, Nov 30, 2012
★ ★ ★ ★ ★
jrsfan
Anyone who ever enjoyed hearing Glen Campbell sing, needs to attend a current concert. His voice is still as rich and full as ever. Glen appreciates his fans and that is evident throughout the concert. His daughter, Debby, comes on stage and joins her father for a couple of songs. They are tremendous together. Glen sings his songs from his earliest days of recording up to the present. His guitar playing is out of this world. He even played with the guitar on top of his head. It was a fun filled evening that I will never forget as age has not slowed down this marvelous entertainer.
Uptown Theatre Napa - Napa, CA - Fri, Nov 30, 2012
★ ★ ★ ★ ★
proudmrslewis
I took my mom to see this film as we are coping with my grandmother's recent dementia diagnosis. It was an amazing film and taught us so much about how to live with and care for someone battling this disease.
Uptown Theatre Napa - Napa, CA - Fri, Nov 30, 2012
★ ★ ★ ★ ★
PoodleMom
So glad we got to one of his last concerts. He was absolutely amazing, warm and funny. Sorry to those who missed out on seeing this icon!!
Uptown Theatre Napa - Napa, CA - Fri, Nov 30, 2012
★ ★ ★ ★ ★
Homer11
This was truly a great show. I had never seen Glen before, and I enjoyed it very much. He performed very well, even with his condition. I only noticed one little stumble during one of the songs that didn't amount to anything more than any other musician might have done. I with I hadn't waited so long to see Glen - to catch him on his final tour. I didn't know what I was missing all these years. Good luck Glen! May you do well in the future. You will be missed.
Robinson Center Music Hall - Little Rock, AR - Thu, Sep 6, 2012
★ ★ ★ ★ ★
fishinrod
Great guitar play, can still sing like before. Great back up. His son and daughter can play...all the band plays. Glen is a perfectionist when it comes to how it sounds, and it couldn't get any better.
Robinson Center Music Hall - Little Rock, AR - Thu, Sep 6, 2012
★ ★ ★ ★ ★
clipperwiz
I have seen Glen six times of his (Don't want to say) Goodbye tour. Apparently the Alzheimer's effects vary as he forgot much more in Sarasota.three weeks before Napa, but the week before that in Bethehem, PA, , he was almost perfect. Glen was really UP in Napa. He really enjoyed the audience which gave him a standing ovation at almost every song. He looked good and yes, he did mess up a few times but I thought he did very well in Napa and was a lot of fun. He did get upset at the sound but apparently he had reason to do so. I was glad to see Glen and was thrilled that he got out there in front of the audience. I can tell you that I was glad to see Johnny Cash his last performance and he told us he could not sing, and we all told him we were so glad to see him that he could just sit there and we'd look at him, and that is the way I felt and feel about Glen Campbell. He could have just sat there and I would have been glad to see him. But he didn't and his picking was excellent. His Dueling banjos with his daughter was fantastic and then he did a duet with his son also, and that was wonderful. To me, his voice was great too and I loved all his songs, but especially his last song, "A Better Place." His whole family and band came out at the end and it was so nice to see them all. I heard he might schedule some more shows after the first of the year, and if I can, I will be there cheering him on. He really loves it when the audience reponds and whoops it up when he sings.
Robinson Center Music Hall - Little Rock, AR - Thu, Sep 6, 2012
★ ★ ☆ ☆ ☆
Kaivola
Since it was announced as his farewell concert because he has Alsheimer's it wasn't bad. He did forget a lot of the lyrics to his songs. His voice was a little rusty. But, as a firewell concert for the above stated reasons it wasn't too bad.. His kids were excellent. Especially his daughter, Ashley. I hope to see more of them.
Robinson Center Music Hall - Little Rock, AR - Thu, Sep 6, 2012
★ ★ ★ ★ ☆
DirtyOldRichard
I grew up listening to Glen Campbell - loving his music and watching his television show as a kid. Met him at a Presidential Inauguration but had never seen him perform live. So I was not going to miss this opportunity. We all know the challenges he faces and deals with on stage, so I will not dwell on that. What I experienced was a legendary performer ably singing his hit songs and playing some mean guitar as well. This was a bit of a homecoming show, with three of those sisters and an older brother (whom he jokingly referred to as his grandpa) getting onstage to sing with him. Also a daughter sang a song with him, in addition to his other kids who are in his band and made up the opening act. There was a presentation at the end by the Governor and some music industry honcho that was very classy and emotional. Bottom line: Wonderful and memorable performance. Heartwarming to know that Glen is surrounded by family and friends that seem to care for him, especially that very attractive daughter on keys and banjo that so gently and patiently kept him on track. God bless them all. Too bad the venue was so uncomfortable. The seats are too small and crammed together, offering very little leg room for anyone over 6 foot tall. I wouldn't have missed this show for the world, but I will not be back to this facility again because of the discomfort. I found it amusing that two usherettes responded that they didn't have their eyeglasses and couldn't tell for sure just where my seats were - but that I was probably in the right area. Not complaining about this, just found it funny. But those seats will keep me away forever.
Robinson Center Music Hall - Little Rock, AR - Thu, Sep 6, 2012
★ ★ ★ ★ ★
FeelLikeGlensFriend
Normally at such events, I don't yell and scream, but couldn't hold back at this grand performance. When Glen walked out on that stage and began his repartee, I think I had both tears of joy and sadness. It seems that his music is almost a chronology of our married life as when he sang a popular number, it brought back memories of where we were living and what was going on in our family's lives. Three of his talented children are accompanying him, and it was also great to see some of his sisters and brother join him on stage. Oh, and he seemed to enjoy this homecoming experience as much as his screaming fans. At the conclusion Gov. Beebe and someone from Arkansas Motion Pictures Institute came out and presented him an award. Someone was also slipping around the stage filming all or clips of it for inclusion in a documentary to benefit Alzheimer's. So very beautiful was the whole "thang"...
Robinson Center Music Hall - Little Rock, AR - Thu, Sep 6, 2012
★ ★ ★ ★ ★
ryllie
All I can say is Wonderful! Huge fan for decades. One of the most FEROCIOUS guitar men of ALL time. He has it instilled in him. Never missed a lick! Vocals fantastic!
Robinson Center Music Hall - Little Rock, AR - Thu, Sep 6, 2012
★ ★ ★ ★ ★
Elanka123456
Considering he is dealing with a brain disease, I thought the show was great! I've been a fan since childhood and had the pleasure of seeing Glen Campbell in Branson at least 13 years ago. HE was truly incredible and no sign of his illness then. My heart hurt for him and his children as they were very tuned in to keeping him on track. I could also see his wife standing stage right to help take care of him. It was amazing to me how the music just came but the words were difficult for him. It made me very sad to know that Alzheimer's is taking away such a gifted muiscian probably one of the greatest ever. Truly a 'bittersweet" evening for me but am grateful I could see him one last time.
Robinson Center Music Hall - Little Rock, AR - Thu, Sep 6, 2012
★ ★ ★ ★ ★
Flutequeen101
Last night I attended the Glen Campbell Farewell Concert at Robinson Center Music Hall. It was great to hear Glen sing our all the favorites that we have enjoyed through the years. He showed an obvious deficiency from the Alzheimer's but the audience was filled with such love for the entertainer that it didn't matter. You could tell that he felt as though he was home and overcome with emotion. He made the concert a family affair including 3 of his children in his band and an older daughter sang a tune with him. 3 of his 4 sisters came up and sang Try a little kindness which was wonderful to see him with them on stage. Afterwards one of his 7 brothers came on stage and sang a fabulous boogie woogie blues tune which raised the roof. If you ever wondered if family matters that concert said it all. Glen 's younger children were so on point to help him through the show and make sure it went smoothly for their dad. You could feel the out pouring of love from the stage through the music hall. I am so honored to have been a small part of an historical evening. One of Arkansas's own comes back home. This is my response to the article in the AR Democrat-Gazette. It so missed on the whole atmosphere of the evening.
Robinson Center Music Hall - Little Rock, AR - Thu, Sep 6, 2012
★ ★ ★ ★ ★
Tony1956
I've been with Glen since the 5th grade. I'm now 55. From my first Glen Campbell concert at the Arkansas State Fair back in 69 or 70, to his tv shows and specials, then those incredible shows at the Glen Campbell Theater in Branson, to now my final show in Little Rock. Through the years, and all the different genres of music, I always had Glen there. And I had his music to get me thru some tough times. The show at Robinson was so wonderful. Every song took me back to a certain time in my life. Many happy memories. His voice is still so strong. And the phrasing, wow! How does someone at his age, and with what he's dealing with, still have such incredible technique on guitar. Simply amazing! It was such a great show, there with his family, and so many relatives up from Billstown. Yes Billstown, not Delight. Billstown, with the one store, that, by the way his cousin owned. An amazing night that I'll never forget.
Robinson Center Music Hall - Little Rock, AR - Thu, Sep 6, 2012
★ ★ ★ ★ ★
1PackerFan2
Opening act was okay. His son and daughter played as the group, Victoria Ghost. Music was alright but sound was distored. Almost like speakers were bad. Glen came out after a number of songs and his voice, words and humor made the poor speakers bearable. Loved his "memory loss" humor, enjoyed singing along with him and it was just a good all around family show. He had three sisters sing a song with him and an older brother did too. Now this part of the act seemed a little kareoke (spelling??).
Robinson Center Music Hall - Little Rock, AR - Thu, Sep 6, 2012
★ ★ ★ ★ ☆
Carlie2009
So glad we went to see Glen Campbell. You can definitely see the effects of Alzheimers.... such a sad disease. But he performed so admirably and looks great. He forgot some of the words and couldn't keep up on the fast songs, but did great on the slower songs. Can pick that guitar as good as ever . . . . never missed a beat or a note. I really didn't know he played so well. Of course, standing O for Rhinestone Cowboy. His family is very talented. His 82 yr old brother sang a song. Amazing that Glen at 76 and the brother at 82 still have such great voices. It was a real treat for us. Very best wishes for Glen Campbell and his family.
Robinson Center Music Hall - Little Rock, AR - Thu, Sep 6, 2012
★ ★ ★ ★ ★
redmon
it was a wonderful show.Glen Campbell is just as good as ever.this is a wonderful family show that highlights bonds between family members.we left happy that we were able to see such a talented American legend.if you possibly can,you must see this show.it,s something you will not forget!
Robinson Center Music Hall - Little Rock, AR - Thu, Sep 6, 2012
★ ★ ★ ★ ★
rhdale
If you grew up listening to Glen Campbell, you will love this concert...he does such a great job singing all his old classics. I did not realize what an accomplished guitarist he is...outstanding!!
Robinson Center Music Hall - Little Rock, AR - Thu, Sep 6, 2012
★ ★ ☆ ☆ ☆
Rvstarfan
One of the best concerts I have seen and there have been many. He sang from his heart, played with unmatched skill and welcomed the love from his fans. What a remarkable night listening to one of the very best. Thank you Glen for giving us this farewell tour....which is not a fair statement because your music will live forever.
Robinson Center Music Hall - Little Rock, AR - Thu, Sep 6, 2012
★ ★ ★ ★ ★
JTFanLR
What a wonderful evening. I'd forgotten what an amazing guitarist Glen Campbell is and that he had been an amazing session guitarist for just about every band in his prime. Well, his fingers can still fly over the fretboard and his voice remains a pleasure to listen to. Though he now requires teleprompters to keep up with the words of the songs, and sometimes requires a gentle reminder from his daughter and son about the playlist or where to place his capo for a song, these signs of his progressive illness did not detract from a very enjoyable concert. The musical talents of his family was evident with 4 siblings (3 sisters and an older brother) and older daughter performing a song with him (vocals) and his daughter Ashley (playing banjo, manolin, keyboards) and two sons Shannon (guitar) and Cal (drums). The show was opened by the trio Victoria Ghost that includes Shannon and Ashley who sang harmonies and played admirably. It was great to be a part of his Arkansas homecoming. The only downside to the concert was that the venue was too hot, which over time seemed to affect Glen during the latter part of the show when he became too hot and a little agitated.
Robinson Center Music Hall - Little Rock, AR - Thu, Sep 6, 2012
★ ★ ★ ★ ★
Wilber9
Fantastic show. Every song was enjoyable. It was not too long or short.
Robinson Center Music Hall - Little Rock, AR - Thu, Sep 6, 2012
★ ★ ★ ★ ★
MDJ54
There is not enough space to tell how fantastic this concert was. The opening act, his son and daughter's band, was good. He opened with Gentle on my Mind. There were monitors on the stage to remind him of lyrics. But what 76 year old without Alzheimer's doesn't need a reminder every now and then! One thing he hasn't forgotten is how to play the guitar - amazing! A great show! A legend! Either justified the price.
Robinson Center Music Hall - Little Rock, AR - Thu, Sep 6, 2012
★ ★ ★ ★ ★
Schuyller
One of the best concerts I've ever seen! One of the last chances to see one of the greatest entertainers of our time! GO!!!!
Robinson Center Music Hall - Little Rock, AR - Thu, Sep 6, 2012
★ ★ ★ ★ ★
Lcrabtree
As a present to me, my fiance, Cliff, took me to the concert last night. When Victoria Ghost stepped on the stage and started playing we were both very impressed with the type of music they played. In the past Cliff played bass with several bands and is very critical of music. He loved listening to you them. He has always said that he loved Glen Campbell's music because it was different and that is the same reason he loved listening to the music Victoria Ghost wrote as well. After the show Cliff told me that Victoria Ghost has the same talent as their father and trust me if he liked their music that means a lot!!!! Anyway, as far as the rest of the concert, it was amazing to watch Glen Campbell get up on stage and perform. I was born in the sixties and grew up watching Glen on T.V. I have never seen him in concert and I wouldn't have missed that for the world. I had tears in my eyes from the moment he stepped on stage until the moment he walked off stage. It was a very touching show. I really enjoyed getting to listen to his sisters, children, and brother sing. The Campbell's have a very talented family to say the least. The presentation at the end from Governor Beebe was priceless. It was very touching to watch Glen's children help him through the show. Again, I am so blessed to have been able to see Glen Campbell and Victoria Ghost perform last night and it is something I will remember for the rest of my life. Thank you for coming to the city of Little Rock, AR.
Robinson Center Music Hall - Little Rock, AR - Thu, Sep 6, 2012
★ ★ ★ ★ ★
Swimhog
It was great to see a legend again. Saw him in 1960's. Sad to see him this way but the love of the music and to his audience is truly genuine. Love seeing his kids and family there to assist him. The younger 3 Campbell's have a bright future. Thank u glen Campbell for being an Arkansas native and not forgetting where u grew up.
Neal S Blaisdell Concert Hall - Honolulu, HI - Sun, Sep 2, 2012
★ ★ ★ ★ ★
ARBIgRed
It was a great show. I understood as many fans did too that he could not help some of what he did because of his alzheimer's. He performed very well and it was great to have his family perform with him. Also, it was great to see him receive a Life Time Achievement Award from Arkansas Governor Beebe.
Neal S Blaisdell Concert Hall - Honolulu, HI - Sun, Sep 2, 2012
★ ★ ★ ★ ★
Anonymous
Wonderful show. Admire Glen and his family for sharing something so personal. We have a family member recently diagnosed with Alzheimer's and this was very special to us. Class act! He's still got it. Voice almost as good as ever and guitar excellent
Neal S Blaisdell Concert Hall - Honolulu, HI - Sun, Sep 2, 2012
★ ★ ★ ★ ★
CItyGirl23
Memorable concert. Even sang a few songs I didn't recognize. Great band and back-up singers. Glen can still play the electric guitar better than most of these young kids. Amazing talent!!
Neal S Blaisdell Concert Hall - Honolulu, HI - Sun, Sep 2, 2012
★ ★ ★ ★ ★
TowerTone
Bittersweet, but such good memories, we are taking my Mother too see him in Austin, TX for her b'day.
Neal S Blaisdell Concert Hall - Honolulu, HI - Sun, Sep 2, 2012
★ ★ ★ ★ ★
Windward808
We saw Glenn Campbell in Honolulu last week and he was outstanding! Still has a great voice and the guitar playing was phenominal.
Neal S Blaisdell Concert Hall - Honolulu, HI - Sun, Sep 2, 2012
★ ★ ★ ★ ☆
Geemony
I am so glad I finally got to see Glen Campbell in person. I understand why the concert was short but it was well worth it. His kids are also awesome.
Neal S Blaisdell Concert Hall - Honolulu, HI - Sun, Sep 2, 2012
★ ★ ★ ★ ☆
LIZD314
Saw this concert and it was great to hear Glen Campbell sing all his old standards- disappointed that he did not do an encore...but I am not sure if there were any songs left he did not sing. He was clearly not allowed much time to chat it up with the audiance, maybe due to his illness. Still a nice show.
Neal S Blaisdell Concert Hall - Honolulu, HI - Sun, Sep 2, 2012
★ ★ ★ ★ ☆
Anonymous
Sad, but excellent show? Glenn was great all things considered. I am glad I went
Neal S Blaisdell Concert Hall - Honolulu, HI - Sun, Sep 2, 2012
★ ★ ★ ★ ★
babydonut2
I loved his performance; it was great hearing him perform the songs in person. Watching his daughter & sons was an extra bonus!
Neal S Blaisdell Concert Hall - Honolulu, HI - Sun, Sep 2, 2012
★ ★ ★ ★ ★
Anonymous
Glen Campbell voice and guitar playing amazing. He still has his chops! Unforgettable performance!
Sands Bethlehem Event Center - Bethlehem, PA - Fri, Oct 26, 2012
★ ★ ★ ★ ★
Toots4
It was a great concert. I think he was super along with his family.
Sands Bethlehem Event Center - Bethlehem, PA - Fri, Oct 26, 2012
★ ★ ★ ★ ★
vnda
Such a delight to see him once again. Yes, he has to use a teleprompter for the lyrics but man can he still sing and play that guitar. For somebody that 76 years old, that's pretty good in my book, especially since he has to contend with his Alzheimer's condition. His 3 kids in the band was especially touching. Daughter Ashley can play the banjo quite well. Reasonable ticket prices, awesome performance by the legend, many, many great songs and great memories. Thank you Glen!
Sands Bethlehem Event Center - Bethlehem, PA - Fri, Oct 26, 2012
★ ★ ★ ★ ★
HawaiianMom47
I remember growing up and hearing Glen Campbell on the radio and watching his television show. All these memories began flowing out as I attended his Goodbye Concert. I was impressed with how well he sang his hits. He sounded the same as in the 1970's and looked great too. His children playing in the band made it even more special of a concert. They gave a great opening band concert themselves. I highly recommend this to all you Glen Campbell fans. You will not be disappointed!
Sands Bethlehem Event Center - Bethlehem, PA - Fri, Oct 26, 2012
★ ★ ★ ★ ★
MikeReview
Glen gave us a great concert and it s clear that his voice has not failed him. I enjoyed every moment from the opening when son, Shannon, and daughter, Ashley, entertained us with excellent original songs. The both of them are chips off the Campbell block. And son, Cal, did an excellent job on drums. Ashley has a sweet voice and clearly takes after her dad when it comes to musical talent--her banjo, guitar, and mandolin skills are outstanding. When Glen first started out in the music business in or about 1963 he was among the most sought-after studio guitar players and a member of a group of studio musicians called "the Wrecking Crew." He played for the most popular performers of the day, including Bobby Darin, Rick Nelson, Dean Martin, Nat King Cole, The Monkees, Nancy Sinatra, Merle Haggard, Jan and Dean, Elvis Presley, and Frank Sinatra. As I sat listening to one of the greatest performers ever, I couldn't help but to feel emotional, as I was sitting there watching a legend give one of his last live performances, understanding that unless there is a miracle, Glen and his family will have very tough times ahead dealing with his Alzheimer's. I m very thankful to Glen and his family for giving us fans one more opportunity to see him live. Glen s voice is still golden, as he can still sing all the great songs that have given him 12 Gold albums and total record sales of at least 45 million. Glen has a beautiful family and my thoughts and prayers are with them. I m wishing for a Miracle! Thank You, Glen! Thank you for all the great music and all the great memories! There will never be another like you!
Sands Bethlehem Event Center - Bethlehem, PA - Fri, Oct 26, 2012
★ ★ ★ ★ ★
Theearlyshow
It was an honor to watch a true artist share his talents with the audience. I hope that Mr. Campbell will remember the joy he brought to those who attended the concert. Melody makes music great and Mr. Campbell's music proves the point.
Sands Bethlehem Event Center - Bethlehem, PA - Fri, Oct 26, 2012
★ ★ ★ ★ ★
BWFanaticfantastic
I grew up watching his TV show, have seen True Grit countless times, but until you see him perform in person, you can't appreciate how special this man was. Despite his health challenges he can sing and pick like few others on this earth. How unfortunate, that we won't be able to continue to see him. Regardless, I wish him much happiness and love. If you have a chance to see him before this tour is over, you'll regret not going. I would have.
Sands Bethlehem Event Center - Bethlehem, PA - Fri, Oct 26, 2012
★ ★ ★ ★ ★
SteveKr9
Glen Campbell is one of the biggest stars of our time His will to perform was stronger than his illness. A great show!
Sands Bethlehem Event Center - Bethlehem, PA - Fri, Oct 26, 2012
★ ★ ★ ★ ★
Rauhuff
Glen did an amazing show. I saw him in Philadelphia in September 2011 and was worried whether his disease had got worse but I was surprised that he still has it and was nearly as great as ever. He is a crown jewel like Elvis Presley was. I know he is at the end of his career and I am glad he has given his fans many chances to say goodbye. I am glad I attended 2 concerts on his last tour and pray for his family and the dark days for them in the future.
Sands Bethlehem Event Center - Bethlehem, PA - Fri, Oct 26, 2012
★ ★ ★ ★ ☆
Tom527
He was unbelievable despite being 76 years old and dealing with Alzheimer's....his voice range was incredible....stumbled a couple of times early but the audience loved him....
Sands Bethlehem Event Center - Bethlehem, PA - Fri, Oct 26, 2012
[Temporary disabled] Glen Campbell needs your feedback