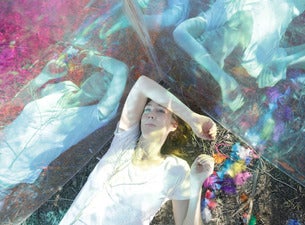 Beth Orton Concert & Tour Photos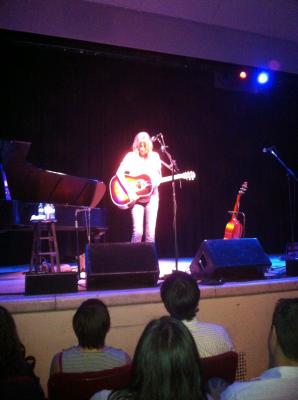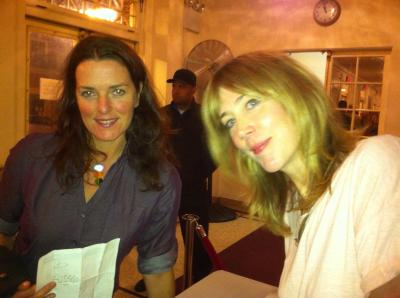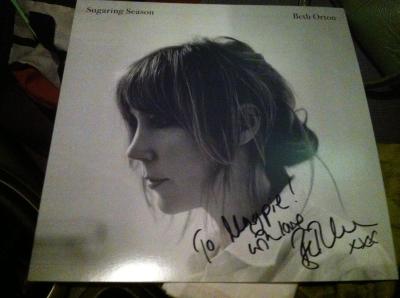 ★ ★ ★ ★ ★
maggiemagpiefly
Excellent show. Very personal. I really appreciate her modesty and how she shares everyday mishaps with the audience & laughs about it. The taxi cab driver dropped them off at Times Square. They were sorta lost finding their way to the Town Hall. She told stories throughout the night which made it real personal. She was great.
Town Hall - New York, NY - Thu, Oct 4, 2012
★ ★ ★ ★ ★
Caren2
I like Beth Orton even more after seeing her live. She was amazing in concert! I would see her again
Town Hall - New York, NY - Thu, Oct 4, 2012
★ ★ ★ ★ ★
bwanab
I loved this concert. This was the Beth Orton of old. The folktronic sound from the 90's and early 2000's. While I love her pure guitar/voice songs, I've always had a soft spot for the ornamentation of her old (think "Stolen Car", "She Calls Your Name", "Galaxy of Emptiness") of her old music - sparse, tasteful and awesome. Great stuff.
Town Hall - New York, NY - Thu, Oct 4, 2012
★ ★ ★ ☆ ☆
Mimster23
She was great I'd recommend to anyone that they see her!
Town Hall - New York, NY - Thu, Oct 4, 2012
★ ★ ★ ★ ★
dor2001
great show.. wished she had gone on a little earlier
Town Hall - New York, NY - Thu, Oct 4, 2012
★ ★ ★ ★ ☆
BostonZee
I had seen Beth Orton about a year and a half earlier in Boston when she played solo acoustic, trying out some new songs from her upcoming record. This time she brought a full band, and sounded just wonderful. She played a great mix of old and new, the only notable missing from my perspective was "Concrete Sky".
Town Hall - New York, NY - Thu, Oct 4, 2012
★ ★ ★ ★ ☆
Bigmediumsizefan
She was mesmerizing, hypnotizing!!!!!!!!!!!!!!!!!!!!!!!!
Town Hall - New York, NY - Thu, Oct 4, 2012
★ ★ ★ ☆ ☆
runner11
I love Beth Orton and have listened to her since Super Pinky Mandy. I was so looking forward to seeing her. I think I have everything she ever did. The opening act, Sam Amidon, was horrible. We finally walked to the lobby and got a drink along with the majority of people there I think. Beth came on and it appeared that she was sick with a cold. Her voice was slightly nasally. I love that she is usually known for electronica and that it was all acoustic was disappointing. She played way too much from the new album and not enough from what fans love from her older stuff.
Town Hall - New York, NY - Thu, Oct 4, 2012
★ ★ ★ ★ ☆
parkslopebob
Not and evening of super-polished music making but something better -- honest, heartfelt communication. Both Sam Amidon and Beth Orton projected a strong sense of wanting to connect with the audience, not something many performers achieve. Loved the easy flowing collaboration between a small group of great musicians who obviously love playing together. Perhaps a bit under-rehearsed, as Beth said, but so much the better for it. Especially liked the interplay with Beth singing and Doveman supporting her on piano. Love her new songs. Sam's approach to his music has such a strong point of view -- fearless, funny, wide open to possiblities. He deserves a much wider audience.
Town Hall - New York, NY - Thu, Oct 4, 2012
★ ★ ★ ☆ ☆
Chrisamps
Beth seemed to be distracted during the show. It seemed more like a rehearsal than a real show. I saw her for free in Battery Park City a few years ago. She seemed more together then. The new material sounded good. It probably would have been better if she had a band backing her instead of a couple of muscians who came and went during the show. She could also benefit from learning how to speak and sing into the microphone. She was at times too far from it to do her songs justice. Maybe this was the beginning of the tour and those who see her later will get a better show.
Town Hall - New York, NY - Thu, Oct 4, 2012
★ ★ ★ ★ ☆
Ta179
Did not disappoint. Love the guitar mix . Thought their volumes were perfect. Brought her voice too. Nice room. Good night. Wish one tour she comes out with a quartet for the duration and not just the occasional accompaniment.
Keswick Theatre - Glenside, PA - Tue, Sep 25, 2012
★ ★ ☆ ☆ ☆
krnlab75
I am a fan of Beth Orton, which is why I bought tickets to see her. When she came onto stage she informed us she had a cold. I was gravely disappointed when she couldn't hit her notes on Sweetest Decline and several other songs. I don't think she should have performed that night. I was also disappointed that she set her keyboard up so far on the side of the stage. I was in the furthest most left row and she was not visible to me at all when playing her keyboard.
Keswick Theatre - Glenside, PA - Tue, Sep 25, 2012
★ ★ ★ ★ ★
MusicfaninWashingtonDC
The Beth Orton show at the Sixth and I Synagogue in Washington DC was awesome. The venue was small enough that it felt as if Beth were speaking directly to each audience member. It was also great that the show consisted of just Beth and her guitar.
Keswick Theatre - Glenside, PA - Tue, Sep 25, 2012
★ ★ ★ ★ ☆
HarwichHiker
This was a classic Beth Orton show - just Beth with her guitar and sometimes her keyboard. Even with a head cold, she sounded fantastic. I'm a big fan who enjoys all her music. I would enjoy seeing her with some of the backup musicians that we hear on her CD's, but just Beth by herself is still a good show well worth going to. Maybe her new CD will gain her a wider audience, but until then we can enjoy seeing her in these smaller venues that allow us to see & hear her more clearly. Can't believe there so many empty seats. Beth invited people to move up & sit closer to the stage, which many took advantage of.
Keswick Theatre - Glenside, PA - Tue, Sep 25, 2012
★ ☆ ☆ ☆ ☆
Anonymous
The venue was great! Beautiful! Her husband, and intro to the evening , started with a sudden wail more reminisent of an injured animal than a song. The audience was visibly startled. His mumbling and mournful wailing continued for 30 painful minutes. Looking around, we werent the only ones relieved when it ended. Then Beth came on. She played mostly what she called her new stuff. They were sad, painful, sorrowful tunes, that frankly all sounded the same. A few times she seemed to miss cords and lyrics. Some people left during her set (noticeable in a very small venue), while we waited to hear the one song that brought us out... Central Reservation. Two and a half painful hours later (including the intro), essentially the last song of the evening at the encore, she played it. It was obvious that she was relunctant to play one of the few successful songs of her career. She and her husband need to find a happy space.
Keswick Theatre - Glenside, PA - Tue, Sep 25, 2012
★ ★ ★ ★ ★
Docugal
Beth Orton has an undeniably strong and memorable voice that brings with it intense emotion. She was fantastic and it was a great experience, enhanced by the beautiful venue of the Sixth and I Synagogue (according to her, the best venue she'd played in in DC).
Keswick Theatre - Glenside, PA - Tue, Sep 25, 2012
★ ★ ★ ☆ ☆
Actionx
Last time I saw Beth she promised she would return with her full band. Unfortunately she did not keep her promise. I love Beth but she became famous for her unique sound/beats. Where is the rhythm section???
Keswick Theatre - Glenside, PA - Tue, Sep 25, 2012
★ ★ ★ ★ ★
libearian
This was the first time that I had been to a show at the Sixth & I Historic Synagogue, but I have seen Beth Orton perform live multiple times. The venue itself was quite lovely, and the acoustics were ideal for an intimate performance like the one that she gave. The seats were church pews, obviously, and I started feeling pretty uncomfortable after a while because there was absolutely no padding on them at all. The set list was pretty diverse, with songs representing all over her albums, and she played several songs off of her new album. She was very sweet and gracious, and engaged the audience between songs throughout the show. After the show, she sat at the merchandise table and signed CDs and LPs of her new album, and took a little time to speak with each fan. It was a nice surprise. Her husband was the opening act, and he came out and accompanied her on a few songs in the middle of the show. It was one of the best concerts that I have ever attended.
Keswick Theatre - Glenside, PA - Tue, Sep 25, 2012
★ ★ ★ ★ ★
libearian
This was my third time seeing Beth perform live. She always puts on a great show.
Keswick Theatre - Glenside, PA - Tue, Sep 25, 2012
★ ★ ☆ ☆ ☆
kickspoodles
I had been looking forward to this event all summer. Was concerned when the event was moved from the Keswick to the Trocadero, but the seating switch worked well and it was still worth all the jockeying for great seats I did in July. The opening act was unbearable. Just awful. Most of us within three rows of each other just looked around at each other, mouthing, "Can this be real?" Excellent musicianship, but the vocal piece was self-indulgent shrieking, intentionally. We were relieved when it ended at 8:30. Beth Orton walked into the theatre at 8:20, passing within inches of us as she slipped behind the stage. By 9:00, after sitting in my seat for a half hour after the opening act came to a fortunate close, I was irritated from waiting. If the artist was trying to build excitement by taking so long to come onstage, she failed. The delay was not due to a change of costume nor to prepare her guitars, as she took the stage in the same clothing she wore into the theatre, and when she began to play, the guitar was not tuned correctly and she fumbled for a few minutes before picking up a different guitar and saying that she would just have to skip the song she had intended to play. Her spacey, bumbling manner was somewhat endearing in contrast to the bloated egos and indulgences often exhibited onstage, but it seemed terribly unprofessional. After all, I didn't pay a $15 cover charge to get in. I enjoyed the playlist, the performance, but would likely not do it again.
Keswick Theatre - Glenside, PA - Tue, Sep 25, 2012
★ ☆ ☆ ☆ ☆
Snavedog
I've been a big fan of Beth Orton. I've seen her three times. One was great (Showbox Seattle), one was mediocre (Fillmore, SF - the opener, Clayhill, was much better), and one was the worst concert I have ever seen. That was the last one, and the last one of hers I would go to. She could not remember such things as: the words to her own songs; how to play a piano (though she tried repeatedly); or how to address an audience in a civil manner ("F#@$!!" was her most used word). Many people walked out. I stuck around until the miserable end. She seemed to recognize that it was really, really bad, and promised free tickets to her next show. I wrote her via her website about that and never got a response. I am not sure if she was sick, extremely stoned (my theory), or what. I just know that she put on the worst concert I have ever seen, period.
Variety Playhouse - Atlanta, GA - Sat, Aug 21, 2010
★ ☆ ☆ ☆ ☆
Reachback
One of the worst shows i have ever been to. She wasted half the night tuning up, told jokes that were not funny and never got out of 1st gear. Less then a hour in she said "have i been playing for ages. I'll play one more and fuck off". I am embarrassed at how bad this show was and i am embarrassed that i actually went. Thumbs down all the way.
Variety Playhouse - Atlanta, GA - Sat, Aug 21, 2010
★ ★ ★ ★ ★
jhlang
Just a fabulous voice and very smart songs. I just wish she would tour more. I know she had to have been somewhat jet-lagged, but it didn't show.
Variety Playhouse - Atlanta, GA - Sat, Aug 21, 2010
★ ☆ ☆ ☆ ☆
Magnolia619
Beth was back in the states...and apparently just back on stage after a long hiatus. My BF has been a huge fan for years, and I have never been sold after listening to recordings. I went with an open mind, because I follow, and LOVE live music. We traveled 6 hours by car to listen to an artist I would have walked out on at a local cafe. Her voice is weak, and her song writing is sad, literally. What stood out to me was the numerous excuses by her for being unprepared, and not at her best. I will not follow this singer/songwriter ever again.
Variety Playhouse - Atlanta, GA - Sat, Aug 21, 2010
★ ☆ ☆ ☆ ☆
PPS123456
Beth Orthon was tired and jet legged, zero energy. :(
Variety Playhouse - Atlanta, GA - Sat, Aug 21, 2010
★ ★ ☆ ☆ ☆
MrJitters
While musically sound, as a paying audience member, I don't need to repeatedly hear about how tired the artist is. Yes you're jet lagged. Why yes, it has been a long day and you are well up past your bedtime. I get it. It's one show, maybe ninety minutes of your life, nut up. You know what? I'm tired from standing on a concrete floor for the duration of the show. You entertain me, I shower you with praise and affection and we enjoy our time together.
Variety Playhouse - Atlanta, GA - Sat, Aug 21, 2010
★ ★ ★ ★ ★
BrewsterRockit
Show was very simple, Beth alone with her guitar, in a small place. It was like having her playing in our living room.
Variety Playhouse - Atlanta, GA - Sat, Aug 21, 2010
★ ★ ★ ★ ★
Starsallseemtoweep
AMAZING!!! I love Beth sooo much. She is the greatest. Such a simple show, her and a guitar. I couldn't ask for anything else. I was in the front row and the crowd was great, quiet during the songs and very cool atmosphere. I loved this show. It was totally worth the 8hr drive to Atlanta and the long wait for her to come back to America. I would do it again anytime! Can't wait for the new album and next show. I'll be waiting patiently!
Variety Playhouse - Atlanta, GA - Sat, Aug 21, 2010
★ ★ ★ ★ ★
susiew456
Beth Orton!! So fantastic to see her again! We loved her and hope to see her in Atlanta again!
Variety Playhouse - Atlanta, GA - Sat, Aug 21, 2010
[Temporary disabled] Beth Orton needs your feedback