 '60s psych-pop family band the Cowsills inspire more than just revelry with their air-tight harmonies – the group was also the inspiration for the legendary Partridge Family TV show, which was loosely based on the prodigious talent of the group's young siblings. While some of the band's founding members have passed away in the course of their half-century together, the Cowsills have kept it a family affair, filling musical roles with their children, spouses, and other kin. On their 2013 tour dates, the band delivered delightfully nostalgic performances of hits like "The Rain, The Park & Other Things" and "Hair" amid friendly banter and familial ribbing between members, setting hopes high for another round of feel-good shows in 2014.BACKGROUND SNAPSHOT:The Cowsills were formed in 1965 by brothers Bill, Bob, Barry, and John, expanding to six siblings ranging from 8 to 19 years old by the time of their 1967 US No.
The Cowsills Concert & Tour Photos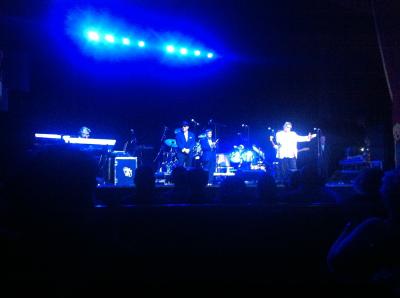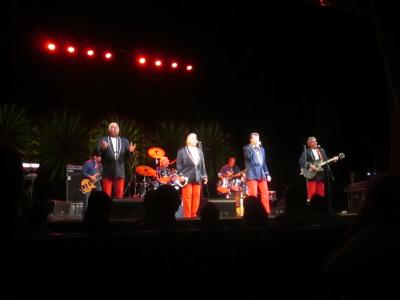 ★ ★ ★ ★ ★
DrMusicFan69
If you are lucky enough to see any one of The Cowsills perform individually you will have a great time. The music and their beautiful voices are solid. But when you get Bob, Paul, and Susan Cowsill together with their band it is an experience. They played their biggest hits and musical standards from back in the day. Their show was fun - full of energy - sibling teasing - and lots of love. They know their audience well and selected the songs accordingly. The other bands were good, but The Cowsills could have been the whole show. Would love to hear more of the extraordinary catalog of singer/songwriter Susan Cowsill (love to see her with her band or as a duo with husband Russ Broussard) or selections from The Cowsills' Global and Cocaine Drain albums (strange album name but great music). As a member of GenX who fell in love with The Cowsills after watching their documentary, Family Band: The Cowsill Story, and knowing they are the real family that inspired The Partridge Family TV Show, we should expect much more from this family and these incredible artists.
Lynn Auditorium - Lynn, MA - Sat, May 17, 2014
★ ★ ★ ★ ★
TimDeb
Great performance by one of our favorite groups. There stories, dancing, and harmonizing was amazing. Great vocals by all of them.
Lynn Auditorium - Lynn, MA - Sat, May 17, 2014
★ ★ ★ ★ ☆
jtabouli
Enjoyed all the groups, I would have to say my favorite was Jay and the Americans. Although there is a new Jay, the others are originals and they all sounded GREAT. Fun seeing the Cowsills and the Brooklyn Bridge as well.
Lynn Auditorium - Lynn, MA - Sat, May 17, 2014
★ ★ ★ ★ ★
Fanofrockandroll
These groups brought me back to when I was a kid in the 60s. Each act was truly outstanding! It was one of the most enjoyable evenings my wife and I have spent in a long time.
Lynn Auditorium - Lynn, MA - Sat, May 17, 2014
★ ★ ★ ★ ☆
Willysr2
All three groups were good but the sound mixer messed up bad and ruined the full enjoyment. I would see the all the groups again but not with the sound guy that was there
Lynn Auditorium - Lynn, MA - Sat, May 17, 2014
★ ★ ★ ☆ ☆
Gorillazoo
This was more of a cover band concert. The bands did a majority of covers instead of their own hits. Very disappointing although the music was good. Not at all what was anticipated or expected. I would only recommend it if the friend knew ahead of time exactly what to expect.
Lynn Auditorium - Lynn, MA - Sat, May 17, 2014
★ ★ ★ ★ ★
jibo12345678910
Great hearing the music live that I grew up with. Only problem was it made me feel old." lol
Lynn Auditorium - Lynn, MA - Sat, May 17, 2014
★ ★ ★ ★ ★
NorthEndJake
I am old enough to remenber Jay and the Americans and the Brooklyn Bridge, (or even better the Crest). I was always a big fan of both groups, (especially their famous lead singers; Johnny Maestro and Jay Black). Let me tell you that Joe Esposito and Jay Reincke did not dissapoint as the new lead singers. I enjoyed the show thouroughly. If you are a fan of these groups, dont miss the show if it plays in your city.
Lynn Auditorium - Lynn, MA - Sat, May 17, 2014
★ ★ ★ ★ ★
GOODLOOKING12
Fantastic Show, I never thought that the venue would be able to put on a show like the one I attended.
Lynn Auditorium - Lynn, MA - Sat, May 17, 2014
★ ★ ★ ★ ☆
Gimmejimmie
After a slow start by the Brooklyn Bridge, the show went into full swing. The Cowsills were better than the last time I saw them 20 years ago (Susie especially rocked it - looking great!) Jay & The Americans were amazing - was a little disappointed when I found out Jay Black had been replaced but Jay III did the group proud.
Lynn Auditorium - Lynn, MA - Sat, May 17, 2014
★ ★ ★ ★ ★
JackandLinda
Brooklyn Bridge (a tribute to the late, great Johnny Maestro) was excellent. The sound was true to the original recordings. The Cowsills (not my favorite part of the show) were still fun to watch. But Jay (the third Jay) and the Americans were outstanding. I mean...is there a better song than Cara Mia???? And when Jay came on stage he asked the audience, "So....you're sitting there asking yourself, 'Will I he be able to hit the high notes?'" And hit the high notes he did! An excellent transport to the 1960s. And when two of the Americans did an Everly Brother's song you could have heard a pin drop in this wonderful auditorium. A fun night full of nostalgia.
RFD TV the Theatre - Branson, MO - Fri, Aug 7, 2009
★ ★ ★ ★ ★
Spammy56
I didn't know what to expect with just 3 of the original Cowsills, but they surprised me. Paul and Bob's sons are in the band, as is Susan's husband. The band still sounds the same as it did in the 1960's which was astounding. The harmonies of the siblings are heavenly. Susan was playing late brother Barry's guitar and she sang one of his songs, River of Love. Bob jokingly said at the beginning that they only had 4 hits and they would have to stagger them between other songs. Paul was zany, goofy and charming, even dropping his pants to show us the surgery scar on his knee. The banter and teasing on stage was nice. The audience felt as if they were part of a special family.
RFD TV the Theatre - Branson, MO - Fri, Aug 7, 2009
★ ★ ★ ★ ★
60spoplover
This was my first Cowsills concert and I absolutely loved it. Their vocal harmonies were amazing. Very nostalgic 60's pop sound. I hope to return to see them again. I only found out they were coming to New York by searching them out on the internet. When I mentioned the Cowsills concert to anyone younger than me, I got a blank stare. When I mentioned this was the group that sang "Hair" and the "I love the flower girl song" featured in "Dumb and Dumber," their eyes lit up with "Really! I know those songs -they're great songs!" It was a very upbeat, enjoyable evening!
RFD TV the Theatre - Branson, MO - Fri, Aug 7, 2009
★ ★ ★ ★ ★
Anonymous
This was my first time seeing the Cowsills live, and I am so happy that I did. This is an extremely talented family that gel so well together on stage you would think they were able to read each other's minds. They have had some time to perfect their craft and I have to say that they put on an incredible performance. Bob's voice, guitar skill and showmanship are top notch. Paul is a bundle of raw energy, and his voice is right on que. Susan is a unique talent that just gives off a vibe of Love & Beauty. The 3 of them together and well you've got the Cowsills. I would highly recommend them to anyone, and God willing I will be returning to B.B.Kings to see them again. No I am not a relative :o)
RFD TV the Theatre - Branson, MO - Fri, Aug 7, 2009
★ ★ ★ ★ ☆
Hairie
They put on a solid 90 minute show filled with nostalgic songs from the 60's-anyone who grew up then or who listens to oldies would enjoy this show. It is very laid-back, not alot of razzle-dazzle, but you leave remembering how you felt the first time you heard that song.
RFD TV the Theatre - Branson, MO - Fri, Aug 7, 2009
[Temporary disabled] The Cowsills needs your feedback